Posted on
Sun, Sep 8, 2013 : 5:40 a.m.
Now more than ever, students and families are paying to participate in high school sports
By Kyle Austin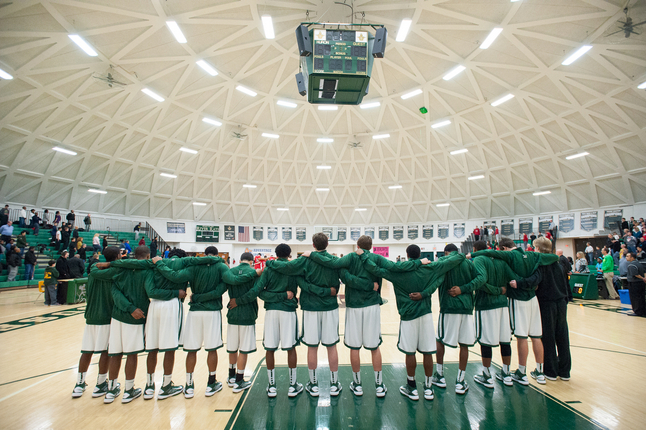 Courtney Sacco | AnnArbor.com file
Dottie Davis first came to Huron High School as a coach in 1979 and quickly found herself with a problem.
The budget for her softball team was $5,000, and the young coach had no idea how to spend it.
"I had so much money," Davis said. "I'm like 'What do I do?'"
More than three decades later, Davis has moved from the dugout to the athletic director's office. None of the coaches in her charge have the same problem she did.
The days of $5,000 team budgets for equipment, uniforms and other expenses have been gone for two decades, Davis said, and today's coaches are left to mostly build their own budgets through fundraising and team fees.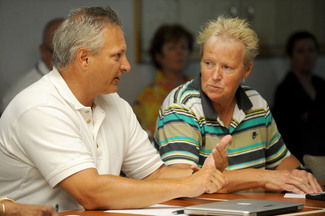 Angela Cesare | AnnArbor.com file
Ann Arbor Public Schools has cut its athletic budget by around $1.8 million in recent years, to a current level of around $3 million.
While AAPS has ensured that its expansive athletic offerings haven't diminished and its participation levels remain high, the principal result has been more costs being transferred from the district to parents, along with worries about what future athletic cuts could mean for the district.
In the last five years, many high school athletes and their families have seen their dues go up by hundreds of dollars, so that they're now paying upwards of $1,000 for some sports like crew and hockey. This fall, it will cost more than $500 to play high school football in Ann Arbor.
In June, the district approved an increase in its pay-to-participate fee to a flat rate of $250 regardless of the amount of sports one plays. This is up from $150 for the first sport and $75 for the second. Athletes also pay a $30 insurance fee. Middle school athletes pay $150 to participate in sports, up from $50.
But for most families, that's only part of the burden in what's become a changing financial athletic landscape.
"It's just an unfortunate reality of where we're at," Pioneer athletic director Eve Claar said.
Download: 2011-12 AAPS Athletic Budget (PDF) | 2012-13 AAPS Athletic Budget (PDF)
Team fees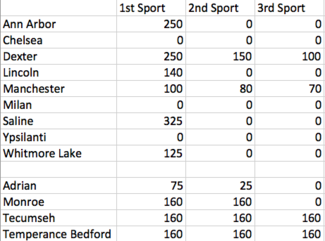 When AAPS first implemented its pay-to-participate fee in 2010 and increased it this spring, the decision was made after extensive research, public input and school board debate.
But in reality, students have been paying to play sports for much longer than that.
Nearly every AAPS player pays a team fee to their team's booster club at the beginning of every season. That money can go to cover equipment, uniforms, end-of-year banquets and awards, and other things a team deems necessary but can't be funded by the athletic department.
Athletic directors say those fees differ by sport and school, and can change year-to-year depending on costs and how much fundraising the teams have done to offset those costs.
They can range anywhere from $25 for sports like track, where equipment needs are minimal, to $800 or more for sports like crew and ice hockey, where equipment and off-campus facility rentals are pricey.
And for golf and ice hockey, those numbers could be increasing this year, as the 2013-14 budget eliminates athletic department funds for off-campus facility rentals. Pioneer golf coach Steve Rodriguez said he's unsure how much of that will be transferred to students and their families.
"It doesn't feel good, I tell you that," Rodriguez said.
Athletic directors have guidelines for those fees and monitor them to ensure they are affordable and not excluding athletes from participating. But the responsibility for setting that fee falls largely into the hands of the team's parents and coaches.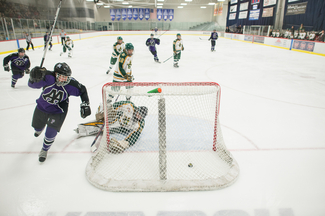 "It becomes much more challenging for the athletic director to convey those policies, and then to have exclusive supervision over those groups when kids and families transition in and out of your program every four years," said former Pioneer athletic director Lorin Cartwright, who retired last year after 32 years at the school, the last 17 as athletic director.
"The athletic director can pretty well have their hands full just in dealing with booster clubs."
Ann Arbor booster clubs are registered as non-profits and are audited yearly by an outside firm. Davis said that policy was enacted after a Chelsea woman, Kimberly Knight, was found to have embezzled nearly $1 million from the Ann Arbor Area Hockey Association from 2005-07.
Fundraising
When they're not competing on the fields, the courts or in the pools, you can find the area's high school athletes doing a wide range of fundraising activities, in-season and out.
Some teams go the traditional route of selling concessions during Michigan football games or picking up bottles from parking lots after they end, and selling value cards that get buyers discounts at various local establishments. Increasingly, though, teams are being forced to think outside of the box, like at Skyline where a number of teams have counted chips at the poker room at the Roundtree Bar and Grill in Ypsilanti, where half the rake goes to a local charity every night.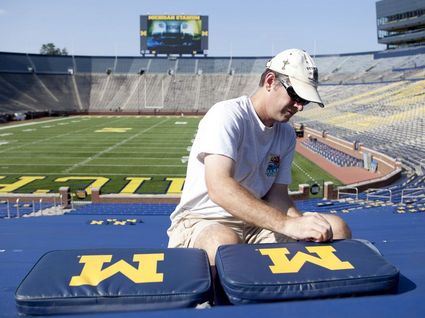 Patrick Record | AnnArbor.com
It's all in the name of fundraising to cover the increased high school sports expenses.
For students, that means spending an increasing amount of time in season and out making sure their program has enough money. For coaches, that means organizing those fundraisers and keeping track of all the money raised.
"Fifty percent of their job is fundraising," Davis said of coaches. "Back in the day, we used to get to coach."
Chris Morgan, who coaches boys and girls soccer at Skyline, said when he first started coaching at Pioneer 24 years ago his team would do one fundraiser per year and participation was often optional.
Now, each of his teams are doing doing four or five fundraisers per year, with a goal of raising $5,000 to $10,000 per season. The money goes toward uniforms, basic equipment and transportation.
"The role of the coach and the role of the program in that financial realm has changed dramatically," Morgan said.
Other programs have been able to do their fundraising without relying as heavily on students. Rodriguez said his program has been able to cover most of its costs, outside of uniforms, by relying largely on donations from the program's large alumni base. That will change dramatically when the greens fees stipend is eliminated from his budget.
"It's going to have to be increased, that's for sure," Rodriguez said. "We're going to have to lean on those former players and those former parent groups a lot heavier than we've ever had to in the past."
Hardships
Families with multiple high schoolers playing multiple sports could see their bills climb into the thousands, between pay-to-participate and team fees. For some, that amount can post a hardship. Saline has a family cap of $700, as does Dexter, but AAPS has no such policy.
The district has gone to great lengths to make sure there are options for those families. Scholarships are available to cover the pay-to-participate fees up to 100 percent. Families may request a waiver for the pay-to-participate fee by providing one or more of the following: SNAP/Food Stamps, Medicaid or Free and Reduced Lunch eligibility.
Coaches say they also make sure finances don't prevent someone from participating. Students can often do extra fundraising to lower their out-of-pocket costs, and booster clubs also have scholarship funds to help cover the costs.
Yet concerns remain about whether students eligible for the programs take advantage of them.
"My biggest concern always has been those kids you don't know that won't come forward and say 'I can't afford it,'" Claar said. "That troubles me. To not even have the opportunity to help a kid and let them know there's other avenues."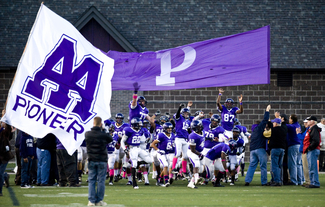 Joseph Tobianski | AnnArbor.com file
First-year Pioneer football coach Jari Brown said much work is done to get the message out and help families who may not qualify for school aid, but who still need help.
"Not everybody can pay that and I think that sometimes people are a little embarrassed or whatever, so what we try to do... if someone needs any help, (our booster club does) a good job of getting those guys taken care of," Brown said. "Our thing is we want to encourage kids to play and say you know what, 'If you don't have the means to do it, we have the resources to help you out."
Brown said there's still room for improvement.
"We spend time in the offseason and I spend time during school, during the year trying to get that message across, but one of those things is we need to find a better way to communicate that information," Brown said.
The discrepancies in fee levels between districts has also raised concerns about whether students would transfer districts to pay lower fees, but athletic directors say multiple barriers are in place to prevent that. Most districts require residency to enroll, and the MHSAA requires students who transfer without a change in address to sit out for a semester. That will increase to an entire year in 2014.
Cartwright, though, said she knows of students who have enrolled in districts specifically because of pay-to-participate fees. And if districts start losing students -- and the thousands in state funding their enrollment brings -- the budget situation changes.
"There's a fine line there," Cartwright said. "And I know that there are kids who have already said 'I don't want to play in Ann Arbor Public Schools, and I'm going to go someplace like Ypsilanti.'"
"When you start to look at those kinds of things, why would I continue to want to stay when I can go to an open district and pay nothing to play the same sport?"
Unfunded sports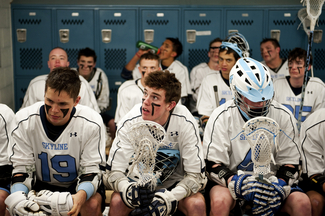 Daniel Brenner | AnnArbor.com file
In the first few waves of AAPS budget reductions, the district was able to cut line items like part-time secretaries, equipment and travel budgets to keep the changes from directly affecting students.
But in 2011, all of those options had been exhausted. So part of the round of budget cuts included removing athletic department funding for lacrosse, bowling, freshman girls basketball and freshman baseball.
Students in unfunded sports still wear their school uniforms, earn varsity letters and compete for state championships. The only difference is where the money for their sport is coming from.
"From a kid's point of view, we want it to remain the same," Skyline athletic director John Young said. "We don't want there to be any barriers to you playing because all of a sudden we've got to charge money. Is there going to be a different perspective from the parents' viewpoint? Absolutely. It's going to cost me more money."
For one of AAPS's new unfunded programs, Pioneer boys lacrosse, unfunding resulted in an extra $15,000 in coach's salaries, officials' fees and transportation. For the athletes, the total cost stayed the same: the booster club fees went up, but the pay-to-participate fees went away.
But booster club president Alan Matney said the team had a well-organized booster club that had planned for the possibility of being unfunded. He said he could see the financial situation becoming tougher in future years. Pioneer girls lacrosse coach Zachary Maghes took a systematic approach to dealing with losing funding as well. While many parents were asking for blood, Maghes asked for time and the lacrosse program has persevered.
"I think the real financial burden comes in years three through five," Matney said.
While district participation numbers overall have held steady, Young said he's seen a slight dip in girls sports in the first year of being unfunded. It's something he will continue to monitor.
"That is one of the areas that we kept an eye on from the day we started all of this, making sure that the girls hold their own, making sure there's opportunities for the girls, making sure we're not losing girls because of it," Young said. "Not that we don't want to lose the guys either, but we want to make sure we're in line with what we're supposed to be doing (for Title IX compliance) and that we're responsible for everybody."
Across Washtenaw County
Whether it's in school or not, the cost to play youth sports has increased dramatically in recent years. For sports that include out-of-school offseason teams, like soccer, the cost to participate is often in the thousands.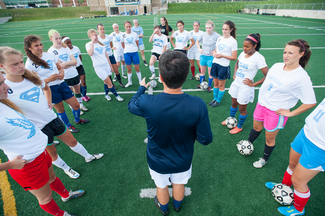 Courtney Sacco | AnnArbor.com file
"$250 is a drop in the bucket," Morgan said of youth soccer costs.
Costs for the Ann Arbor United Soccer Club's highest level are between $1,200 and $1,800, not including travel costs, according to the organization's web site. Costs to play for the U18 Michigan Wolves Academy will be $1,600 for 2013-14, not including travel costs. Boys travel hockey at the Ann Arbor Area Hockey Association costs between $1,760 to $2,204 for a season according to figures provided by the organization.
Nearly every school district in Washtenaw County and the state is grappling with how to deal with decreasing state funds, and how much of those funds to devote to athletics. And they're coming to different conclusions.
Chelsea eliminated its pay-to-participate fees last summer, and the newly formed Ypsilanti Community Schools will not charge a pay-to-participate fee. Dexter, meanwhile, recently raised its pay-to-participate fees to $250 for a first sport, $150 for second and $100 for the third. Saline voted to freeze its rate at $325 to participate in any number of sports.
Ann Arbor took the rates from surrounding districts into account when settling on its pay-to-participate fee for this year -- and even though it costs more than ever to be a high school athlete, AAPS still says it's one of the cheapest tickets in town.
"If you look at what other districts are doing, we're still a bargain," Young said.
Kyle Austin covers sports for AnnArbor.com. He can be reached at kyleaustin@annarbor.com or 734-623-2535. Follow him on Twitter @KAustin_AA.