Pioneer assistant says he will not be suspended after apology for confrontation during brawl
Posted on Wed, Oct 17, 2012 : 5:08 p.m.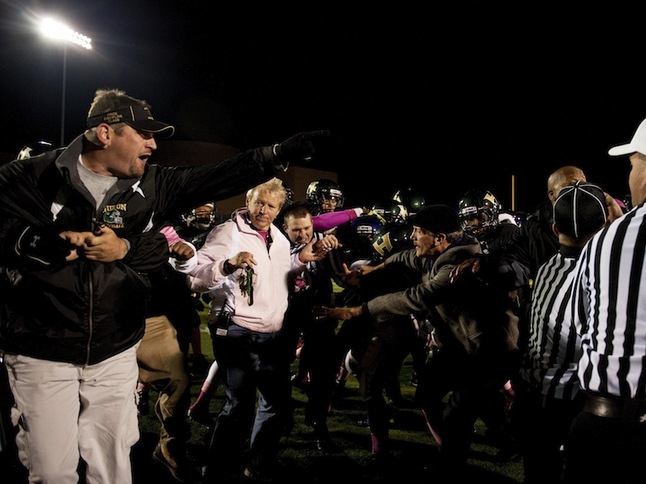 Daniel Brenner | AnnArbor.com
Related story: Ann Arbor Huron-Pioneer football brawl: Student suspension totals to be released Thursday
A Pioneer High School assistant football coach who told Huron athletic director Dottie Davis to "deal with your team, we'll deal with our team," during Friday night's Huron-Pioneer brawl said he will not face suspension after he issues an apology.
A source indicated to AnnArbor.com that linebackers coach Robert Eanes would face suspension for his post-game actions, but Eanes said Wednesday afternoon that he would be available to coach after he issues an apology.
In the aftermath of Friday night's game, Davis worked to keep Huron and Pioneer players separated, prompting Eanes' comment.
"I realize that as an administrator that she was in charge and I basically should have kept my mouth shut," Eanes said.
Eanes said he sent a letter of apology to Davis Wednesday and is scheduled to meet with her Thursday, when he will apologize in person.
District spokesperson Liz Margolis confirmed Tuesday afternoon that Pioneer head coach Paul Test and Huron coach Cory Gildersleeve had been suspended two games and that one assistant had been relieved of his duties.
Eanes said the coach relieved of his duties was a Pioneer assistant who was the "first one into the fray" following an on-field confrontation between Test and Gildersleeve.
Gildersleeve was struck by a Pioneer assistant after he and Test had a heated exchange at midfield following the game. According to several accounts, including Test's, Gildersleeve pushed Test. Gildersleeve told AnnArbor.com he did not push Test.
Eanes said all other Pioneer coaches will be available to coach this week.
Eanes also said that while the district investigation into the incident is still ongoing, he expects 4-6 Pioneer players to face suspension. Pioneer plays Livonia Franklin Friday with a playoff berth on the line.
Margolis said Tuesday that the district plans to release the final number of players suspended on Wednesday when the district's investigation is expected to conclude.