Posted on
Fri, Mar 22, 2013 : 5:40 a.m.
Pioneer Athletic Boosters holding annual gala as district budget cuts loom
By Kyle Austin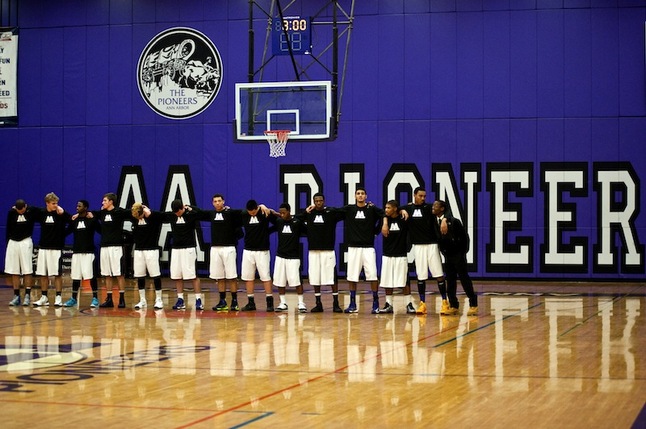 Joseph Tobianski | AnnArbor.com
It's an important event every year, but maybe never more so than this one.
The Pioneer Athletic Booster Club is holding its annual Hall of Fame dinner Friday night at Weber's Inn. The event is the group's biggest fundraising event of the year.
This year's event comes with the school's future athletic funding in question. In December, AAPS said it is considering cutting $1 million from the its $3 million athletic budget. The past two years has already seen $1 million cut from the district's athletic budget.
If instituted, the cuts could result in fewer sports being offered or higher pay-to-play fees. Ann Arbor Public Schools currently charges $150 to play one sport and $75 for each additional sport.
Pay-to-play fees are one of the costs the Pioneer Athletic Booster Club currently offsets by providing scholarships. Booster club funds can also go toward various other athletic costs, including transportation or equipment.
Booster club member Maureen Frost, who has daughters on the ice hockey and field hockey teams, said money raised helps lower the cost for families.
"There's more demand from the teams to raise money, so it's either parents paying it or you're going out and doing fundraising," Frost said.
In the absence of district funds and booster club funds, athletes are often required to solicit donations from businesses -- and often have to ask for money from the same ones again and again.
"You feel bad, going back and constantly asking them for more money and more sponsorships," Frost said.
Tickets to the event's gala and silent auction can be purchased at the door for $40 per person or $75 per couple. The silent auction features gift baskets donated by every school athletic team.
The 2013 Pioneer Athletics Hall of Fame class, including Don Davis, Don Dohoney, Richard "Chip" Hadler, Shannon Hamel, Kim McKenzie-Eagle and Betsy Petoskey will also be honored.