Posted on
Tue, Dec 18, 2012 : 11:34 p.m.
Pioneer comes back late to win boys hoops thriller over Father Gabriel Richard, 92-89
By Kyle Austin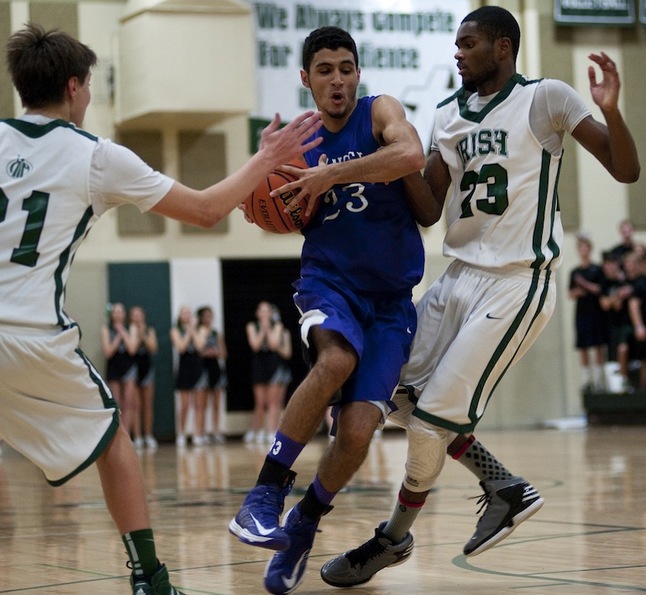 Daniel Brenner | AnnArbor.com
The Father Gabriel Richard High School boys basketball team had executed its game plan and had Pioneer right where it wanted: playing a fast-paced game, coming down to the wire in the Irish's gym.
But with a chance to pull off an unlikely upset, it was undone at the free-throw line.
The Irish missed five of its last eight free throws, including a pair in the last minute, and couldn't hold on to a fourth quarter lead as Pioneer came back and won 92-89 Tuesday night.
More Coverage: Boxscore | Photo Gallery | Boys basketball roundup
"I'm very disappointed for the kids, because I really thought they played a great game," Richard coach Pete Schoch said. "They deserved to win."
The Irish tied the game at 87 late on a pair of Evan Fosha free throws. But Pioneer's Jibreel Hussein got to the line at the other end, sinking two, and Richard's missed free throws followed by a Pioneer offensive rebound gave the Pioneers three more free throws and the game.
The sequence ended a game played at lightning speed. By the final horn, the numbers were staggering: 181 points, 67 fouls, 95 free throw attempts, 59 turnovers and six starters fouled out.
Four of those starters that fouled out were for Pioneer. Its fifth starter, point guard Duane Simpson-Redmond, left the game in the second half with an illness.
That left the task of finishing out a close game to the Pioneer bench, which handled the task ably. Zachary McRee made three of four free throws in the final minute, and Kelsey Wallace made two down the stretch to seal the win.
"I thought some of those kids that haven't played a lot really came in there and did a great job for us," Pioneer coach Rex Stanczak said.
Hussein scored a game-high 34 points, including 23 in the second half before fouling out. He was one of four Pioneer players in double figures: Wallace had 13, Ethan Spencer had 12 and 12 rebounds and Aedan York had 11.
Forward Jason Houle led Richard with 22 points and five 3-pointers. Kamari Davis and Ashton Hundley had 18 apiece, and Fosha had 16.
Richard, four games into a run-and-gun, press defense style implemented in the offseason, gave Pioneer fits through most of the second and third quarter, as it jumped out to a seven-point lead in the third.
A 15-0 run in the first half, fueled by two putbacks and six points by Tevis Robinson, put the Pioneers up 18-6 early in the game. They finished the quarter up 24-14.
The Irish came out and scored seven points in 50 seconds to start the second, and scored the first 11 points of the quarter to take the lead. Pioneer had 16 turnovers in the second quarter.
"They forced us into a tempo that we didn't necessarily want, and we threw the ball all over the gym in the second quarter," Stanczak said.
But once Pioneer improved at getting through the Irish press in the second half, it was able to use its size and athleticism to get to the hoop. Pioneer opened the fourth quarter on a 7-2 run, and won the rebounding battle, 45-24.
"I was really proud of the guys' toughness in the fourth quarter," Stanczak said. "You could tell right when we got on the floor to start the fourth quarter that we had that kind of look in our eyes."
Pioneer, coming off a 15-7 season last year, faltered to Detroit Country Day and Holt to start its season, and came into Tuesday's game at 0-2.
But it left knowing it could make it through Richard's gauntlet and pull out a close game late.
"Coach Rex always says it's not about the last game, it's not about the last play, it's about the next," Hussein said. "That's all we've been focusing on."
Kyle Austin covers sports for AnnArbor.com. He can be reached at kyleaustin@annarbor.com or 734-623-2535. Follow him on Twitter @KAustin_AA.