Posted on
Fri, Jan 18, 2013 : 5:45 a.m.
Pioneer, Huron boys basketball both surging heading into first matchup of year
By Kyle Austin
Ten months later, the memories of the district final game are still fresh.
After splitting their regular-season series, Huron and Pioneer met in the state playoffs last March with a district title on the line.
The Pioneers hung with Huron in most statistical categories, but shot 25 percent lower from the field and lost by 13.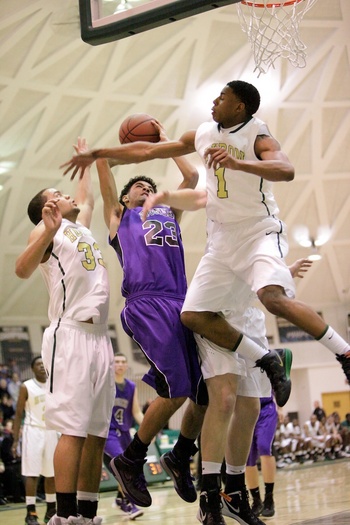 Chris Asadian | AnnArbor.com file photo
"It was very difficult," Pioneer coach
Rex Stanczak
said. "We felt like we had things kind of set up for us, we had a first round bye, we were playing at home, we had beaten Huron handily the second time. We just could not hit a shot in that game."
Pioneer and Huron renew their rivalry Friday at 7 p.m. at Pioneer, in their first meeting of the 2012-13 season. The Game is the AnnArbor.com Game of the Week. The rematch is scheduled for Feb. 8 at Huron.
Pioneer comes in on a seven-game winning streak, having not lost since an 0-2 start. Most recently, it pulled away from Belleville Monday to win, 78-57.
Huron is coming off of a strong performance Saturday at Saline, winning by 23. Both teams are 2-0 in SEC play.
"Playing well against Saline was important from that standpoint because it keeps you in the race," Huron coach Waleed Samaha said.
Pioneer's recent wins have been buoyed by senior forward Jibreel Hussein. After starting the season in a 9-for-34 slump, Hussein has now scored 48 points in his last two games. That included a 28-point, eight-rebound, six-steal performance Friday at Monroe and a 20-point, six-rebound, six-assist performance against Belleville.
Stanczak said he hopes games like that can be the norm going down the stretch for Pioneer, after Hussein has gotten over some early season jitters.
"He's relaxed and is the player that he's capable of being now," Stanczak said. "Many, many kids are guilty of this, I was a guilty of it as a senior in high school, he just put too much pressure on himself. Now I think he's just relaxed."
Huron, meanwhile, relied on a pair of sophomores in cruising past Saline Saturday. Xavier Cochran scored a game-high 15 points, his third straight game in double figures, while Brian Walker scored 13.
The duo helps provide support for an unusually small senior class, which now has only three players because of the aforementioned attrition.
"Unfortunately for us, this year's senior class is three guys, two of them played limited minutes off the bench last year," Samaha said. "Our senior class right now isn't very experienced on the varsity level. They're team guys and they've been great role models for our younger guys."
But despite any youth, Samaha still knows any Pioneer matchup will be closely contested.
"The games with Pioneer are always going to be competitive and hard-fought," Samaha said. "The kids know each other, they've been playing against each other since grade school. They respect each other and they like each other off the court."
Kyle Austin covers sports for AnnArbor.com. He can be reached at kyleaustin@annarbor.com or 734-623-2535. Follow him on Twitter @KAustin_AA.