Posted on
Tue, May 7, 2013 : 5:30 a.m.
Pitcher recovering after being knocked out by line drive to the face
By Pete Cunningham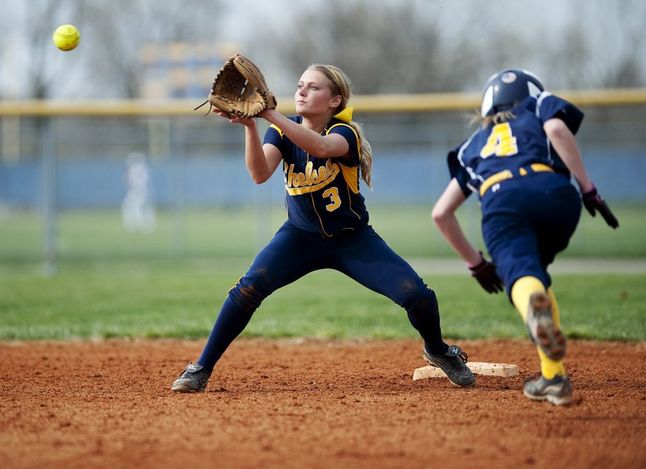 Daniel Brenner | AnnArbor.com file photo
There was a scary moment during the
Chelsea High School
softball team's
game against Adrian on Thursday.
Adrian pitcher
Clare Kucera
took a line drive off of the face and was knocked out.
Kucera left the game in an ambulance.
"It was pretty scary," Chelsea coach Bob Moffett said. "It was a really hard a real hard hit. Very scary, very tough for them. I hope she's okay. It seemed like she got lucky and took it in the cheek instead of dead on or in the temple."
According to the Adrian Daily Telegram, Kucera suffered fractures on her nose and cheek.
"Clare is doing well," Adrian coach Danielle Bailey told the Telegram. "They did an MRI, and it came back good. It looks like she has hairline fractures on her nose and cheek. She's doing well, though, and she remembers what happened."
Bailey said Kucera expressed an interest in returning this season, but only time will tell if that will be the case.
"This isn't something you want to rush through, but she wanted to get up and play after it happened," Bailey told the Telegram.
Splitting time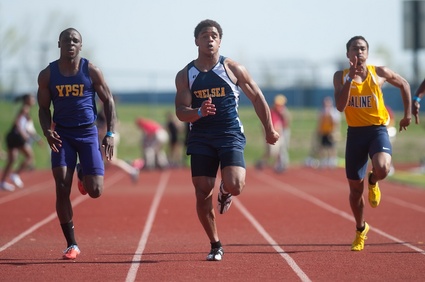 Courtney Sacco | AnnArbor.com file photo
The
Chelsea High School
boys track and field team was able to win the
Stockbridge Invitational
on Friday despite the fact that it was without its top sprinter.
The Bulldogs scored 93 points, narrowly edging second place Jackson Parma Western with 86.5 points. Michael Hovater won the pole vault for the Bulldogs while Shane McGraf won the 110-meter and 300 hurdles.
The event may not have been so close if Chelsea had its top sprinter, Berkley Edwards in the lineup. Edwards was competing at the Golden Triangle meet at Saline High School where he won the 100 against some of the best competition in the state with a time of 10.79 seconds. Edwards had the second-fastest time in the 200 preliminary heats, but did not compete in the final.
Athletes of the week: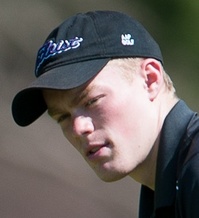 Davis Argersinger, Pioneer:
Shot a par 36 on the front nine at University of Michigan golf course on Thursday
, the low round for the week in high school competition at the course. Argersinger shot a
42 at the course on Wednesday in an SEC quad
, during which the low round was a 39, but improved the very next day during a dual against
Skyline
.
Tori Norris, Skyline: Norris had back-to-back shutouts in 3-0 wins over Pioneer and Dexter last week. It was Norris' seventh straight shutout. Norris and the Eagles have only given up a single goal all season and that was in a 1-0 loss to Plymouth in the season opener. Plymouth is currently the top-ranked team in Division 1
By the numbers
0: Goals allowed by the Father Gabriel Richard girls soccer team in its past four games. The Fighting Irish recorded their fourth straight shutout on Thursday with a 1-0 win over Madison Heights Bishop Foley.
1: Victories in program history over crosstown rival Pioneer for the Skyline boys lacrosse team after its 6-5 overtime win on Wednesday. The win gives the Eagles possession of the Gil Leaf Trophy.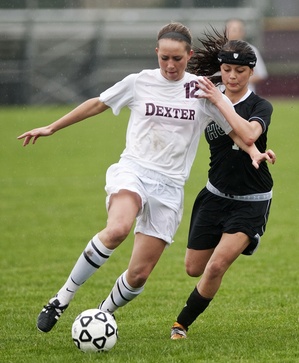 Daniel Brenner | AnnArbor.com file photo
2:
Second half goals by Dexter's Olivia Vollmers in a
3-1 win over Pinckney on Saturday
. Vollmers also had an assist on the Dreadnaughts' other goal. The game was 0-0 at halftime.
3: Strikeouts in four innings pitched for Skyline's Patrick Walker in a 3-2 win over Carleton Airport on Saturday. Walker - who normally plays catcher and was making his first appearance on the mound - was given a no-decision, but drove in the game-winning run with an RBI single in the sixth inning.
4: Runs scored and hits by Chelsea softball player Taylor Cooley in a doubleheader against Adrian on Thursday. Chelsea split with Adrian, winning the first game 2-0.
5: Runs scored by the Howell baseball team in its 5-1 win over Pioneer on Saturday. Howell was Division 1 state runner-up in 2012.
6: Combined goals scored by the Skyline girls soccer team, versus zero allowed, in 3-0 wins over Pioneer and Dexter last week.
7: Consecutive shutouts by the Skyline girls soccer team since losing their season opener 1-0 to Plymouth back on April 8. Plymouth is the top ranked team in Division 1.
Potent quotables
"I just wanted to play good competition and testing ourselves against Howell is something we wanted to do. It was a good opportunity for us to learn how to play against top teams. Howell played a very good ballgame. They made us have to beat them and we didn't capitalize. They took advantage of our mistakes and got runs."
-- Pioneer baseball coach Jerry Holley after losing to Fowlerville 6-2 and Howell 5-1 on Saturday. Howell was Division 1 runner-up in 2012. Pete Cunningham covers sports for AnnArbor.com. He can be reached at petercunningham@annarbor.com. Follow him on Twitter @petcunningham.