Record-setting opening weekend for area high school football teams, plus more notes and leaders
Posted on Tue, Oct 30, 2012 : 5:44 a.m.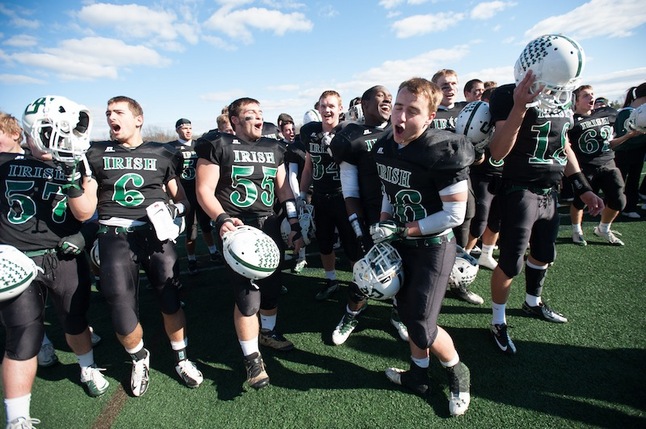 Courtney Sacco | AnnArbor.com

Washtenaw County had a good opening weekend of the high school football playoffs.

Record-setting good.
FOOTBALL TOP PERFORMERS, OCT. 26, 27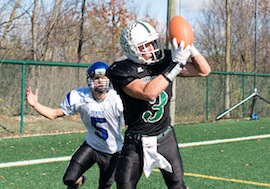 RECEIVING YARDS
72 - Stevie Tracy, Gabriel Richard (4 receptions, 2 TD)
47 - Gage Hammond, Saline (6 receptions, 0 TD)
38 - Blaise Stearns, GR (1 reception, 1 TD)
Courtney Sacco | AnnArbor.com
PASSING YARDS
115 - Joe Kendzicky, Gabriel Richard (7-of-8, 3 TD, 0 INT)
87 - Ryan Stiles, Manchester (8-of-17, 1 TD, 0 INT)
84 - Logan Brown, Chelsea (8-of-14, 0 TD, 0 INT)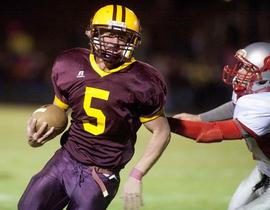 RUSHING YARDS
264 - Jim Kurasz, Manchester (26 rushes, 2 TD)
213 - Marquise Thomas, Pioneer (27 rushes, 2 TD)
192 - Robert Kanitz, Milan (25 rushes, 1 TD)
Last weekend marked the most successful playoff weekend for the county in the 14 years since the MHSAA expanded its playoff field to 256 teams in 1999.
Five of the six playoff teams advanced to district title games, marking a new high for the 13 county schools. Only twice in the previous thirteen years -- 1999 and 2006 -- had four teams advanced to the second round.
At least one of those teams is guaranteed a district title, with Saline taking on Pioneer Friday. If two of the three other teams playing this weekend win districts, it will mark another high-water mark for the county. On three occasions since 1999, the county has seen two district champions in the same year, but never three.
Rematch reversals
Five of the area's six playoff teams played rematches in district semifinals, and three of those rematches saw a reverse of the regular-season result. Pioneer saw the biggest swing, going from a 19-12 loss to Monroe Oct. 5 to a 34-0 win Friday. Manchester also improved its result, as it topped rival Clinton, 37-36, after losing its opener 32-14.
Chelsea, three weeks after topping Tecumseh, 31-28, fell by a touchdown, 27-20.
And both teams that won both the regular season and playoff rematch saw closer results in the playoffs. Milan beat Carleton Airport 41-0 two weeks ago, but needed a late touchdown to win 14-7 Friday. And Saline won by two points in the playoffs after beating Temperance Bedford by three in the regular season.
Of the four district title games on the slate this weekend, three are rematches. Pioneer topped Saline, 7-6, in the regular season, while Manchester lost to Grass Lake, 38-13.
And the only team that didn't play a rematch in district semifinals -- Father Gabriel Richard -- will play one on Saturday, when the Irish face a Lake Fenton team it beat 42-39 in Week 1.
Kendzicky stays intact
Quote of the week goes to Gabriel Richard quarterback Joe Kendzicky.
"It was nice to get out there and not break any bones," Kendzicky said after the Irish's win over Dundee Saturday.
Keeping bones intact has been a challenge for the Irish senior quarterback. He broke his wrist in his non-throwing arm in Week 1, then broke his right thumb in his return game three weeks later.
He returned to the field for the first time since Week 4 Saturday, and finished as the area's leading passer: 115 yards on 7-of-8 throwing with three scores. He split time with Mason Sarosi, who has handled quarterback duties in his absence.
Milan win underwhelming
Milan coach Jesse Hoskins didn't have the look of a coach whose team just won its tenth straight game on Friday night. Milan beat Carleton Airport 14-7, but Hoskins was not shy in labeling it his team's worst performance.
"(In the first half) we moved the ball between the 20s -- up and down the field -- but we left 21, 28 points off the board. And then the second half, same thing," Hoskins said after the game. "Am I happy that we won? A little bit, but we didn't play nearly the way we're capable of playing."
Milan beat Airport 41-0 just two weeks prior. But a pair of goal line stands and several dropped would-be touchdown passes led to the Big Reds putting up a season low in points, more than three touchdowns less than their season average. Milan didn't score an offensive touchdown until the final two minutes of the fourth quarter.
Milan plays Tecumseh on Friday at Milan High School in a Division 3 district championship game.
"We need to raise our level of play, play the way Milan's capable of playing, and then we can compete," Hoskins said.
Quarterback/running back Robert Kanitz saw the silver lining in the sub-par performance: hopefully the team got the hiccup out of its system.
"I think it will be good because it's kind of like a wake up call," Kanitz said. "You just gotta go back and work even harder this week and come out ready to play even harder next week."
Onside kick target
Saline quarterback Tyler Palka had a quiet game in the backfield by his standards: 69 yards on 10-of-16 passing.
But he came up big on the last play of the game: Temperance Bedford's onside kick attempt. And the senior admitted there was plenty of uncertainty before the play.
"I didn't know how it was going to end up, considering I've never been on a special team in my life," Palka said.
But as soon as he walked out, Palka knew the ball would be heading his way -- he is the starting quarterback, after all -- and quickly fell on it.
"I got ticked instantly in my mind, and I just decided I've got to make a play. I want to win the game," Palka said.
Twin turnarounds
Raise your hand if your preseason predictions included Milan vs. Tecumseh as a district title game.
Nobody? That's what I thought.
The two teams combined to go 3-15 last year: Milan went 1-8, and Tecumseh went 2-7.
Yet the two schools both roared back this year, and meet Friday with a combined 18-2 record. The Big Reds are undefeated at 10-0, and Tecumseh is 8-2.
The matchup will be the continuation of an old Southeastern Conference rivalry dormant since 1999, Milan's last year before jumping to the Huron League. The Big Reds won the last eight contests between the two teams.
Game of the Week
Saline vs. Pioneer and Milan vs. Tecumseh are a close battle for this week's Game of the Week.
-- Pete Cunningham contributed reporting.