Posted on
Sun, Nov 27, 2011 : 5:57 a.m.
Best friends, beef jerky and more tales from Washtenaw County's fall state champions
By Pete Cunningham
Sixteen individuals and four teams from Washtenaw County won high school state championships this past fall season.
Nobody's state medal haul -- this season, or over a career -- is more impressive than that of Huron senior Anna DeMonte.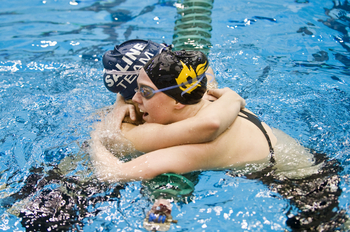 Joseph Tobianski | Ann Arbor.com
DeMonte entered the
2011 Division 1 girls swimming and diving state championships
already a four-time champion. By the end of the day, she had titles in the 200 individual medley and the 100 backstroke to add to her stack. In previous years, DeMonte won the 200 IM twice, the 100 butterfly and 400 freestyle relay.
Now that DeMonte's high school career is complete, she's focused on adding a gaudier medal to her collection: an Olympic medal.
DeMonte is now training for the 2012 Olympic Trials, for which she qualified in August. DeMonte will compete in the 200 backstroke and hopes to qualify for the 200 individual medley, for which she was less than half a second shy of qualifying this summer.
DeMonte doesn't think she has a realistic shot at qualifying in either event for the 2012 London Olympics Games, but hopes to be there one day.
"This time around, I don't think (Olympic qualification) is super realistic. When I'm a senior in college, hopefully." DeMonte said. "My goal (this years) is top 16 in the country."
DeMonte -- who will swim at the University of Tennessee -- said the high school season helped reinvigorate her love for swimming.
"It's a nice buffer between club seasons and it's good to get some different coaching for three or four months," DeMonte said. "After having a good season in high school, I have a lot of confidence and confidence for me can be a huge factor."
DeMonte said she needs to improve her breaststroke to cut down her medley time.
She need look no further than Skyline High School, which has become the foremost expert at the stroke.
Skyline senior Ashleigh Shanley was state champ in the event this year and her teammates, Shannon Cowley and Lexie Beemer (who won the event in Division 3 in 2009), were second and fourth, respectively. Skyline had two more swimmers qualify for states in the event.
Skyline coach Maureen Isaac said it's strange that teaching the breaststroke has somewhat become her specialty because it was the stroke she struggled with most as a racer.
"I was a terrible breaststroker," Isaac said. "But something just clicked in teaching it and now our girls are so strong. I never would have guessed in a million years my team would be strong breaststrokers."
Also winning a title at the swimming state championships was the Saline 200 medley relay team of Cristina Czyrka, Emily Lau, Sammy Richardt and Maddy Frost.

FRIENDS FIRST, TENNIS PLAYERS SECOND
The Huron boys tennis team won the Division 1 state title in the fall. For doubles partners Andy Wu and Sam Brodkey, the championship was especially rewarding.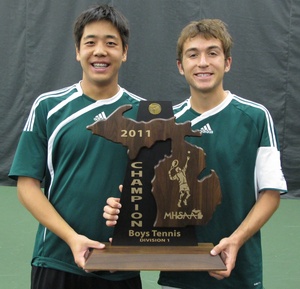 Photo courtesy of Terri Brodkey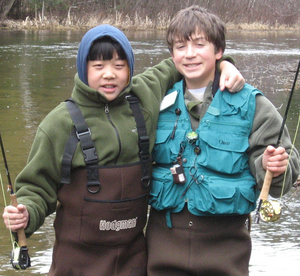 Photo courtesy of Terri Brodkey
Four years after refusing to put their friendship on the line and play each other for the final spot on the varsity roster, the two were members of the state title-winning team and were also champions of the No. 2 doubles flight.
Wu and Brodkey weren't just doubles partners, but best friends since third grade. In seventh grade, when Wu decided to give up soccer to pursue tennis, Brodkey soon followed.
Their freshman year at Huron, after several long tryouts, there was one remaining spot on the varsity roster and two players vying for that spot: Wu and Brodkey. The two were to play each other for the spot. Winner plays on varsity, loser plays on junior varsity.
The two laid down their racquets, refusing to put a spot on varsity over their friendship. Both spent their freshman season on the junior varsity, where they were paired up as a doubles team.
Though not as advanced as many players individually, the two found their niche as doubles partners. They honed their craft as a pair rather than individuals, and their hard work paid off in the No. 2 doubles final, where they avenged their only loss of the season.
"To win senior year, our last chance, it was amazing," Wu said.
Also winning a flight championship for the River Rats were Ben Brenner and Costa Demetral at No. 4 doubles.
That same day, Greenhills School won its fourth straight state title on the strength of its three flight championships from Zach Martell (No. 4 singles), Sam Markel and Adhi Rajaprabhakaran (No. 3 doubles), and Neil Sykes and Nick Sandhu (No. 4 doubles).
With every other flight complete and locked in a three-way tie for first, the Gryphons needed a win out of Martell to win the title outright. Greenhills coach Eric Gajar elected not to inform Martell of this, but when the cheers grew increasingly louder during the third set -- which Martell won, 6-4 -- Gajar suspects he caught on.

JERKY AMONGST FRIENDS
Last year, then Chelsea High School senior August Pappas had a regrettable end to his senior cross country season. Among a handful of favorites heading into the state finals at Michigan International Speedway, Pappas' legs gave out on him in the final race of high school career.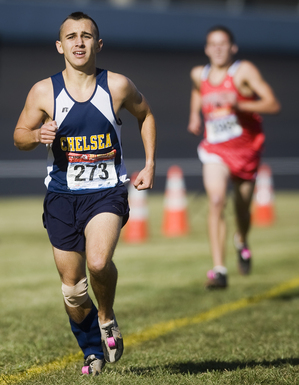 Paige Calamari | Jackson Citizen Patriot
He finished seventh, not bad for almost anyone else. For him, a disappointment.
Finishing ahead of him was teammate Bryce Bradley, a surprise runner-up despite being seeded near 15th in the race.
Similar to Pappas the year before, Bradley entered this year's championship race a favorite. Unlike Pappas, Bradley's legs didn't abandon him and he finished as the Division 2 state champion.
Bradley's time of 15 minutes, 20.6 seconds was the fastest across all divisions at the state championships, earning him the Michigan Track Coaches Association Mr. Cross Country award. What it earned him when he crossed the finish line, however, was even more rewarding.
Pushing though the crowd to to be among the first to congratulate Bradley was Pappas -- now a freshman runner on Michigan's cross country team. While others offered handshakes, high fives and hugs, Bradley's face lit up when Pappas handed him what he really wanted: beef jerky.
There was no jealousy between the one-time teammates and friends, just a shared love of beef jerky.

CROSS-TOWN CLASHES
In boys water polo and girls field hockey this fall, the state championship games doubled as an Ann Arbor city final between Huron and Pioneer.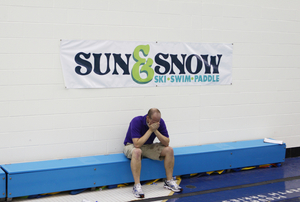 Ann Arbor.com file photo
In both instances, the intensity of the rivalry manifested itself in two tightly contested games.
In water polo, Huron came in as the favorite after an upset of two-time defending champion Rockford in a semifinal. It looked like the final would belong to the River Rats, who led 4-1 in the second quarter and 5-3 heading into the fourth.
But Pioneer refused to quit and rallied for a 6-5 win.
"The way we were able to come back made me so proud. To fight and claw and get back into it, I'm speechless," Pioneer coach Will Hart said after the game.
In field hockey, Huron and Pioneer met in the state finals for the fourth straight year. For the second straight year, regulation time wasn't enough to decide a victor.
Katie Yeatts scored the game-winner just 24 seconds into the final and gave Huron its second consecutive state title with a 2-1 win. Pioneer won five straight prior to Huron's current streak.
-- Bob Gross, Matt Durr and Jason Idalski contributed to this report.
Pete Cunningham covers sports for AnnArbor.com. He can be reached at petercunningham@annarbor.com or by phone at 734-623-2561. Follow him on Twitter @petcunningham