Posted on
Tue, Jul 23, 2013 : 3:26 p.m.
Eastern Michigan's Ron English feels 'rejuvenated' since adding defensive coordinator duties
By Pete Cunningham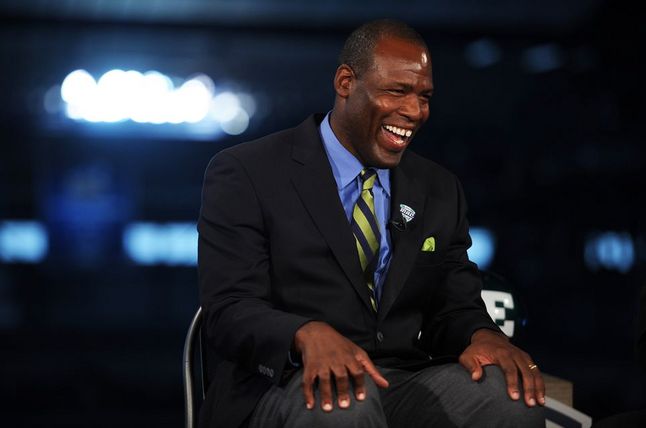 Melanie Maxwell | AnnArbor.com
Related:
When Eastern Michigan football coach Ron English was asked why he named himself defensive coordinator, he delivered one of his signature scowls and a blunt, one-liner.
"Because I can't get a better one," English said at MAC Football Media Day at Ford Field on Tuesday.
Despite what the scowl might suggest, English explained that his happiness has spiked since making the move.
"I'm just more happy going to work because I know I can influence the players and the team on both sides of the football. It's just, I feel real excited, rejuvenated to coach the defense and I'm real excited to see if I'm any good still," English said. "But we'll see, we'll see here very soon, but I think I am. I've done it at a high level everywhere I've been."
The reason English became a head coach is because of his defensive expertise. English was the defensive coordinator at Michigan during the 2006 and 2007 seasons and at Louisville in 2008. In his previous four years as Eastern's head coach, he was not in charge of a specific unit.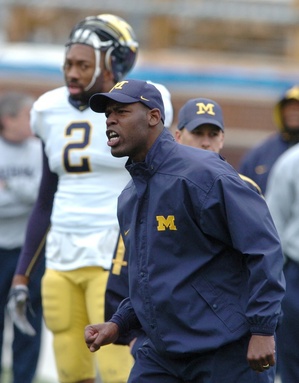 Alan Warren | Ann Arbor News file photo
He wouldn't go as far as to say it was a mistake, but did say he'd probably do it differently if he could go back in time.
"I would tell any coach, coach a position on that team because that's why you got there, that's your area of expertise and I think that's where you can have great influence," English said.
English made the switch after Phil Snow - who had been Eastern's defensive coordinator for the past three years - left to take the same position at Temple in January. There's nowhere to go but up for the Eagles defense, which was last in the MAC in total defense and rushing defense in 2012 while going 2-10.
"It's just what I like to do and when we had a change I immediately, I wanted to get back to that side of the ball anyway," English said.
Players have noticed a difference in English since the switch.
"He's always been a hands on kind of coach, but I can tell he has a kind of enthusiasm about himself at practice and I like that," said defensive lineman Kalonji Thomas. "He is a great defensive coordinator and he really knows how to reach and touch each player to get a better reaction out of him, he really has that gift.
"It's working very well."
English will be Eastern's third defensive coordinator in his five year tenure as head coach. His staff will also have a new offensive coordinator, linebackers, secondary, offensive line and special teams coaches during the 2013 season.
English said the turnover doesn't concern him because he's happy with the end results.
"When you're further along in your tenure, you know exactly what you're looking for, what kind of pieces fit," English said. "I think we were fortunate to get pieces that fit well."
Pete Cunningham covers sports for AnnArbor.com. He can be reached at petercunningham@annarbor.com. Follow him on Twitter @petcunningham.