Posted on
Mon, Jun 3, 2013 : 1:20 p.m.
Longtime Willow Run football coach Rufus Pipkins lands Ypsilanti Community Schools job
By Kyle Austin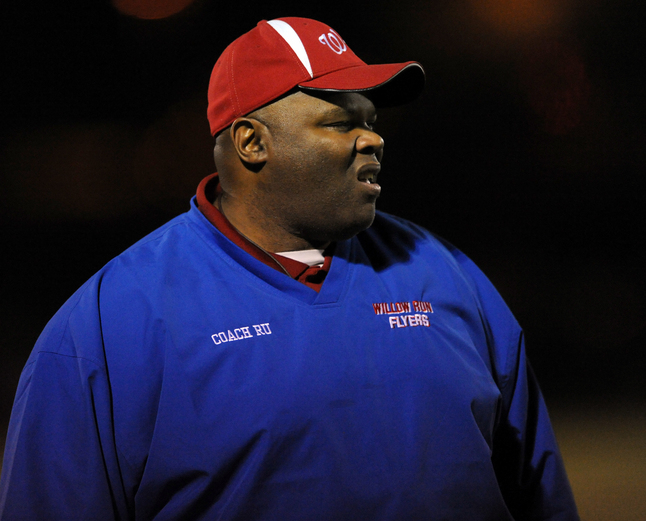 Lon Horwedel | AnnArbor.com file photo
Updated at 2:10 p.m. with comments from Rufus Pipkins and at 3:15 with comments from Lamanzer Williams
Rufus Pipkins has been named the first head football coach for the Ypsilanti Community Schools, the district announced on its website on Monday.
Pipkins has spent the last eight years as the head coach at Willow Run, and more than 25 years total coaching football in the area.
Pipkins compiled a 30-42 record at Willow Run. That includes three winning seasons and one playoff appearance and win, in 2010, the program's first since 1981. Last year, the Flyers finished 2-7.
Pipkins will lead a football program combined from Ypsilanti High School and Willow Run High School. Ra-Mon Watkins coached Ypsilanti last year in his first year as head coach, guiding the Phoenix to a 1-8 mark.
Pipkins will be working with a truncated offseason schedule, with just 12 weeks until the first week of games. The first order of business, he said, will be identifying students at both schools who played on last year's teams and others who could be interested in joining the new team.
Once he does address his new team, Pipkins said he will focus on the positives.
"I don't want to bring in any type of excuse mentality," Pipkins said. "You sometimes have to go with the cards that you've been dealt. Nobody's played a game yet.
"We won't address any negative statements about being behind and getting a new coach, the new coach's philosophy and type of play and all. We'll try to stay as positive as possible."
New YCS athletic director Lamanzer Williams said Pipkins' positivity was one of the things that stood out about Pipkins during the hiring process.
"From what I've gathered just listening to people around the athletic department at our new high school, they felt like not only have we not been successful, they felt like the coaches haven't been the most positive or uplifting people," Williams said. "So anybody that knows Rufus, man he can find some positive out of anything."
Williams said Pipkins' accomplishments at Willow Run given the circumstances was also a key factor.
"He did a whole lot at Willow Run with minimal resources, no numbers and not a whole lot of support," Pipkins said. "That was key.
"I just know he's about doing things the right way, and I know he can make a really bad situation really positive."
Pipkins is the second YCS athletic department hire, after Williams was hired nearly a month ago as athletic director.
Williams is a former Willow Run player, and coached with Pipkins on the Willow Run staff after finishing his NFL career.
"It's always great to have a working relationship with somebody that you know, and you probably get a lot of things addressed easier," Pipkins said.
Williams was hired after the coaches hiring process had already been initiated, and said he re-interviewed Pipkins and other coaching candidates before providing his input to the hiring committee, which included students, parents and teachers from both schools, and administrators.
Kyle Austin covers sports for AnnArbor.com. He can be reached at kyleaustin@annarbor.com or 734-623-2535. Follow him on Twitter @KAustin_AA.