Posted on
Thu, May 9, 2013 : 5:15 p.m.
Saline gets hole-in-one and winning rowing teams and more community briefs
By Pete Cunningham
Photo courtesy of Pete Pfeiffer
A week after winning its first-ever regatta, the
Saline High School
rowing team added a second trophy to its collection on Saturday, May 4.
Competing in the Wyandotte Boat Club's 2013 Wy-Hi Regatta on the Detroit River, the Hornets qualified 11-of-13 boats for the finals and had top three finishes in all the events entered.
Saline had five first-place finishes including in four varsity races.
On the girls side, Gavin Gallagher, Haley Pfeiffer, Sarah Carter and Sarah Buckeridge won the varsity quad race. For the boys, Jacob Hargrove and Ryan Wellings won the varsity double; while Nolan Dellot, Mike Torssell, Andrew Bonczyk and Oliver Mepham won the boys quad; and Sean Hutfles, Travis Krause, Ben Friman, Graham Fox and coxswain Jade Hoang won the lightweight 4 race.
Saline won the the 49th annual Hebda Memorial Cup Regatta the previous weekend.
Hole-in-one
Milton Stemen, 69, of Manchester, shot a hole-in-one at Rustic Glen Golf Club in Saline on Thursday, May 2. Stemen, 69, shot the ace on the Par 3 tenth hole with his three-hybrid club. The pin was placed in the back on the uphill hole, making it a 195-yard shot. Witness to the shot was Rod Stemen, Milton's son. It was Stemen's first-ever hole-in-one.
Nick Belanger Assist fund golf outing to help struggling youth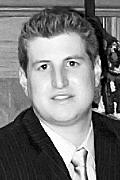 Courtesy of MLive
The second annual Coach Nick Belanger Assist Fund Golf and Washer Outing will take place Friday, June 14 at
Brookside Golf Course
in Saline.
Held in honor of Saline High School graduate and former Father Gabriel Richard assistant hockey coach Nick Belanger, who died of a heroin overdose in 2012 at the age of 26, the outing will serve as a fundraiser to help young people struggling with life challenges. Funds raised will also go toward assisting youth in educational or "activity-related" expenses through the Nick Belanger Memorial Fund.
Further information can be found at The Coach Nick Belanger Assist Fund website.
Jaeger-bomb
University of Michigan junior swimmer Connor Jaeger was named the Detroit Atheltic Club's Michigan Male College Athlete of the Year by the Detroit Athletic Club on Monday.
Jaeger has had quite the year, representing the United States in the 2012 London Olympics during the summer then winning a pair of individual national championships for Michigan in March in leading the Wolverines to their 12th national title. Academics also factors into the decision and Jaeger, a mechanical engineering major, is a two-time Academic All-Big Ten honoree and a three-time recipient of the U-M Athletic Academic Achievement Award.
Jaeger is the third University of Michigan athlete to win the award joining swimmer Davis Tarwater (2006) and wrestler Kellen Russell (2012).
Have a local sports brief to tell us about? Contact us at sports@annarbor.com.
Pete Cunningham covers sports for AnnArbor.com. Contact him at petercunningham@annarbor.com. Follow him on Twitter @petcunningham.