Posted on
Sat, Jun 1, 2013 : 6:27 p.m.
Saline girls track 2nd at state finals, Quenee' Dale wins 100 hurdles
By Kyle Austin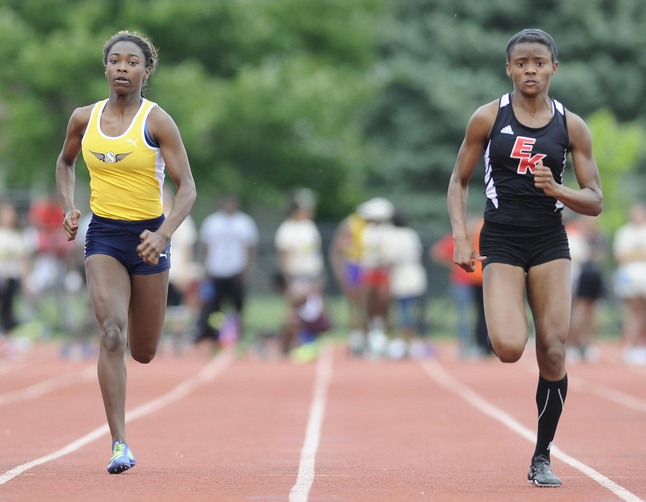 Matt Gade | Mlive Media Group
Related:
KENTWOOD -- It took an effort better than their coach thought would be possible, but the Saline High School girls track and field team left East Kentwood with a trophy.
The Hornets finished as runners-up at the Division 1 track and field state finals Saturday with 55 points, 21 behind three-peat champion Grosse Pointe South. The finish is Saline's best ever for a girls team at the track and field state meet.
"We didn't think we could score this many points," Saline coach Brian Boze said. "Everybody met or exceeded their own expectations. We knew we could be a contender for second, but we didn't know we'd have to score this many points to do it.
"All up and down the board, sprints, hurdles, field, distance, tremendous at every entry really for us."
The Hornets had top-eight finishes in eight different events, including one individual state title and one relay state title.
More: Results | Boys Division 1 coverage
Junior Quenee' Dale captured the Hornets' first individual state title since 2002 with a 14.74-second 100-meter hurdles, running into a strong headwind. Dale got what she called her best start of the season and led throughout.
"I was kind of shocked," Dale said of her start.
The race was the first final of what was a challenging four-event schedule for the junior. Nine minutes after her hurdles win, the gun went off for the start 100-meter dash final. Dale crossed the finish line 12.63 seconds later, in fifth place.
From there, she ran legs in two relays, the 800 and the 400, all within the hour.
In her final race of the day, the anchor leg of the 400, Dale passed the team from Pioneer with 50 meters to go to give the Hornets their second straight state title in the event. Dale said she was happy to help win the title for teammate Amanda Luurtsema, who missed the finals in the 100 dash.
"She worked hard all season, she really deserved this," Dale said. "I was like 'This is for her.'"
And even though Dale's four races totaled just 500 meters, the fact that they were packed in the front end of the meet, and that the 100 and 100 hurdles both had preliminaries and semifinals, meant she had to work on her conditioning to be able to handle the schedule at the state meet.
"It takes a rare athlete," Boze said of the schedule. "Cindy Ofili did it very well for Ann Arbor Huron as a junior and senior, Quenee' did it very well. But you have to be able to manage the rounds at not your full capacity."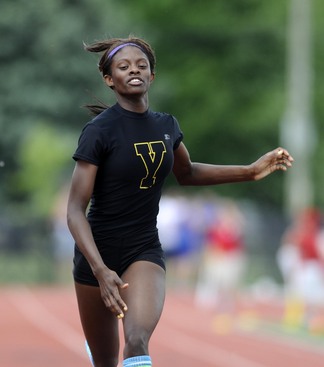 Matt Gade | MLive Media Group
Saline's Randi Bennett also made it on the podium twice, finishing third in the shot put and fourth in the discus. After disappointing performances in the past and a knee injury in the fall that threatened her senior season, Bennett finished with her best state meet yet.
"She's been up here three years in a row and has had some issues up here," Boze said. "Just to get that monkey off her back and to compete really well, she is just a team person."
The Hornets also put three runners on the podium for the 3,200-meter run: Elianna Shwayder in third, Abby Rentschler in fifth and Gillian Walter in seventh.
The Saline boys 3,200-meter relay team also won a state title early in the day, nearly two seconds faster than the second-place finisher.
Outside of the Saline girls' six athletes that earned all-state individual honors, 12 other Washtenaw County athletes finished with individual all-state honors on the day.
Like Dale, Ypsilanti's Endia Francois had a busy day at the track, competing in the high jump, long jump, 200 and 400.
The junior found her way to the podium in both her running events, finishing in seventh in the 400 and fourth in the 200. In her 200 performance, her last race of the day, she injured her quadricep, but still managed her best finish of the day.
"I pulled it coming down the stretch, but I still stuck it out and came in fourth," Francois said.
Washtenaw County Division 1 Girls All-State
Kennedy Beazley, Huron. 800-meter run, 6th, 2:12.07
Randi Bennett, Saline. Shot put, 3rd, 40-4.75. Discus, 4th, 121-7
Quenee' Dale, Saline. 100-meter hurdles, 1st, 14.79. 100-meter dash, 5th, 12.63
Alexis Dubreuil, Pioneer. 100-meter hurdles, 6th, 15.18
Endia Francois, Ypsilanti. 400-meter run, 7th, 57.91
Kami Powell, Dexter. Pole vault, 5th, 11-3
Chinonye Uche, Pioneer. 300-meter hurdles, 5th, 45.36
Abby Rentschler, Saline. 3200-meter run, 5th, 10:53.53
Elianna Schwayder, Saline. 3200-meter run, 3rd, 10:43.58
Gillian Walter, Saline. 3200-meter run, 7th, 11:01.02
Natalie Wysocki, Saline. 300-meter hurdles 7th, 45.70
Huron 3,200-meter relay. 5th, 9:20.31
Pioneer 400-meter relay. 2nd, 48.66
Saline 3,200-meter relay. 3rd, 9:15.92
Saline 400-meter relay. 1st, 48.57

Kyle Austin covers sports for AnnArbor.com. He can be reached at kyleaustin@annarbor.com or 734-623-2535. Follow him on Twitter @KAustin_AA.