Posted on
Sat, Jun 1, 2013 : 6:25 p.m.
Chelsea wins first boys state track title, Berkley Edwards sweeps sprints
By Matt Durr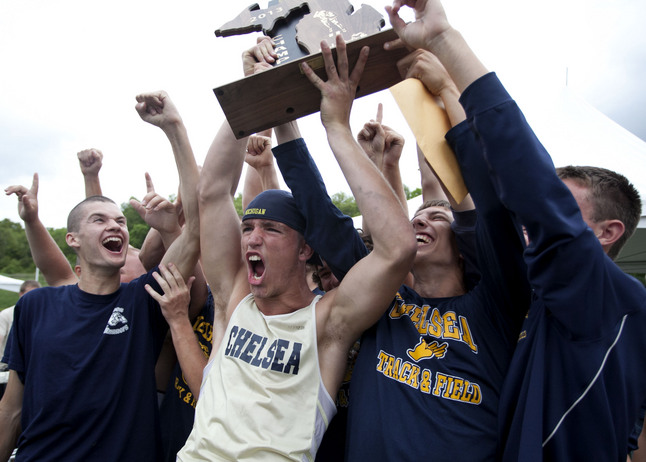 Latara Appleby | MLive.com
Related:
ADA - For the first time since 2003, a Chelsea High School athletic program can call itself state champions.
The Bulldogs' boys track and field team brought home that program's first ever state title Saturday in front of a packed house at the Division 2 finals hosted by Forest Hills Eastern High School.
"It feels great and it was a true team effort," said coach Eric Swager. "What made it real special is that we have quality coaches and all the guys bought in that we're going to work hard from day one."
The Bulldogs scored 64 points to beat runner-up Grand Rapids Ottawa Hills by eight points. Highlighted by senior Berkley Edwards' two state championships in the 100-meter and 200-meter dashes, Chelsea won three individual and one relay title to pace the team's effort.
More coverage: Complete results
The Bulldogs' 3200-meter relay team started the day strong, winning the meet's first race in a time of 7 minutes, 55.84 seconds.
"We've been planning on (winning a state title) since the winter. We talked about it in the winter, we worked towards it, and we knew he had the guys to do it," said Chelsea senior Zach Rabbitt, who won ran the first leg of the relay. "We came in here knowing that we had a good shot to win this meet as a whole. Coach told us 50 points should win us the meet and we went out and got 10 for our team."
With the state title, the 3200-meter relay team of Rabbitt, Jacob Stubbs, David Trimas and Tony Vermilye finished the season without a loss to a Division 2 opponent all season.
"We knew we couldn't just walk out there and win it," Stubbs said. "We knew we had to work for it."
That win was followed soon after by the first of Edwards' two championship races.
He won the 100 dash in a time of 10.58 seconds (see video below) and later in the day edged Allegan's Gary Jones by 0.2 seconds to win the 200 dash in 21.37 seconds.

Both times were personal bests for Edwards, and they couldn't have come at a better time.
"I think things went well, better than I expected," said Edwards, who will play tailback for the University of Minnesota football program in the fall. "It feels real good. I wanted to end senior year on a great note and I did that.
"It was definitely a close race. The guy from Allegan is a really good runner, I respect him a lot. My strategy was to get out, get out hard on the curve and try to hold on. I heard him coming but I told myself 'don't strain.'"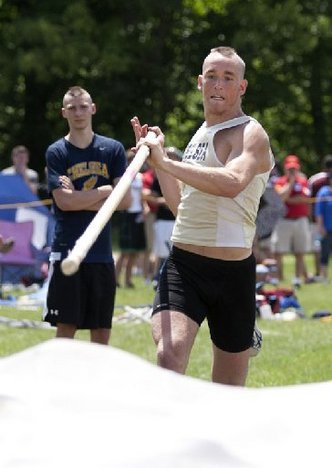 Latara Appleby | MLive.com
Chelsea's third individual title came from senior
Michael Hovater
, who won the pole vault with a height of 14-feet, 10-inches. Despite being the
top seed entering the event
, Hovater said he has never been as nervous.
"There is nothing better. I can't honestly think of anything I would want more," Hovater said. "You can be the top seed going in by three feet and still, that much pressure is overwhelming."
Aside from the state champions, the Bulldogs got a huge contribution from Austin Horn, who took second and fourth, respectively, in the 1,600 and 3,200-meter runs.
The only other Washtenaw County boys team represented at the D2 meet was Milan, whose lone athlete -- Kalif Kelsey -- placed fifth in the long jump.
On the girls side, it was a different story. Neither the Chelsea nor Milan teams could muster enough points to crack the top 10. Milan finished with 12 points and Chelsea seven.
Milan's Tess Odegard finished third in the high jump (5- 4) while Nicole Lange was sixth in the 200 dash (:26.39) and seventh in the 400 (:59.41). Chelsea's Grace Sauers was fifth in the 300 hurdles (:46.04) and the Bulldogs' 800 relay team finished sixth.
But the day belonged to the Chelsea boys team.
"They were a good group, mostly seniors, but some younger guys too," Swager said. "We said at the start of the year, when the weather was rotten, 'We're going to work hard on Day 1 and not let the weather dictate whether or not we're going to have a good season.'
"We worked hard from Day 1 and this is what happens when it comes together at the end."
Matt Durr is a freelance sports reporter.