regional roundup:

Saline, Greenhills boys golf teams return to state championships

Posted on Thu, Jun 7, 2012 : 10:35 p.m.
The Saline High School boys golf team is headed to the state finals for the second straight year.
Jackson Lambert shot a 2-under-par 69 at West Shore Golf and Country Club on Grosse Ile on Thursday, leading the Hornets to a second-place finish at a Division 1 regional tournament.
Saline finished with a team score of 298 and finished two strokes behind regional champ Plymouth. The Hornets beat Plymouth in a district title last week on Lambert's fifth-man tie-breaker score.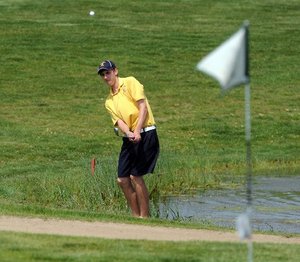 AnnArbor.com file photo
In regional play, Lambert had the second-best individual score out of 72 competitors. Donnie Trosper from Canton carded a 67, leading the Chiefs to the third and final championship berth.
"It was just great for (Lambert) because he's been sick since districts and didn't start hitting balls until a couple days ago," said Saline coach Debbie Williams-Hoak, who was named regional coach of the year. "This was his lowest competitive round ever, and he was even 4-under at one point."
Caleb Wittig (73), Ryan Peruski (78) and Ian Martin (78) also scored for Saline, which finished 12th at the D1 state meet last season. (Complete standings & scores)
Skyline shot a season-best 307, but finished fourth in the team standings, missing out on a state finals bid by eight strokes. The Eagles' Conor Lang shot an even-par-71, finishing with four birdies, and became the first Skyline golfer to qualify for the state championship.
"He is pretty cool and clutch," Skyline coach Ashley Mantha said. "He had good opportunities and let some of them slip through, but he played very well and it was one of his low rounds."
Josh Bourque (78), Ian Marshall (78) and Andrew Wayrynen (80) also scored for Skyline.
"Last year was our first appearance at regionals, and this year is our first appearance at states," Mantha said. "It's great to see them improve and I'm very proud of them."
Pioneer's Nick Margolis also qualified for the state championships, shooting a 1-over-par 72.
The top three players not on a qualifying team advance. Margolis and Lang will be joined by Dearborn's Evan Bowser (69) at the D1 finals, played June 15-16 at The Meadows in Allendale.
"(Margolis) hit the ball really solid today, but his putting was exceptional," Pioneer coach Dane Dresch said. "He manages his game really well, and he knows what he can and cannot do."

DIVISION 3
at Cascades Golf Course, Jackson
Father Gabriel Richard shot a 336, good for fifth place. Freshman Andrew Scopone led the Fighting Irish with an 82 and senior Mark Lemanski shot an 83.
Three-time defending Division 3 champion and No. 1-ranked Jackson Lumen Christi won the regional with a course record score of 291. No. 2 Grosse Ile (307) and Hanover Horton (307) earned the other state championship qualifying spots. (Complete standings & results)

DIVISION 3
at Cracklewood Golf Club, Macomb
Whitmore Lake finished seventh with a 347 team score. Emma Salata, a three-year captain on the boys team, capped her prep career with a team-best 85. Junior Anthony Manschesky shot an 86.
Pontiac Notre Dame Prep (325), Macomb Lutheran North (334) and Lake Fenton (336) earned the team qualifiers. (Complete standings & results)

DIVISION 4
at Westwynd Golf Course, Rochester
Greenhills qualified for its third straight trip to the state finals with a second-place finish. Travis Hindle, who lost medalist honors on the first playoff hole, shot a 76 to lead the Gryphons.
Defending D4 state champion Auburn Hills Oakland Christian shot a 327 to beat Greenhills by 32 strokes. The Gryphons finished eight strokes behind their Michigan Independent Athletic Conference rivals at last year's state finals.
"I thought it was pretty obvious that Oakland Christian would win," Greenhills coach Bill Ammerman told MLive.com. "I also thought five or six teams would be playing for the last two spots, and if you looked at the numbers that turned out to be right."
Greenhills and Rochester Hill Lutheran Northwest tied for second with 359 team scores. Grosse Pointe Woods University Liggett (360) and Clarkston Everest Collegiate (361) were close behind. (Complete standings & scores)
The D4 finals will be played June 15-16 at Forest Akers West in East Lansing.