Posted on
Fri, Feb 1, 2013 : 11:29 p.m.
Saline hits from outside, but struggles going inside in loss to Pioneer
By Kyle Austin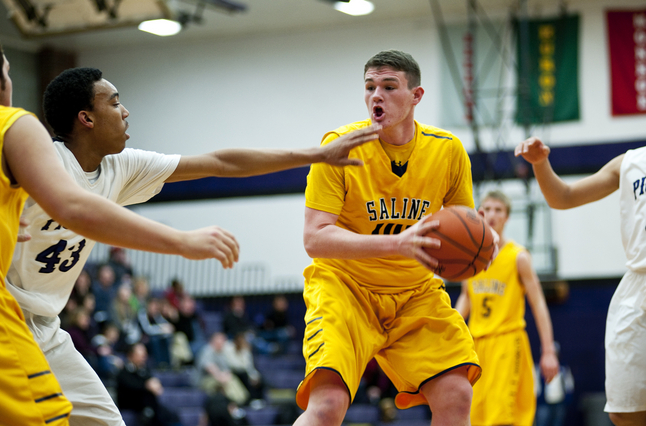 Daniel Brenner | AnnArbor.com
Saline hung in Friday's game and had a chance to upset Pioneer due in large part to its 3-point shooting.
But the Hornets coach Eric Williams knows his team has an underutilized weapon inside that can put his team over the top.
"I'm not bashful in saying I don't think there's a player in our league that can stop Max (Recknagel)," Williams said.
Saline fell, 58-53 on the road, despite hitting seven 3's in the game.
Game of the Week coverage: Boxscore | Game Story | Friday night roundup
But Williams' message to his team at halftime wasn't about 3-point shooting. It was about getting the ball inside to Recknagel, who managed 10 points for the game, with limited touches.
Williams knows finding ways to get Recknagel, whose size (6-foot-6, 230 pounds) presents matchup problems to virtually any opponent, is key.
"We preached getting the ball inside," Williams said. "We did a poor job of getting him the ball. They did a great job of pressuring our guards to make the pass hard to get in there.
"The fault falls on obviously me, but guards have got to do a better job, and Max has got to do a better job of getting open," Williams said.
For Saline's guards, there's a fine line to cross when they're bringing the ball up the floor. Williams wants them, particularly Reece Dils and Michael Hendrickson, to look inside.
But he also doesn't want his best shooters passing up good shots.
"It's a fine line," Williams said. "I don't want Reece to force shots, but he's a very good shooter, and I want him to look for his shots."
Yet relying heavily on outside shooting still nearly gave the Hornets an upset win on the road. After Pioneer went up by 11 late in the game, Saline made a run that included a pair of 3's to pull within three in the final minute of play.
"When you can match three for two, you're going to make some runs," Pioneer coach Rex Stanczak. "Unfortunately for us they made it late, but we were able to come through at the end."
Kyle Austin covers sports for AnnArbor.com. He can be reached at kyleaustin@annarbor.com or 734-623-2535. Follow him on Twitter @KAustin_AA.