Posted on
Fri, Feb 1, 2013 : 11:42 p.m.
Skyline pulls away from Monroe, Huron falls at Bedford and more Friday results
By Kyle Austin
This file will be updated throughout the night
AnnArbor.com Washtenaw County Scoreboard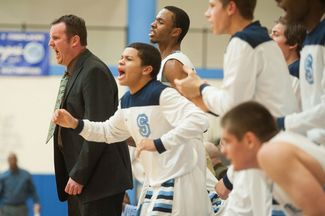 Courtney Sacco | AnnArbor.com
Skyline 62, Monroe 52
Story | Boxscore
With three double-digit scorers and effective defense supplying the thrust, Skyline generated a 13-point swing in the fourth quarter and ran off with a league victory.
Visiting Skyline (5-7, 2-3 SEC Red) outscored Monroe 24-11 in the final frame. Marquis Wesley racked up a game-high 19 points and six rebounds for the victorious Eagles.
Wesley went 7 for 7 from the free-throw line, part of Skyline's season-best 19 of 24 team performance. Foul shots were a factor late as the Eagles clinched the win.
"We had the maturity to stick with it at the end, especially at the line," Skyline coach Mike Lovelace. "Bounces weren't going our way and shots weren't going in for a long time. It was the perfect recipe for a close game."
Tristan Wilson scored 14 for Skyline while also adding six rebounds and five blocks. Peter Bakker-Ardema contributed 12 points by burying four 3-pointers.
Temperance Bedford 75, Huron 65
Story
Despite a 29-26 lead at halftime, the Huron (6-5, 4-2 SEC Red) fell to Temperance Bedford 75-65.
"In the third quarter, they really hurt us on the boards," Huron coach Waleed Samaha said. "Our kids competed hard. It was a learning experience. They are first in the league, and we are one of several teams trailing behind."
Ypsilanti 71, Chelsea 39
Story | Boxscore
Freshman Corey Allen had 19 points and Lavonte Davis earned his third double-double of the season in Ypsilanti's comprehensive home win. Davis, a senior Northwood University recruit, controlled the paint for Ypsilanti (10-2, 6-0 SEC White), as he scored 18 points, grabbed 12 rebounds and added three blocks.
"Lavonte realized this was his last Friday-night home game so he wanted to play hard," Ypsilanti coach Steve Brooks said. "He's really enjoying his senior year. He leads by example."
Jaylen Johnson had similar success, as the Ypsilanti junior earned 14 points and nine boards while blocking four Chelsea attempts. Classmate Janeau Joubert contributed 11 points and nine assists.
Nate Bossory was Chelsea's top scorer with 15 points. He and Logan Brown made a pair of 3s each for the Bulldogs (3-9, 2-5 SEC White), who host Ann Arbor Skyline on Tuesday.
Dexter 52, Adrian 36
Story | Boxscore
Brandon Bellottie's 16 points and a big first quarter helped Dexter even its season record with the Southeastern Conference White Division home win.
"We got off to a good start and we shot the ball well in the first quarter," Dexter coach Randy Swoverland said. "We were able to break their press, and we capitalized off that."
Derek Seidl added 12 points for Dexter (6-6, 3-2 SEC White), while Brandon Bednarz had eight.
Tecumseh 44, Lincoln 40
Story | Boxscore
Devin Haygood and Tyler Hinton led Lincoln (5-7, 2-4 SEC White) with eight points each.
Lincoln coach Rich Marion was disappointed in his team's defensive lapses down the stretch.
"I knew it was going to be a low scoring game, given the matchups and how they play," Marion said. "The biggest disappointment was giving up 16 points in the fourth … We have to learn that our calling card is going to be our defense."
Milan 82, Carleton Airport 46
Story | Boxscore
Milan forced a combined 13 turnovers in the middle two quarters, leading to a 51-25 scoring advantage.
"I thought we did a much better job with our full-court pressure," Milan coach Josh Tropea said.
C.J. Turnage led Milan (12-1, 8-0 Huron League) with 22 points, followed by Latin Davis' 15, Thomas Lindeman's 11 and Stephen Evans' 10. Sophomore Nick Perkins finished with 10 points, eight rebounds and five blocks.
Willow Run 68, Arbor Prep 54
Story | Boxscore
Senior Daquanta Brown had 18 points for Willow Run (5-8, 3-1 Metro Conference), Jermayne Nathan had 17 and Tyler Brooks had 15.
Junior Tariq Stinson had 23 for Arbor Preparatory (6-6), making seven field goals, four 3-pointers and shooting 3 for 8 from the free-throw line, and Adrian Harrison scored 13.
With a seven-point lead Willow Run pulled away from Arbor Preparatory in the fourth by outscoring Arbor Preparatory 20-13.
"We took control in the third quarter and our pace as exactly what we wanted," Willow Run coach Tim Cain said. "We pounded it down low and let Jermayne Nathan take care of the rest. Being unselfish was what got us the lead."
East Jackson 88, Manchester 66
Story | Boxscore
Jordan Heuser led Manchester (1-13, 1-7 Cascades) with 13 points. Coach Dave Arnold praised his efforts in what's been a long season for the Flying Dutchmen.
"Sometimes when you struggle guys start to loosen up the baseball gloves and get ready for spring break," Arnold said. "Not these guys. They want to finish strong. They lost to probably the best team in the league."
Clinton 68, Whitmore Lake 57
Story | Boxscore
Devon Kowalewski led Whitmore Lake (4-9, 3-5 Tri-County) with a game-high 18 points, and Rory Judge added 16 points for the Trojans.
Greenhills 69, Newport Lutheran South 42
Story | Boxscore
Greenhills (11-1, 10-0 MIAC Blue) jumped out to a 32-12 halftime lead and did not look back. Andrew Khouri led all scorers with 30 points, and Emmet Kulka added 12 points and four steals.
"I think Andrew is now 24 points away from 1000 in his career," Greenhills coach Andrew Wright said. "We're up two games in the conference. We may be able to at least tie for the championship depending on what happens tonight."
Washtenaw Christian 57, Central Academy 48
Story | Boxscore
James Pipe led Saline Washtenaw Christian (8-4) with 18 points, as the Wildcats withstood Ann Arbor Central Academy's (5-7) fourth-quarter comeback attempt. Brian Stout added 16 points, Mathias Donat scored 12 and Josiah Donat recorded 10 points.
"We're getting a number of layups and perimeter shots," Washtenaw Christian coach Dan Benefiel said. "We're taking care of the ball."
Ann Arbor Central Academy's Hassan Attar scored 21 points, while Mohamed Issa had 15 points.
"They had some good perimeter shooters," Benefiel said. "We made Hassan Attar the focuse of our man-to-man defense."
Westland Huron Valley Lutheran 54, Calvary Christian 42
Story | Boxscore
After tying up the game halfway through the fourth quarter, Calvary Christian Academy's (1-12) offense stalled, and Westland Huron Valley Lutheran pulled ahead with a 12-0 run for the win.
Calvary Christian's David Walker led with 11 points, followed by James Bergler and Johnny Bryant with 10 points each.
Hillsdale Will Carleton 50, Rudolf Steiner 47
Story | Boxscore
Hillsdale Will Carleton Academy's Chase Harrington drained a half-court shot with 1 second remaining to get the win.
With about one minute left, Ann Arbor Rudolf Steiner (9-6, 5-1 Mid-South Conference) forced an over and back call to take possession. Rudolf Steiner called a timeout and drew up a play for senior captain Koji Vroom.
Vroom took a 15-foot shot with about 10 seconds left and missed. Will Carleton Academy got the rebound, took the ball to half court and called a timeout.
After the timeout, Harrington shot the ball from half court and made it.
"We gave them enough time to throw up a prayer, and it was answered," Rudolf Steiner coach Nick Sherwood said. "Our philosophy was win the game or go to overtime."
Vroom had 19 points and teammate Ben Hadlock had 15 points. Steven Molitor had six rebounds for Rudolf Steiner.
AnnArbor.com Coverage
Pioneer 58, Saline 53
Story | Boxscore | Photo Gallery | Saline struggles to go inside