Posted on
Thu, Mar 7, 2013 : 5:30 a.m.
Saline phenom swimmers all grown up and closing in on fourth-straight state title
By Kyle Austin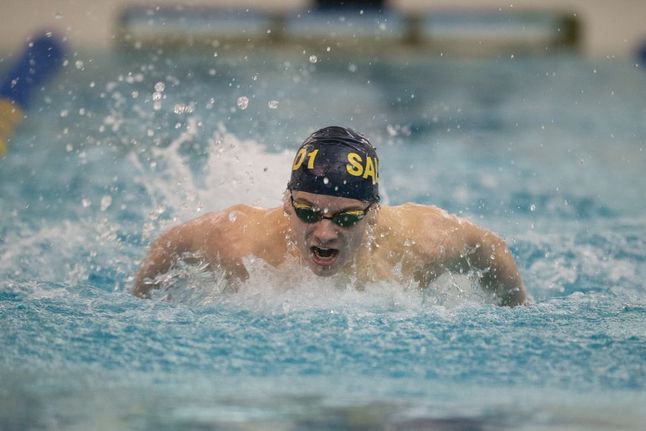 Courtney Sacco | AnnArbor.com
At some point Saturday afternoon, Saline swim coach Todd Brunty hopes the members of his senior class take a step back and savor the moment.
Because if all goes according to plan, the group could be accomplishing something that's rarely been done in state history.
Saline will go for its fourth consecutive Division 1 state championship Saturday at Holland High School. And for the seniors at the heart of that run, David Boland, Josh Ehrman and Adam Whitener, Saturday will be a swan song.
"We just want to finish it with enjoying it," Brunty said. "We've gone with that attitude every year, and it's paid off for us, and hopefully we'll continue to do that this year."
If the Hornets can pull off the four-peat, they will become one of only three teams in the last 35 years to accomplish the feat in the highest division. Birmingham Brother Rice won six straight from 1994-99 and Pioneer won six straight from 1977-82.
"Only two other teams have ever done it, and I think that'd be very cool to be in that company, to be able to do that," Ehrman said.
Courtney Sacco | AnnArbor.com
On top of a team state title, Boland, Ehrman and Whitener will look to add to what are already impressive individual legacies on the state level. Last year, the Hornets took titles in seven of 11 swimming events. The trio won five individual state titles and contributed to two relay titles.
Their names also litter the state record book: Ehrman won the 100-meter breaststroke, setting an all-class state record. He also set a state record in the 200 individual medley preliminaries. Boland also holds 100 butterfly record.
The Hornets also set state records last year in the 200 medley relay and 400 freestyle relay, which is an all-class record.
The only thing that kept them from six individual state titles last year was the fact that Boland and Ehrman both swam the 200 IM, with Boland winning by a half second and Ehrman finishing runner-up.
This year, though, Boland will enter the 100 backstroke instead of the 200 IM, giving the trio the possibility of two state titles apiece.
"Hopefully we get another race in there and gain a couple of more points the best we can, instead of having those guys compete against each other," Brunty said.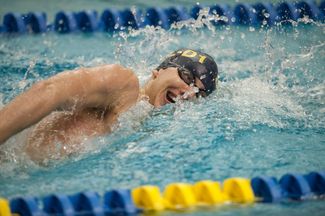 Courtney Sacco | AnnArbor.com
Brunty said the three came out of middle school swimming in 2009 with high expectations. But four straight state titles is not something that can be planned on.
To the athletes themselves, this wasn't on the radar.
"Freshman year, we had goals to win the state title, but it didn't really occur to us that it was actually possible," Boland said.
Their goals were more modest: be the best team in the county.
"It was a big deal to beat Pioneer for us," Whitener said. "It was a huge deal."
Four years later, Saturday will mark the last time the three will wear the same color caps. The three considered some of the same colleges and took recruiting visits together. But when it came time to make a decision, all three committed to different schools in the fall: Boland will go to Louisville, Ehrman will go to Purdue and Whitener will go to Virginia.
But before that, they've got one last historic feat to accomplish.
"This can't ever be repeated, I don't think much in high school swimming, at least not around here, the success and the time they've had together," Brunty said.
MHSAA Swimming and diving state championships
Division 1 at Holland
Area Teams: Huron, Saline.
Breakdown: Saline cruised to its state title last year, winning by nearly 100 points. But it lost a pair of key contributors from that team in James Fisher, who was runner-up to Boland in the 100 butterfly, and Tom Walls, who was a key relay member.
"A lot of people kind of want to chalk it up, but that doesn't happen," Brunty said. "This is going to be a real close meet, it's going to be a well-fought meet by a lot of different people and a lot of teams."
The Hornets, though, could have up to six individual state titles, and their relays figure to be strong contenders.
Division 2 at Oakland University
Area Teams: Dexter, Pioneer and Skyline
Breakdown: Pioneer may be moving down from Division 1 to Division 2 this year, but the competition isn't getting much easier. The Pioneers are still No. 3 in the latest rankings, behind Birmingham Seaholm and Holland.
"There's no doubt that Seaholm's depth is impressive and Holland has got some real top swimmers," Pioneer coach Dennis Hill said last month. "So between the three of us I think it should be a pretty good meet."
Senior Chris Klein leads the Pioneers' individual state title chances, with top seeds in the 200 individual medley and 100 breaststroke (where he said he has his eye on the all-class record Ehrman set last year.)
Skyline should have a strong showing in the 500 freestyle, with Matt Orringer as the second seed and Dennis Dahlman as the fourth seed. Dexter's Jonathan Zofchak also has a chance to place highly in the 200 freestyle.
Pioneer diver Tyler Leach put up a 461.30 in diving regionals and should contend for a state title as well.
Division 3 at Eastern Michigan
Area Teams: Chelsea and Milan.
Breakdown: A pair of area teams will go just down the road to Eastern Michigan, and could come away with some individual state titles.
David Alday of Chelsea is the top seed in the 200 IM and the second seed in the 100 freestyle. The Bulldogs could also have two of the top finishes in the 100 backstroke in Sam Almhiemid and Nick Deppner. All three Chelsea relays are also seed in the top three.
For Milan, Ollie Smith is a contender to win the 50 freestyle, clocking in with the second seed.
Kyle Austin covers sports for AnnArbor.com. He can be reached at kyleaustin@annarbor.com or 734-623-2535. Follow him on Twitter @KAustin_AA.