Posted on
Tue, Jan 15, 2013 : 11 p.m.
Saline girls win 39-38 as Pioneer comeback falls just short
By Pete Cunningham
The Pioneer High School girls basketball team hadn't been this close since the opening minutes of the game. Saline took the lead in the opening minutes, extended it to as much as 14, and it never really looked like Pioneer had much of a chance to make any kind of a run.
But suddenly the Pioneers scored as many points in the fourth quarter as they had in the first three and trailed 39-38 with 4.5 seconds remaining. Rhalon Slay scored her only points of the game after stealing an inbounds pass and all of a sudden with 4.5 seconds left, Pioneer was another steal and a layup from taking its first lead since the game was 2-0.
But after a timeout, Saline executed an inbounds play to perfection and time finally ran out on Pioneer's comeback effort with Saline winning 39-38.
"We made some questionable decisions there at the end, but overall we're still learning how to win," said Saline coach Jeff Waltz. "We're young, we withheld their last stand there and I'm proud of that."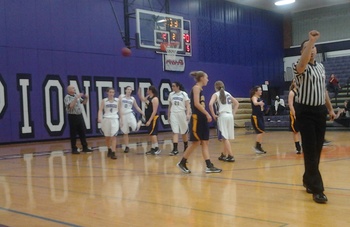 Pete Cunningham | AnnArbor.com
Pioneer struggled to get any offense going until the last quarter, which was both a product of Saline's pressure defense and Pioneer's sloppy play offensively. Pioneer had 31 turnovers on the night.
More coverage: Boxscore | Tuesday night girls roundup
"We had a lot of unforced turnovers. They had good defense but we were just throwing it to them or throwing it out of bounds," said Pioneer coach Crystal Westfield. "That's been our struggle the last two or three games is unforced turnovers.
"But they had good 'D' too. They're long and they're athletic and they were deflecting passes and we weren't ball faking."
Pioneer (6-3, 2-2 SEC Red) is also still adjusting to life without point guard Emily Turner, who injured her ankle against Skyline on Dec. 18. Pioneer scored More than 50 points in five of its six games before Turner's injury and has yet to crack 40 in the four games since.
Without Turner, Jennifer Fichera has been forced to change from scoring off the ball to being the team's primary ballhandler. Fichera led all scorers with 18 points, but only had four in the first half as she struggled to find open looks off of the dribble.
"Without Emily, we're still hurting, and for Jenny it's been an adjustment," Westfield said. "We're still trying to figure it out."
Saline (5-5, 1-3 SEC Red) used a full court press early to make Pioneer's adjustments even more uncomfortable, forcing 16 turnovers in the first half and often turning the turnovers into baskets.
Saline took a 21-12 lead into halftime.
"That's one of the things we wanted to emphasize before the game was pressure them, then try to get layups and I was proud of our energy," Waltz said. "We figured if we came out with solid energy we'd have a chance to get those turnovers and they really played the game plan, executed it very well in the first half and then we held on at the end and that's what you gotta do."
Saline stretched its lead to 14 after the break but a 7-1 run by Pioneer to end the third quarter gave Pioneer a chance.
Then at the beginning of the fourth, Pioneer center Medina Farha got three big blocks on Saline layup attempts and sparked the Pioneer comeback. Farha finished with three blocks and 10 rebounds.
"When (Farha) was in there, there was a big difference underneath the boards defensively and offensively," Westfield said. "Her blocks were at that basket and those would have been layups with anyone else in there."
"(The blocks) were big and they made some great defensive plays that really I think sparked them," Waltz said. "It didn't turn into offense right away but that kind of got their energy going."
Amanda Zylstra, Caitlin Ellis, Melissa Needham and scored all Saline's points in the fourth quarter and all but four of the team's points in the game, finishing with 13, 12 and 10 respectively.
Pete Cunningham covers sports for AnnArbor.com. He can be reached at petercunningham@annarbor.com. Follow him on Twitter @petcunningham.