Posted on
Tue, Nov 6, 2012 : 5:45 a.m.
Saline's Gage Hammond turns botched snap into 80-yard touchdown, plus other district final notes and leaders
By Kyle Austin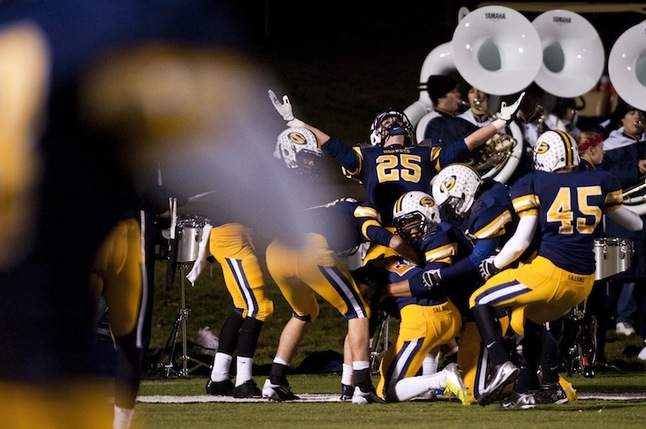 Joseph Tobianski | AnnArbor.com
The Saline football team found out Friday night there's a distinct advantage to having its top receiver as its punter.
FOOTBALL TOP PERFORMERS, NOV. 2-3
PASSING YARDS
171 - Joe Kendzicky, Gabriel Richard (12-of-18, 1 TD, 0 INT)
134 - Tyler Palka, Saline (9-of-12, 0 TD, 1 INT)
87 - Brandon Bertoia, Pioneer (10-of-19, 0 TD, 2 INT)
RUSHING YARDS
186 - Marquise Thomas, Pioneer (26 rushes, 2 TD)
95 - Jim Kurasz, Manchester (18 rushes, 1 TD)
91 - Robert Kanitz, Milan (12 rushes, 1 TD)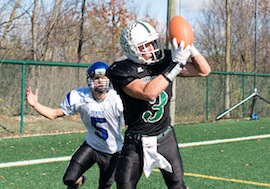 RECEIVING YARDS
68 - Steve Tracy, Gabriel Richard (4 receptions, 0 TD)
66 - Cameron Cole, Pioneer (6 receptions, 0 TD)
64 - Blaise Stearns, Gabriel Richard (3 receptions, 1 TD)
The Hornets' Gage Hammond lined up to punt late in the fourth quarter against Pioneer, only to watch the snap sail far over his head.
But when he picked up the ball near his own 20, he was able to juke his way to midfield, before cutting all the way across to the other sideline and into the end zone.
And despite looking physically exhausted, he stayed on to nail the extra point.
The play earned him a reprieve from a flub later: he shanked a punt that went out of bounds at the line of scrimmage, setting up a Pioneer touchdown.
"That's why I didn't get mad when he punted the second one out of bounds," Saline coach Joe Palka said. "I said 'The kid just scored on a punt snapped over his head.'"
The touchdown was Hammond's tenth of the year, including eight receiving and two rushing. He also has nine field goals and 40 extra points on the year.
"That's the kind of kid Gage is," Palka said. "He's a gamer, he's an athlete. Whenever he touches the ball he's a threat to go the distance."
Playoff success continues
This postseason continues to be one of the best on record for the area's high school football programs.
In the opening weekend of high school football, Washtenaw County set a new record with five teams advancing to district title games. This past weekend, the county matched its high water mark with a pair of district champions in Saline and Father Gabriel Richard.
This weekend, Saline or FGR could do something that hasn't been done in 15 years.
No area team has won a regional title since Huron in 1997. The River Rats went on to the state title game that year before losing to Detroit Catholic Central.
Neither Saline nor Gabriel Richard has ever won a regional title.
Manchester unable to capitalize
Manchester was gifted one last chance to mount an upset bid over Grass Lake Friday night, but couldn't take advantage.
In the fourth quarter, Grass Lake had scored a touchdown to go up by three scores over the Flying Dutchmen. But when a holding penalty called the score back, Grass Lake faced first and 25 from just inside the 30.
A defensive stop could have given Manchester enough time to get back into the game. But instead, Grass Lake notched a first down in two plays, and a touchdown two plays later to pull ahead for a 27-7 win.
Revisiting the brawl
Pioneer coach Paul Test spoke publicly Friday for the first time last week about the Oct. 12 brawl between his team and Huron, and hinted that the book hasn't been closed on the incident.
"The truth of all of it, it never really did come out of what really went on," Test said. "The truth eventually will come out."
Friday night, though, after his team's loss to Saline, was not the time to divulge any truths. Test instead spent the time speaking to his players at length after the game and consoling several who were in tears.
Test, in his first game back on the sideline after serving a two-game suspension, was repaying a favor. The aftermath of the brawl was "very stressful," he said, but he had been supported by his team through it all.
And the fans showed their support too, hanging a large banner hung from the visitors bleachers that read: "We love coach Test."
"They've let me know that they care about me," Test said.
Game of the Week
Our two regional title games are going head-to-head in this week's Game of the Week poll. Voting is open until 6 p.m. Tuesday.
Kyle Austin covers sports for AnnArbor.com. He can be reached at kyleaustin@annarbor.com or 734-623-2535. Follow him on Twitter @KAustin_AA.