Posted on
Tue, Jan 8, 2013 : 11:42 p.m.
Skyline beats Ecorse and more Tuesday night boys basketball results
By Kyle Austin
This file will be updated throughout the night.
AnnArbor.com Washtenaw County Scoreboard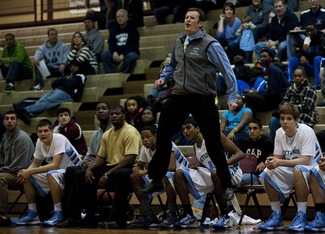 Daniel Brenner | AnnArbor.com
Skyline 72, Ecorse 54
Story | Boxscore
Peter Bakker-Arkema led Skyline (2-3) with 16 points, and Marquis Wesley chipped in 13 as the Eagles used a 21-5 first quarter run to pull away.
"We came out on an 11-0 run, and that allowed us to build up the lead and start getting our bench in," Skyline coach Mike Lovelace said. "We got strong contributions from a lot of different guys, which is something we focus on.
"We've got a pretty experienced team, but our shots weren't falling in our first few games, so it's nice to come out with a fast start and get back on track. We're working towards some long-term goals right now, and we'll need to continue to improve to meet them."
Belleville 68, Lincoln 61
Story | Boxscore
Lincoln (3-5, 0-1 SEC White) struggled from the start to contain Belleville.
"Belleville ran a trap we had to adjust to," Lincoln coach Rich Marion said. "We struggled with it for the first half. We had issues guarding them at the half court."
"They were playing a few guys at the 3-4-5 spots that were good perimeter players."
With four minutes left, Ypsilanti Lincoln was ahead, 53-49.
"We went to a 3-2 zone in the fourth," Marion said. "They made a couple clever shots on us and we didn't rebound well."
Sherrod Motley-Dismuke, Javin Etchison and Javin Kilgo each had nine for Lincoln.
Milan 52, Carleton Airport 37
Story | Boxscore
Milan's Thomas Lindeman scored 16 points and made five three pointers. Latin Davis scored 11, and Jacob Novak scored 10. C.J. Turnage had 10 rebounds, seven assists and five blocks.
Brandon Potcova of Carleton Airport scored 16 points and made three three-point shots, and Scott McCormick scored 12.
Milan (5-1, 1-0 Huron League) coach Josh Tropea said his team struggled in the first quarter, but improved in the second when it scored 22 points.
"We were without a starter and out of rhythm early," Tropea said. "I thought Airport did a good job of recognizing that and taking advantage.
"It was a whole different story in the second quarter. Lindeman hit three three-point shots, which loosened up Airport's zone (defense). That allowed us to get some points in the paint, and Davis attacked the gaps and got four baskets in the second quarter."
Haslett 52, Chelsea 41
Story | Boxscore
Luke Hollandsworth of Chelsea (1-6, 0-1 SEC White) scored 10 points and had seven rebounds.
Chelsea coach Rourke Skelton said his team did not get to the foul line enough in the fourth quarter, but Haslett did.
"They were 11-for-12 from the line in the fourth," Skelton said. "That is significant. In the fourth quarter, we were one-for-three."
Inkster 62, Willow Run 46
Story | Boxscore
Inkster outscored Ypsilanti Willow Run 39-19 in the second and third quarters en route to the Michigan Metro Athletic Conference North Division win.
Inkster's Darnell Jarmon and Devin Hansbro each scored 15 points.
Willow Run's Daquanta Brown and A.J. Davis each scored 13 points.
Willow Run (0-6) will play at Detroit Henry Ford Academy on Friday.
Livingston Christian 64, Rudolf Steiner 44
Story | Boxscore
Rudolf Steiner (4-3) was led by Koji Vroom, who scored 16 points and made three three-point shots. Steven Molitor scored 11, and Peter Larson had 10 rebounds.
Rudolf Steiner coach Nick Sherwood was displeased with how his team played.
"We didn't show up to play," Sherwood said. "I don't know if it was the hangover from break, but we didn't have our intensity. They pushed the ball and got fast break points on us. We learned that we can't start off slow."
Whitmore Lake 57, Morenci 42
Details not available
Greenhills 78, Taylor Baptist Park 61
Story | Boxscore
Andrew Khouri led Greenhills (4-1) with 34 points, making six 3-pointers and shooting 10 for 11 from the free-throw line, while Derek Heitman scored 12.
Javon Shell led Taylor Baptist Park with 15 points, Kirk Thomas scored 13 and Daniel Eubank had 12.
After trailing 15-13 at the end of the first quarter, Greenhills secured a six point lead by halftime and were up by 11 heading into the fourth quarter.
"Andrew's a good scorer," Greenhills coach Andrew Wright said. "We've had a long break and he didn't play at all over the break, he's had some back troubles. Our defense was what I was worried about the break. I didn't think they'd be sharp and they gave up more points than we wanted to."
AnnArbor.com coverage
Pontiac Notre Dame Prep 77, Father Gabriel Richard 66
Story | Boxscore | Photos | Houle's foul trouble
Game of the Week
Voting ends on Saturday for next wee's Game of the Week.