Posted on
Wed, Apr 3, 2013 : 1:30 p.m.
Skyline boys lacrosse leads AnnArbor.com Team of the Week voting
By Pete Cunningham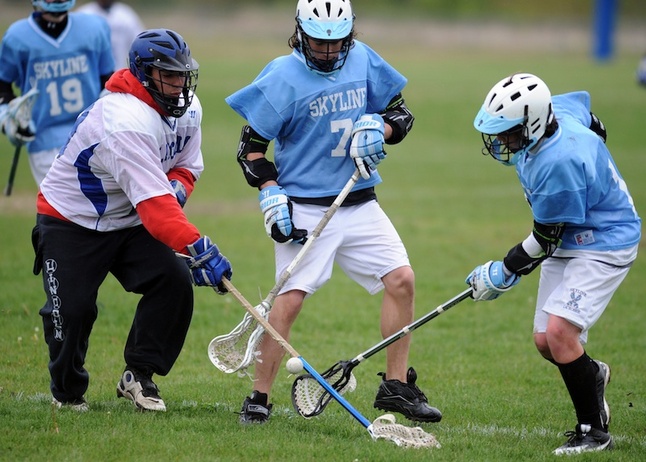 Melanie Maxwell | AnnArbor.com file photo
Two days in to the first AnnArbor.com high school "Team of the Week" poll and a favorite has emerged: the
Skyline High School
boys lacrosse team.
Don't let that discourage you from voting. The Eagles lead is far from insurmountable.
Skyline had 76 of the 226 votes cast (33.6 percent) as of 12:30 p.m. Wednesday. Next up is the Saline High School baseball team (52 votes, 23 percent), followed by Huron High School girls track (42 votes, 18.6 percent), Dexter girls soccer (31 votes, 13.7 percent) and Chelsea High School sofball (25 votes, 11.1 percent).
A quick look at the demographics of the votes cast reveals that 100 percent of the non-North American votes were for Skyline and all came from Germany, confirming what's long been suspected: Germans love Skyline lacrosse.
The winner of the poll, much like "Game of the Week" during the football, and boys and girls basketball seasons, will receive the bulk of our coverage during the following week, including multiple stories and multimedia elements such as video and photo galleries as well.
That isn't to say we'll ignore the other teams, we'll just be giving some extra special coverage to our "Team of the Week."
The poll is open until Friday afternoon. So vote early, vote often and tell your friends.
Pete Cunningham covers sports for AnnArbor.com. He can be reached at petercunningham@annarbor.com. Follow him on Twitter @petcunningham.