Posted on
Fri, Feb 15, 2013 : 10:49 p.m.
Skyline falls on road to Bedford and more Friday night results
By Kyle Austin
This file will be updated
AnnArbor.com Washtenaw County Scoreboard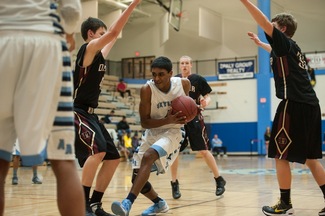 Courtney Sacco | AnnArbor.com
Temperance Bedford 59, Skyline 45
Story | Boxscore
Temperance Bedford's Jackson Lamb scored a game-high 21 points as the Kicking Mules held Skyline (8-8, 5-4 SEC Red) to four points in the final quarter.
Skyline's Peter Arkema-Bakker recorded nine points.
"We got off to a good start," Skyline coach Mike Lovelace said. "Right before the half, it was tied, but Bedford made a couple nice plays and finished up by four."
After a back-and-forth third quarter, Bedford entered the fourth quarter with a 47-41 lead.
"It was pretty much the game in the fourth quarter," Lovelace said. "We missed some key block outs, and they got some put-back baskets.
Huron 59, Saline 50
Details not available
Pioneer 67, Monroe 34
Story | Boxscore
Ethan Spencer's 14 points led the way, and Pioneer (12-4, 7-2 SEC Red) had 12 players scoring in the game.
"We came out with great defensive intensity, but they surprised us coming out in 2-3 zone and it took us a while to get our feet under us," Pioneer coach Rex Stanczak. "But defense set the tone for us and that really got us going."
Aedan York had 13 points and Jibreel Hussein had 11 points including three 3-pointers.
Milan 54, Grosse Ile 35
Story | Boxscore
C.J. Turnage and Stephen Evans scored 23 and 10 points, respectively, to lead Milan to its first win of the season in which it trailed at the half.
"(Grosse Ile) played an extremely good first half with great energy and intensity," Milan coach Josh Tropea said. "They played an extended 2-3 zone that really bothered us."
Milan (16-1, 12-0 Huron League) will travel to Monroe St. Mary Catholic Central at 7 p.m. on Tuesday.
Adrian 37, Lincoln 36
Story | Boxscore
Adrian's Grant Farrington made the game-winning shot at the buzzer and finished with 10 points along with Brandon Green.
Sherrod Motley-Dismuke led Lincoln (6-10, 3-6 SEC White) with nine, followed by Tyler Hinton and Gary Chambers with seven apiece.
Adrian rallied in the fourth quarter, outscoring Lincoln 13-7.
"We scored 15 points in the first off some 3-pointers and we fell in love with the 3-pointer," Lincoln coach Rich Marion said. "Our ball movement got stagnant and we didn't get touches in the high post as much as we'd like. In the next three quarter we struggled against the zone."
Tecumseh 45, Chelsea 33
Story | Boxscore
Tecumseh's Jacob Britt and Ben Kasper each scored 12 points as the Indians outscored Chelsea 26-14 in the second half.
Luke Hollandsworth led Chelsea (3-13, 2-7 SEC White) with 14 points.
"We executed and got the ball where we wanted it," Chelsea coach Rourke Skelton said. "We got a lot of looks against their zone; we just couldn't put it in the hole. We kept battling back, and our defense kept us in it all night."
Tecumseh was 16 of 30 from the free-throw line, 9 of 21 in the fourth quarter, while Chelsea was 8 of 9.
Willow Run 71, Highland Park 58
Story | Boxscore
Daquanta Brown led Willow Run (8-8, 5-1 MMAC) with 21 points as the Flyers led 23-8 at the end of the first quarter. Jermayne Nathan had 16, and Eric Cunstull had 13.
"We had two really hard and intense practices after our last game and they responded well to it," Willow Run coach Tim Cain said. "We pressed and ran and took it to them. All of our guards were able to penetrate."
Hanover Horton 91, Manchester 53
Story | Boxscore
Manchester's Ryan Stiles led the Flying Dutchmen (1-17, 1-11 Cascades) with 22 points, and Nick Cozart added 12.
"We needed a win tonight," said Hanover-Horton coach Chad Mortimer, whose team trails East Jackson by one game. "We need to get better at the things that make us good. That's the fundamentals, and just doing things right. Today was a good start."
Whitmore Lake 65, Sand Creek 55
Story | Boxscore
Devon Kowalewski led Whitmore Lake (5-12, 4-8 Tri-County) with 19 points, followed by Rory Judge with 13, and Dylan St. Charles with 12.
"We got a lead and were able to make our free throws down the stretch," Whitemore Lake coach Casey Livingston said. "We made 9 of 16 and we shot a high percentage. We scored more transition buckets tonight than we have in the last few games. Rebounding was a big issue tonight, we need to rebound better."
Greenhills 51, Lutheran Westland 41
Story | Boxscore
Andrew Khouri had 23 points, including going 8 of 12 from the free-throw line for Greenhills, which outscored Lutheran Westland 17-8 in the third quarter.
Lutheran Westland led Greenhills early in the game when the Gryphons made some defensive adjustments.
"We switched to a version of a 2-3 defense and slowed their offense down a little bit," Greenhills coach Andrew Wright said. "That changed the game for us, and we were able to catch back up."
Andikan Archibong had 10 points and 10 rebounds for Greenhills and Emmet Kulka had five steals.
Greenhills (15-1) clinched the Michigan Independent Athletic Red conference title on Tuesday and finished 14-0.
"This is only our fourth year playing in the conference, so I was proud of us for accomplishing this," Wright said. "You can't do any better than we did this year.
"We played hard all year, and finished it out with a solid win."
Adrian Lenawee Christian 62, Arbor Prep 27
Details not available
Rudolf Steiner 68, Marshall Academy 45
Story | Boxscore
Ben Hadlock and Steven Molitor scored 27 and 14 points, respectively, to lead Rudolf Steiner to its first Mid-South Conference title, at 7-1 in the league and 11-7 overall. Steiner outscored Marshall Academy 25-5 in the first quarter.
"We knew what to expect against Marshall heading into the game, so we tried to keep Evans in front of us," Steiner second-year coach Nick Sherwood said. "Everybody was involved in the first (quarter) early. We were getting the ball into the breaks and hitting open shots."
Washtenaw Christian 64, Monclova Christian Academy 40
Story | Boxscore
AnnArbor.com Coverage
Ypsilanti 66, Dexter 46
Story | Boxscore | Photo Gallery