Posted on
Fri, Feb 15, 2013 : 11:15 p.m.
Ypsilanti turns halftime deficit into second half blowout in 66-46 win over Dexter
By Pete Cunningham
The Ypsilanti High School boys basketball team hasn't lost to an Southeastern Conference White Division team since joining the league in 2009. So when the Phoenix trailed Dexter 22-21 at halftime on Friday on the road, Ypsilanti coach Steve Brooks employed some unorthodox motivational tactics.
"I threatened them with their life," said Brooks of his halftime speech.
Whatever the threat, Brooks must have made his players believe it as they responded by scoring 28 points while only allowing 11 in the third quarter en route to a 66-46 win.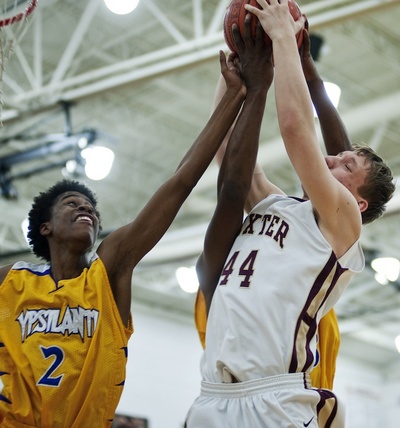 Daniel Brenner | AnnArbor.com
The win officially secured another SEC White title for the Phoenix, its fourth in as many years.
More coverage: Boxscore | Photo Gallery | Friday night roundup
Brooks was joking about the threat, laughing at the suggestion in the locker room after the win. What he said he actually stressed to his team was controlling tempo on offense and not letting Dexter's shooters have open looks on the other end.
Dexter started the second quarter by sinking a pair of uncontested 3-pointers. By the third quarter Dexter's shooters couldn't go anywhere on the court without hands in their face.
"They have some great shooters, so in the second half we were able to get hands in their face, even in the passing lanes," Brooks said.
Ypsilanti senior center LaVonte Davis did plenty to make Dexter's shooters uncomfortable in the lane with five blocks on the night to go along with his team-high 15 points.
"He has been having an All-State year and it doesn't always show in the scoring column, but we would never have the record that we have if not for him," Brooks said of Davis' play.
Adding the scoring touch is something Brooks is happy to see from Davis, who has been in double digits in less than half of Ypsilanti's games.
"We're trying to get him accustomed to scoring," Brooks said. "He's an unselfish big, doesn't have a problem sharing the ball and that's good, but he does a real good job with his back to the basket."
Ypsilanti (12-4, 8-1 SEC White) looked like it might just roll past Dexter (7-9, 4-5 SEC White), ending the first quarter on a 9-2 run after the team's were tied at 4-4. But London Truman and Derek Seidl hit back-to-back 3-pointers and Dexter controlled the second quarter, finally taking the lead with a scoop and score from Andy McWilliams inside the final minute of the quarter.
"We kind of came out a little flat in the first half," Davis said. "We kind of just wanted to come out with a lot more intensity (in the second half)."
That they did start the third quarter on a 7-0 run to take the lead back for good.
But Dexter wouldn't go away just yet as Seidl scored seven of his game-high 20 points in the first four minutes of the third quarter as Dexter trailed 32-30 with 4:05 left in the third.
But the second half of the third quarter wasn't as kind to the Dreadnughts as Ypsilanti went on a 17-0 run to pull away for good.
"In high school basketball any team can beat any team on any night," Davis said. "Don't get me wrong Dexter's a really good team but I think when we came out and played how we're supposed to play, it totally turned it around."
Pete Cunningham covers sports for AnnArbor.com. He can be reached at petercunningham@annarbor.com. Follow him on Twitter @petcunningham.