Posted on
Thu, Aug 29, 2013 : 11:13 p.m.
Skyline gives up program-low 10 points in 28-10 win over Hartland
By Kyle Austin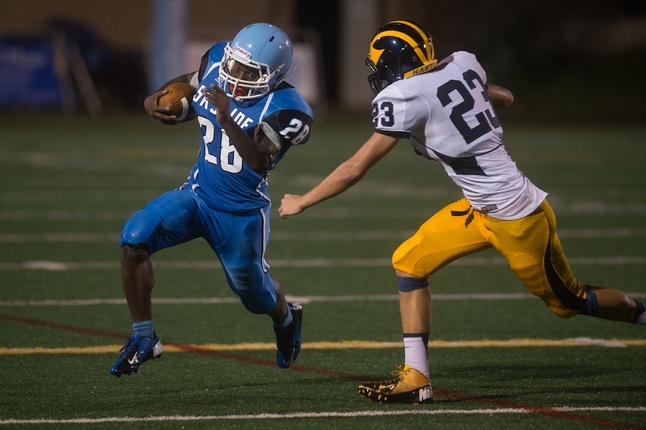 Courtney Sacco | AnnArbor.com
For
Skyline
senior
Terry Jackson
, little could be more satisfying than walking off the football field and seeing a 10 on the visitors' side of the scoreboard.
"It's beautiful," Jackson said. "It's a piece of art."
Skyline's defense led the way in a 28-10 win over Hartland Thursday night at Skyline. Ten points marks the fewest the fourth-year Skyline program has ever given up.
More Coverage: Boxscore | Photo Gallery | Football roundup
"I believe that that we've got to stop people on defense first, and I made a bigger commitment to our defense and what we're doing," Eagles coach Lee Arthur said.
The season-opening win came after a year in which Skyline gave up 34 points or more in every game, including a 42-19 season opening loss to Hartland.
Before the game, Arthur set his goal for points given up at 24, and wrote it on the locker room whiteboard. His team did him two touchdowns better, giving up less than 300 yards of total offense, with three takeaways and four forced turnovers on downs.
Ten points, or 24 for that matter, looked unlikely after Hartland ripped off 38 yards on its first two plays from scrimmage and drove 55 yards on its second drive for a first-and-goal from the Skyline 5.
But Skyline's defense held, forcing a turnover on downs. It would be another two full quarters before Hartland made it to the end zone, as Skyline built its lead.
While Hartland picked up its yards in a consistent rushing attack, Skyline got its yards in chunks. Junior quarterback Askaree Crawford completed his second pass of the day 58 yards downfield to Kornelius Saxton. Crawford scored two plays later to give Skyline the early lead.
Skyline tacked on two more scores in a span of less than three minutes in the second quarter to take an 18-point advantage into the locker room.
The first came on a 95-yard touchdown scramble from Crawford, who found an opening when the pocket collapsed and beat two Hartland defenders down the sideline. He finished with 135 yards rushing with two scores and 111 yards passing on 5-for-15.
After Hartland took over deep in its own territory, Jackson recorded a tackle for loss in the open field on second down to help the Skyline defense force a three-and-out.
On the second Eagles play on the ensuing possession, Jackson took his first carry of the game 50 yards up the middle for Skyline's second touchdown in less than three minutes.
Jackson led Skyline backs with 112 yards rushing on the day, after fellow back Nate Spencer had to sit most of the second half with cramps.
"That's what we have to do, when one man goes down, the next man stands up," Jackson said. "That's how we play."
Hartland scored in the third quarter on a seven-play, 62-yard drive that featured nothing but rushing.
But Skyline forced a fumble and recovered it on its next defensive possession, and four plays later scored on a 23-yard touchdown pass from Crawford to Saxton. Saxton also led the defense with 5.5 tackles.
Skyline's offense has hardly been in question, with a returning dual threat quarterback, capable receivers and multiple running backs.
But on the other side of the ball, Skyline answered a few questions with a statement win.
"Nobody really gave us a chance to win this game," Arthur said. "Let's just face it, people thought we were going to come out and give up 40 or 50 points."
Kyle Austin covers sports for AnnArbor.com. He can be reached at kyleaustin@annarbor.com or 734-623-2535. Follow him on Twitter @KAustin_AA.