Posted on
Thu, May 30, 2013 : 11:47 p.m.
Skyline advances to district final with 3-0 win over Huron
By Pete Cunningham
Skyline senior Carmen Flesher has started on defense for the Eagles soccer team all season, but on the team's roster, she's listed as a forward.
On Thursday, she showed why.
Coming up from the left back position, Flesher received a ball just outside of the Huron box late in the first half on Thursday and ripped an un-savable shot to the upper right hand corner of the Huron goal.
Flesher's goal gave Skyline a comfortable two-goal cushion before halftime in what was eventually a 3-0 win over crosstown rival Huron in a Division 1 district semifinal at Huron High School on Thursday.
More coverage: Boxscore | Bracket
Flesher's no stranger to scoring big postseason goals. She was Skyline's leading scorer as a freshman and sophomore and scored the goal that put the Eagles in a regional final as a freshman. But after battling through injuries as a junior and with her team needing an outside defender, Flesher made the move to the backline for her senior year.
"This year she came in healthy, but she took one for the team," said Skyline coach Chris Morgan. "I had every intention of playing her up front but we needed a back. She was willing to take one for the team and move to that back line."
In Morgan's 4-5-1 system, outside defenders are encouraged to occasionally make runs forward, which is perfect for a defender with Flesher's scoring ability.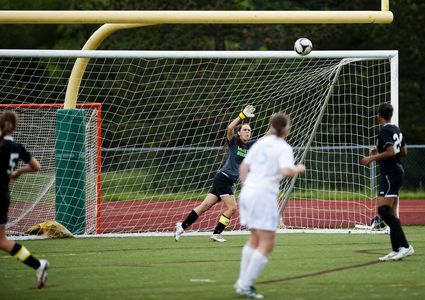 Daniel Brenner | AnnArbor.com
"She's quick, she's strong, but she also poses that threat because we love to get those outside backs forward," Morgan said. (The shot) was like a laser, upper ninety, it was gorgeous. Everything just came together."
"It's kind of nice actually. I'm used to being expected, as a forward, with someone always on you," Flesher said. "Coming from the back, they don't know it's coming sometimes, so it's kind of fun."
Coming off an uncharacteristic performance in which they gave up two goals in five minutes the night before in an overtime win over Howell, Skyline played its typically stout defensive game on Thursday. Huron brought the majority of the pressure in the first half and had several scoring opportunities in the first 20 minutes. But after surrendering a goal on a penalty kick early, then having to sit through a 45 minute weather delay midway through the half, the majority of Huron's attacks were broken up before reaching the offensive third by Skyline sweeper Emily Anderson.
"I was just focused on keeping my eye on the ball and knowing my teammates were there for coverage," Anderson said.
"Their game plan was to go at Emily all game long, which I couldn't quite understand," Morgan said. "Their (forwards Imani Keel and Chea Rael Whitsitt) have speed, but I'll take Emily any day.
Cienna Rael-Whitsitt scored a goal in the 71st minute to put the game away for Skyline.
Skyline will play Pioneer in the district final on Friday - its third game in as many days - at Huron High School at 6 p.m. Skyline beat the Pioneers 3-0 when the team's played back on April 30.
Pioneer made some lineup changes after the loss to Skyline and is unbeaten in the 10 games since the loss, compiling a 9-0-1 record.
"They've made some good changes and it's working," Morgan said. "We just have to take care of the ball and watch their big guns: (Jennifer) Fichera, (Emily) Turner and (Makenzie) Sapp."
Pete Cunningham covers sports for AnnArbor.com. He can be reached at petercunningham@annarbor.com. Follow him on Twitter @petcunningham.