With Poll:

Skyline, Pioneer game holds slim lead with one day left in AnnArbor.com's Game of the Week poll

Posted on Mon, Sep 17, 2012 : 1:14 p.m.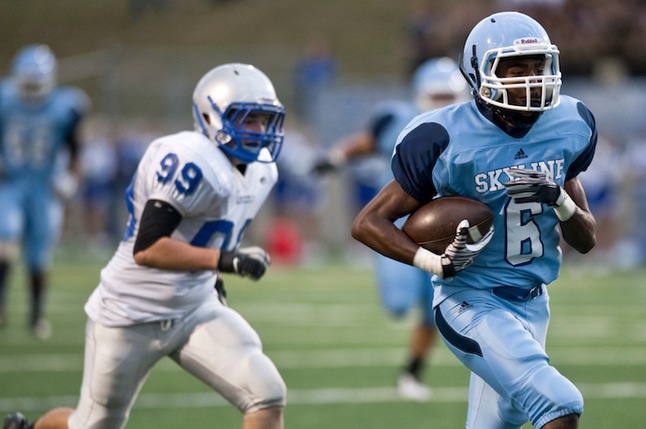 Joseph Tobianski | AnnArbor.com
Editor's note: A surge in voting shortly after this article was published caused the Milan vs. Monroe St. Mary game o overtake Skyline vs. Pioneer in the poll.
With a day left before voting closes in AnnArbor.com's "Game of the Week" football poll, we have two leading contenders and a sleeper.
Skyline at Pioneer is the leading vote-getter as of mid-day Monday, garnering 272 votes (35.8 percent.) Milan at Monroe St. Mary's is right behind, at 247 votes, and Saline at Temperance Bedford is still in the hunt with 175 votes.
Monroe/Huron and Hanover Horton/Manchester both have some catching up to do, with fewer than 50 votes apiece.
Voting for this week's poll closes at 6 p.m. Tuesday, and users can vote multiple times.
Pioneer is going for a repeat win in Game of the Week voting, after it won last week's vote and beat Saline, 7-6, to stay unbeaten in SEC Red play. This week's game is a rematch from a 2011 shootout, a 52-49 Pioneer win.
Milan stayed unbeaten last week with a 21-14 win over Grosse Ile, and will take on a Monroe St. Mary team that was ranked No. 7 in Division 6 in the first Associated Press poll, but fell to Grosse Ile in Week 3. Saline will look to bounce back from its first loss of the season against a 3-1 Temperance Bedford team.
Game of the Week coverage:
AnnArbor.com will give the Game of the Week winner its Super Bowl treatment, which will include two reporters covering the game, a live chat that you can follow from your iPhone or Android device, and a photo gallery as well.