Posted on
Sun, Mar 17, 2013 : 5:30 a.m.
State championship a dream come true for Manchester sisters Taylor and Jessie Manders
By MLive Media Group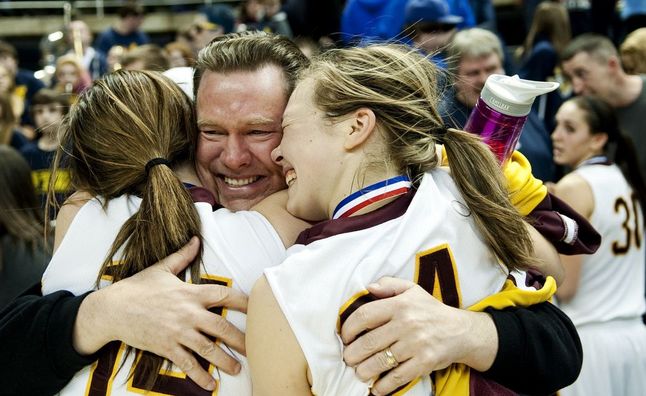 Rich McGowan | MLive.com
EAST LANSING -- How many times had they played the scene out in their heads?
Playing on the 30-by-50-foot back-yard basketball court built for them by their father, sisters Taylor and Jessie Manders' countless games of 1-on-1, against each other or their dad, how often had the state championship been on the line?
Saturday afternoon the dream became reality.
However, instead of playing on a court hand-painted in maroon and gold with a Manchester 'M' at center, it came before a few thousand boisterous fans at Michigan State University's Breslin Center.
While the venue had changed, the end result was the same.
And with 2.3 seconds remaining to play as teammates, the sisters, Taylor, a senior, and Jessie, a sophomore, came together near the free throw line and shared a hug, rejoicing together as the mutual dream came true.
"We didn't really say anything at first," Taylor said. "As we hugged, I jumped on her, told her I loved her and I'll miss her so much next year."
With their days wearing the same uniform over, Jessie Manders said she would miss playing with her big sister.
"It's really tough, but I couldn't think of a better way to play our last game together," Jessie said. "I know next year, she will come back and support me just like I did my first two years that I wasn't playing with her. She will always be there no matter what."
That's not to say the sisters don't have their moments of hostility.
Never lost for words, Taylor isn't one to shy away from barking orders at her younger sibling. As the Dutch practiced for their semifinal game against Riverview Gabriel Richard, they worked on a Box-and-1 defense. While Jessie was assigned not to switch off her defensive assignment, Taylor told her to switch off.
"I'm like 'No, I'm on her, you're playing a zone!'" Jessie recalled, a note of irritation still in her voice. "She starts yelling at me. Then she's like, 'Oh yeah. You're right.'"
Ah, sisterly love.
In the stands, Mark, and the girls' mother, Julie, sat. Watching their daughters, teammates, make school and Manchester history, bringing home the championship.
While everyone else in the arena wearing maroon and gold celebrated, the moment was a bittersweet one for the parents as their daughters played as teammates for the final time.
"We're going to miss watching the girls play together for sure," Mark Manders said. "It's totally bittersweet but what a way for Taylor to go out and Jessie is working her butt of to help her win and their team win."
When a team attains its sport's ultimate prize, every member of it shares a bond that lasts a lifetime. For Taylor and Jessie Manders, that bond goes beyond being teammates. It goes deeper. It goes back to the intense games of 1-on-1 and to the bickering and unavoidable annoyances that come from having a sibling.
It's a bond of being champions and teammates and sisters all at the same time.
And the hug they shared, with 2.3 seconds on the clock, will last a lifetime.