Posted on
Thu, Dec 15, 2011 : 5:55 a.m.
Try to 'Beat Pete' by picking winners for Week 2 of high school basketball season
By Pete Cunningham
I was 6-2 in picks last week. Not bad, but nothing to write home about.
It was just enough of a slip up for two people to "Beat Pete," though. So congratulations to Beth Starkey of Chelsea and former AnnArbor.com sportswriter Matt Durr, both of whom beat me with their picks last week.
Durr, of course, was fired for such insubordination, so if you'd like to apply for his job, send me your resume and work samples.
I'm just joking. Durr wasn't fired -- merely indefinitely suspended without pay.
The winner of the $20 Domino's Pizza gift card is Aaron Ward of Ann Arbor.
Don't spend it all in one place.
Anybody who participates in the 'Beat Pete' contest is automatically entered into a weekly drawing for a chance to win a $20 Domino's Pizza gift card. In addition to the weekly drawing, we will pick a random participant once each month and AnnArbor.com will donate $150 to the high school booster club of the their choice.
Anybody who participates is eligible for the drawings, no purchase (or skill) necessary. (Click here to read official rules.) Those of you beat me will have the honor and prestige of having their names listed in the following week's article.

Pete's picks
The Skyline and Lincoln girls basketball teams both went through their fair share of struggles last season. Skyline, in its first year as a varsity program, finished 0-21.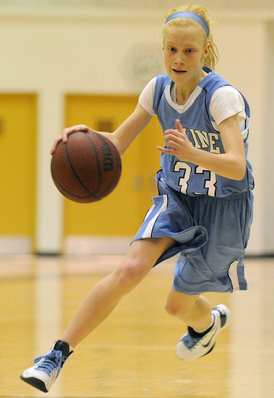 AnnArbor.com file photo
Lincoln, meanwhile, had just as young of a team with three sophomore starters. The Railsplitters finished 4-16 one year after going 1-19.
The two teams play Friday night at Lincoln. Skyline has already surpassed its win total from last season with two wins and Lincoln has the opportunity to do so after a 4-0 start.
Giving Lincoln the edge in this matchup is third-year starting point guard Arielle Cargor. The junior has averaged 17.3 points, three assists and 1.8 steals during Lincoln's early run.
Despite being maybe 5-foot-2 (on her tippy-toes), Cargor's speed and quickness has always made her a capable scorer. The difference this year is she's not turning the ball over and getting her teammates involved.
Two other Railsplitters players, sophomore Dominique Foley and fellow three-year starter and junior Katelyn Morris, are averaging double digits in scoring. Much has to do with Cargor learning the art of point guard position.
Last year Cargor was her team's leading scorer. Now, she's her team's leader, period.
The crossover matchup to open the Southeastern Conference season for both teams leads off this week's picks:

Beat Pete Winners
The following people "Beat Pete" last week:
Beth Starkey
Matt Durr

People who have "Beat Pete" so far: 2.
Contact Pete Cunningham at petercunningham@annarbor.com or by phone at 734-623-2561. Follow him on Twitter @petcunningham.