Posted on
Thu, Nov 22, 2012 : 5:59 a.m.
Saline quarterback Tyler Palka is AnnArbor.com 2012 Washtenaw County football Player of the Year
By Pete Cunningham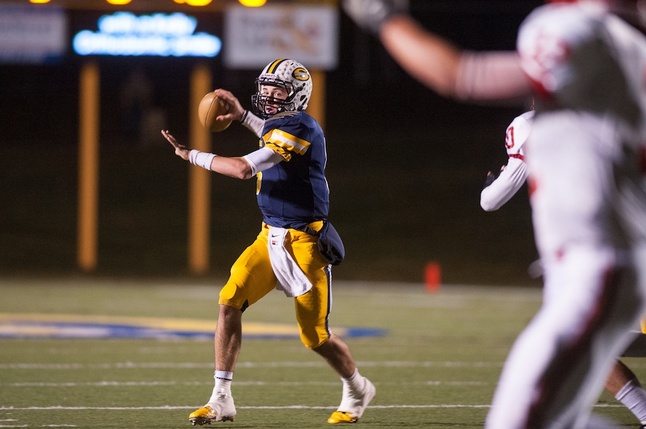 AnnArbor.com file photo
Saline coach Joe Palka didn't want his son to play quarterback.
At Toledo Whitmer -- an Ohio high school football powerhouse, where Palka coached before this year -- the only person under as much scrutiny as the man with the headset and whistle, is the player under center.
A quarterback and a coach's son? It was a recipe for disaster.
"You're under pressure from your dad, you're under pressure from coach, and unless you're winning every game, you're under constant pressure from the community…I actually discouraged him from playing quarterback," Joe recalls.
Joe suggested Tyler play defensive back - maybe wide receiver or running back - before his freshman year of high school as did Tyler's grandfather.
Joseph Tobianski | AnnArbor.com
Tyler would have none of it.
"My grandpa always said 'quarterback? Ya know, uh, I'd rather have you play corner. Just don't forget about corner,'" Tyler said. "I'd say 'ok', but in the bottom of my heart I kind of got mad at that because I thought that meant they don't think I can do it."
Tyler didn't take kindly to the suggestions that he not play quarterback as a freshman, and has never taken kindly to people's suggestions that at 6-foot (standing on his toes) 175 pounds (soaking wet) he's too small to play the position.
"He said 'no dad, I want to be the leader. I want the challenge,'" Joe said.
There's been no discussion ever since and one thing has been clear: Tyler Palka is a quarterback. He's also the AnnArbor.com 2012 Washtnenaw County Player of the Year.
As a starter at Whitmer, Tyler led the team to an undefeated regular season and a Division 1 state runner-up finish in 2011. He had his sights set on bringing Whitmer back to the title game as a senior, but then Joe accepted the position at Saline.
The venue changed, but the goal did not. Tyler hit the ground running - and throwing - at Saline. During the regular season, he completed 131-of-191 passes (68.6 percent) for 1,719 yards and 15 touchdowns and also led the Hornets in rushing with 90 carries for 650 yards and six touchdowns as the team went 8-1.
Saline's two playoff wins gave it ten on the season, the most in program history and the Hornets took defending Division 1 state champion Detroit Cass Tech down to the wire before eventually falling in a regional championship game. Cass Tech has since advanced to its second straight championship game.
Palka wishes he were playing this weekend at Ford Field, but he's moved on to proving more people wrong. He who hopes to play quarterback at the next level.
"People will always say I'm too short, the only reason I'm playing is my dad…that will continue to drive me. I'll probably be six-foot the rest of my life, but I guarantee you I'll be playing somewhere because I have the drive and I'm not going to ever let that get to me."
Check out the rest of the AnnArbor.com 2012 All-Washtenaw County Football Dream Team
Pete Cunningham covers sports for AnnArbor.com. He can be reached at petercunningham@annarbor.com. Follow him on Twitter @petcunningham.