with poll:

Vote now in AnnArbor.com's Week 7 Game of the Week poll

Posted on Fri, Sep 28, 2012 : noon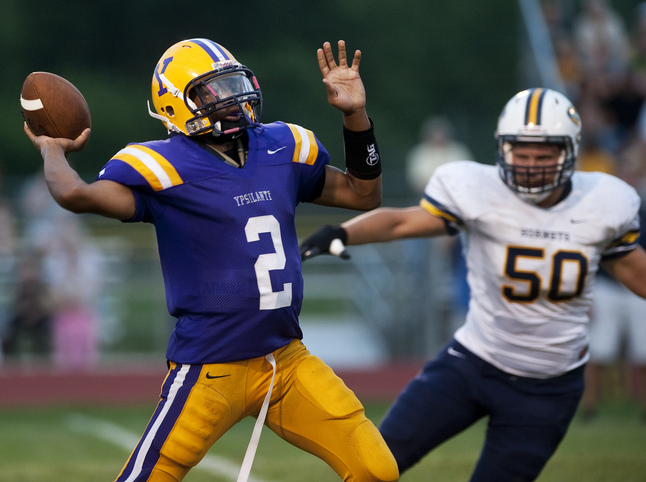 Daniel Brenner I AnnArbor.com
We're spreading the love this week with the AnnArbor.com "Game of the Week" poll.
This week's poll choices are filled with schools that may not have the biggest fanbases, or may not be having the best seasons, but still deserve a shot at Game of the Week.
While the large and successful schools will still be covered, we want to make sure the little guys get their chance to be involved in a Game of the Week. After all, there's only two weeks left in the regular season after this one.
Here are the five choices this week. None of the teams included in the poll have played in a Game of the Week yet:
Father Gabriel Richard will host Dearborn Divine Child, as the Irish continue a playoff push.
Manchester will host East Jackson, as the Flying Dutchmen hunt for a Cascades Conference title.
Willow Run, led by 13-year-old quarterback Marquis Smith, will host River Rouge.
Ypsilanti and Dexter will face off in a series that has seen the last three games decided by 10 points or fewer. Both teams enter Week 6 without a win between them.
Whitmore Lake will make the long trip to face a tough Ottawa Lake-Whiteford team.
Poll voting is open from now until 6 p.m. Tuesday.
Game of the Week coverage:
AnnArbor.com will give the Game of the Week winner its Super Bowl treatment, which will include two reporters covering the game, a live chat that you can follow from your iPhone or Android device, and a photo gallery as well.