Posted on
Sun, Aug 19, 2012 : 5:45 a.m.
A team-by-team glance at Washtenaw County's football teams in 2012
By Pete Cunningham
School may not be in session for a few more weeks, but the unofficial beginning of fall is only days away with the high school football season kicking off on Thursday.
As part of AnnArbor.com's season preview, check out the 13 area teams and weigh-in on our interactive polls as to who you think will win their respective conferences.
Also, check out who is returning from last year's statistical leaders and track what storylines and players to watch for in AnnArbor.com's high school football season preview notebook.
SOUTHEASTERN CONFERENCE RED DIVISION
The battle for the Southeastern Conference Red Division title carried over from the regular season into the playoffs last season and in both instances it was Pioneer that emerged the victors. While the majority of the division plays within Washtenaw County, their toughest opponents were beyond the southern border.
ANNARBOR.COM SEC RED PREDICTIONS
1. Temperance Bedford
2. Ann Arbor Pioneer
3. Saline
4. Monroe
5. Ann Arbor Skyline
6. Ann Arbor Huron

Pioneer handed Monroe and Temperance Bedford their first conference losses of the season in Weeks 6 and 7 last year, then put an exclamation point on the league crown by eliminating both from the playoffs in back-to-back weeks.
Will the Pioneers be able to keep the league crown out of Monroe County for another year without star running back Drake Johnson? Will Saline, with its father-son, coach-quarterback combination be able to slide in for contention?
Or could it be programs seemingly in rebuilding years, Skyline and Huron, that get the job done? Here's our official predictions. After reading the team-by-team previews, weigh in on our interactive poll.
PIONEER PIONEERS AT A GLANCE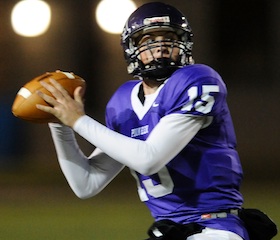 2011 Record:
9-3, 6-0 SEC Red.
Coach: Paul Test, 2nd year, 9-3.

Key players: OL Joe Osinski, RB Zak Davis, QB Aedan York, RB Bashir Garain, LB Chad Reed, DB Dewan Olive, DE Quashawn Luckett, S Henry Winters, DB/WR Dan Eder, WR Kesean Hugan, OL Seff Awwad.

2011 review: Pioneer started the season with tough losses against two of the best programs in the state, Warren De La Salle and Birmingham Brother Rice, before winning nine straight games en route to SEC Red and Division 1 district championships.

2012 outlook: With five returning starters on each side of the ball, including three offensive linemen, Pioneer should contend to repeat as SEC Red champions and be a more balanced offensive squad with an experienced quarterback.

Schedule (all games at 7 p.m. unless noted):
8/24: vs. Warren De La Salle
8/30: vs. Bloomfield Hills Brother Rice
9/7: at Dexter
9/14: at Saline
9/21: vs. Skyline
9/28: vs. Temperance Bedford
10/5: vs. Monroe
10/12: at Huron
10/19: at Livonia Franklin

ANN ARBOR PIONEER PIONEERS
Just as it did last season, Pioneer will open the season against two of the best teams in the state in Warren De La Salle and Bloomfield Hills Brother Rice. The good news: playing those teams can't hurt Pioneer's chances at a repeat SEC Red title. The bad news: losses can severely hinder any shot at a fifth straight playoff appearance.
The Pioneers recovered from consecutive losses to start the season last year and managed to reel off nine straight wins, all with backup quarterback Aedan York under center after an injury to starter Andy Creal in Week 2.
Of course, Drake Johnson and his 2,800 yards rushing and 38 touchdowns had much to do with that and he's now at Michigan. Zak Davis and Bashir Garain are being asked to fill that void, which is fine with second-year coach Paul Test.
"Garain and Davis were probably good enough to start on any other team in the state last year, but they were behind Drake," Test said. "It's important to remember that Drake rushed for close to 3,000 yards, but there were people in front of him blocking, making holes or he wouldn't have been going anywhere."
Three starters from that line return and York is much less green than when he stepped in on an emergency basis last year.
"We'll be more balanced with the run and the pass, but we're still hanging our hat on power football. I mean, that's our bread and butter," Test said.
Test believes the addition of former Saline head coach Mike Glennie as offensive coordinator will be crucial to the team's efforts on both sides of the ball.
"What was difficult last year was I couldn't put time in with the offense because, defensively, I had two coaches that were gone for six weeks throughout the season," Test said. "I couldn't leave the defense after about week three or four to make sure the offense was progressing in the way I thought it should."
Test is also encouraged to have enough players out for the team where he can continue to platoon the offense and defense.
"We won a lot of games in the second half and double overtime (against Monroe) last year and I think having fresh bodies has a lot to do with that," Test said.
SALINE HORNETS AT A GLANCE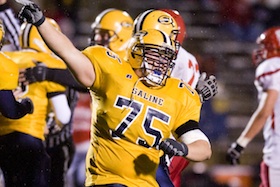 2011 Record:
4-5, 3-3 SEC Red.
Coach: Joe Palka, 1st year.

Key players: DL Casey Schukow, DL John Smutny, DL Brian Kissane, LB Alex Kendig, LB Caleb Ashby, S Brandon Gordon, QB Tyler Palka, OL Gavin Olsen, OL Clayton Kilgallon, WR/P/K Gage Hammond, WR Joey Zcrijak.

2011 review: The Hornets were a classic middle-of-the-road team in 2011 that never seemed to catch a break. Saline won and lost the games they were supposed to and against evenly-matched opponents could never find a way to eke out the victory.

2012 outlook: After a successful decade under Mike Glennie (54-44 and five playoff appearances), the Hornets welcome in the Joe Palka era. Palka has been successful everywhere he's gone, but said the first half of the first year is often a struggle.

Schedule (all games at 7 p.m. unless noted):
8/24: at Walled Lake Western
8/31: at Ypsilanti
9/7: vs. Adrian
9/14: vs. Pioneer
9/21: at Bedford
9/28: at Monroe
10/5: vs. Huron
10/12: at Skyline
10/19: vs. Novi

SALINE HORNETS
Coach Joe Palka takes over the Saline program after coaching Ohio powerhouse Toledo Whitmer for the past six years. Under Palka, Whitmer made the playoffs in all but one season and reached the state semifinals each of the past two years.
There's no reason to believe Palka won't be successful at Saline, but he's trying to temper immediate expectations.
"We're not always successful at the beginning, but we've been better by the end of the year than we were at the beginning every place I've gone in that first year, I can tell you that," Palka said.
What should help in the transition is having his son, senior Tyler Palka, at quarterback, so teaching the offense to a new leader won't be an issue. Joe said Tyler threw for more than 1,200 yards for Whitmer last season despite missing three games due to injury, and is a threat on the ground as well.
This might raise a red flag for fans in Saline who still have fresh memories of when highly touted quarterback Joe Boisture transferred to Saline in 2009 and won the starting spot. The team struggled as the offense changed around Boisture's skill set, which never seemed to set well with players and the community.
This situation seems different in that (Tyler) Palka has run this offense before and there's no starter in waiting. Senior Reece Dils reportedly did not come out for football in order to focus on basketball and avoid injury. Dils missed the basketball season due to an injury suffered during the football season last year.
Coach Palka said the offense uses a lot of zone reads and that he's interestingly watching how a three-man tailback competition plays out.
"We'll play two quite bit, but traditionally (at Whitmer) we always had one primary back and we're trying to find that one," Palka said.
In addition to having successful teams, Palka has a reputation of coaching individuals who move on to the college ranks, such as former Michigan captain Kevin Koger, who is an assistant coach on Palka's staff.
SKYLINE EAGLES AT A GLANCE
2011 Record:
3-6 1-5 SEC Red.
Coach: Lee Arthur, 1st year.

Key players: WR Jack Clark, WR/RB/S Purcell Franklin, LB Willie Elam, OL Tony Biggs.

2011 review: In the school's first year with seniors on the roster, Skyline picked up its first wins as a varsity program. With All-State receivers Jordan Woods and Theron Wilson and quarterback Andrew Copp, Skyline averaged 31.3 points per game, but gave up the exact same amount on defense and lost six of its last seven games.

2012 outlook: Skyline graduated more than 30 seniors and in Arthur has its third head coach in as many years. With only three returning starters, the Eagles are looking to rebuild after losing the players that were the foundation since the program's inception.

Schedule (all games at 7 p.m. unless noted):
8/24: at Hartland
8/30: vs. Dexter
9/7: vs. Ypsilanti Lincoln
9/14: at Monroe
9/21: at Pioneer
9/28: vs. Huron
10/5: at Temperance Bedford
10/12: vs. Saline
10/19: vs. Dearborn

ANN ARBOR SKYLINE EAGLES
The Skyline High School program had to wait two long years to field a varsity football team and then suffered through a winless season in year three before finally adding seniors to the mix last year.
Though the Eagles won only three games in 2011, the wait for elder statesmen seemed well worth it with a prolific offense featuring three All-State players: receiver Jordan Woods (1,163 receiving yards, 16 touchdowns), quarterback Andrew Copp (1,732 passing yards, 27 TDs) and receiver Theron Wilson (607 yards, 11 TDs).
Well, now they're all gone, part of a 30-player graduation exodus that will have the Eagles' roster almost unrecognizable this year. First-year head coach Lee Arthur, last year's offensive coordinator under Rod Jones, views it as a rebuilding project.
"It'll be a challenge with a young team," said Arthur, the program's third coach in as many years. "It's kind of like starting over, but we're building for the long term."
Senior wide receiver Jack Clark is one of the team's few returning starters on offense. Last year Clark had a team-best 49 receptions for 510 yards and four touchdowns. Who will be throwing the ball to him this year is still a mystery. A pair of sophomore quarterbacks are battling for the starting spot.
"They both throw the football and both are athletic, it's pretty much an even battle," said Arthur of the competition, which he said might not have a clear-cut winner when all is said and done.
"You might see a little musical chairs at quarterback, but it won't be out of rhythm. Right now I'm counting on using both of them," Arthur said. "For the NFL (two quarterbacks) is a bad problem to have, but for high school football it's not so bad."
Senior linebacker Willie Elam, last year's leading tackler, will anchor the defense.
"I can't wait to see what's going to happen. We'll play hard, I can guarantee you that," said Arthur.
HURON RIVER RATS AT A GLANCE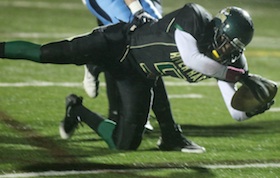 2011 Record:
1-8, 1-5 SEC Red.
Coach: Cory Gildersleeve, 4th year, 9-18.

Key players: WR/DB Daniel Hugan, WR/DB Demetrius Sims, LB Will Harris, LB Will Szymanski, OL/LB David Leipold, LB/RB Sompo Igwegbe, OL/DL Grant Stadelman, K Grant Stickler.

2011 review: After a heartbreaking one-point loss to Salem in the season opener, the River Rats' season went downhill in a hurry. All of their remaining seven loses were by double-digit margins.

2012 outlook: Huron doesn't have much in the form of returners, but for a team that lost all but one game, and had academic and team discipline issues, that might not be a bad thing. The River Rats will adopt a hybrid Wing-T offense as opposed to its more wide open package from a year ago.

Schedule (all games at 7 p.m. unless noted):
8/24: at Salem
8/31: vs. Ypsilanti
9/7: at Tecumseh
9/14: vs. Temperance Bedford
9/21: vs. Monroe
9/28: at Ann Arbor Skyline
10/5: at Saline
10/12: vs. Pioneer
10/19: at Westland John Glenn

ANN ARBOR HURON RIVER RATS
Huron coach Cory Gildersleeve was frustrated by a step in the wrong direction in his third year on the job. The River Rats were not only under-performing on the field, but in the classroom and community, as well, according to Gildersleeve.
The team's shortcomings were drastic enough that Gildersleeve instituted somewhat radical changes, including cutting players at tryouts.
"They're primarily attitude and academic cuts," Gildersleeve said. "When you come off of a season last year, where there was just far too many school discipline and academic issues, you have to come up with ways to clean it up and change the culture."
Gildersleeve said he and his coaching staff, who will jointly coach the JV and varsity programs, went into tryouts as objective evaluators of talent and will not consider grade when putting together their rosters.
"The best kids are going to play and I think it's creating a higher level of competition in practice," Gildersleeve said. "Any time you get depth and competition, it's going to elevate the level of play."
True to his word, Gildersleeve is considering starting freshman Josh Jackson -- son of Michigan running backs coach Fred Jackson -- at quarterback, which is practically unheard of at the varsity level. Gildersleeve said Jackson and junior Kevin Masini have had a heated and healthy competition thus far for the spot.
He said Masini is more of a threat on the ground and Jackson has a slight edge in the passing game.
"They both bring different intangibles to the field and I think (the competition) will play out up until Salem and maybe through the season," Gildersleeve said.
-- Matt Durr contributed to this report.

SOUTHEASTERN CONFERENCE WHITE DIVISION
Saying that Chelsea and Adrian are going to battle atop the Southeastern Conference White Division standings is the high school sports writer's version of mailing it in.
Well, that's the case for a reason.
ANNARBOR.COM SEC WHITE PREDICTIONS
1. Chelsea
2. Adrian
3. Lincoln
4. Tecumseh
5. Dexter
6. Ypsilanti

Chelsea beat Adrian during the regular season to win the SEC White in 2011, but then Adrian turned around and eliminated Chelsea from the playoffs for sweet revenge in the third playoff meeting of the conference rivals since 2007. It's a safe bet when the teams meet on Sept. 21 this season, the victor will go on to win the division.
A less predictable, if not down-right flabbergasting, development last year was the emergence of Ypsilanti Lincoln in the SEC White title discussion. The Railsplitters went from winless to the playoffs and beat Adrian along the way.
Will Adrian and Chelsea remain the class of the league or is Lincoln more than a flash in the pan? Do Ypsilanti, Dexter or Tecumseh have a chance to emerge? Here's our official predictions. After reading the team-by-team previews, weigh in on our interactive poll.
CHELSEA BULLDOGS AT A GLANCE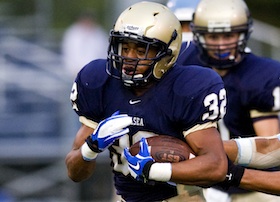 2011 Record:
8-3, 6-0 SEC White.
Coach: Brad Bush, 16th year, 120-41.

Key players: RB Berkley Edwards, QB Alex Maloney, QB Logan Brown, RB Colton Platt, DL Michael Steinhauer.

2011 review: Chelsea won an SEC White title and made the postseason for the 13th straight year. The Bulldogs bowed out in the second round of the playoffs, losing to league foe Adrian.

2012 outlook:Chelsea contending for a league title and a playoff berth is as safe a bet as there is in Washtenaw County. There's no reason to believe this year will be any different

Schedule (all games at 7 p.m. unless noted):
8/24: vs. Jackson Lumen Christi
8/30: at East Lansing
9/7: at Temperance Bedford
9/14: vs. Ypsilanti
9/21: at Adrian
9/28: at Lincoln
10/5: vs. Tecumseh
10/12: vs. Dexter
10/19: vs. Haslett

CHELSEA BULLDOGS
If Chelsea head coach Brad Bush knows who his starting quarterback is going to be when the Bulldogs host perennial state powerhouse Jackson Lumen Christi in Week 1, then he has a heck of a poker face.
Senior Nate Bossory, who started for playoff teams for the past two years at Manchester before transferring to Chelsea, seems the logical choice from the outside looking in, but Bush insisted that the competition was still open when fall practice began.
It seems like a win-win for the Bulldogs who either get Bossory, who threw for nearly 5,000 yards combined over the past two seasons for Manchester, or one of the two seniors that saw action under center last year -- Alex Maloney and Logan Brown -- are able to beat him out.
One of the main responsibilities of the quarterback position, no matter who's calling the signals, will be to hand the ball to senior running back Berkley Edwards. After a breakout junior campaign in which he rushed for 1,520 yards and 18 touchdowns, Edwards caught the eye of a plethora of Division I college programs. His individual future and his team's could be tied to how he performs this year.
Bush is concerned about a lack of depth in the secondary on the defensive side of the ball, but on the defensive line he thinks 6-5, 265 pound Michael Steinhauer is primed for breakout year.
"He's a guy that's a little bit of an unknown to a lot of people," Bush said. "He had a great early part of his junior year, then sprained his (medial collateral ligament) and didn't play the last five games."
-- Rich Rezler contributed to this report.
LINCOLN RAILSPLITTERS AT A GLANCE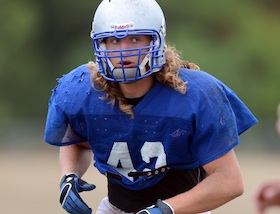 2011 Record:
6-4, 4-2 SEC White.
Coach: Chris Westfall, 6th year, 9-37.

Key players: RB/LB Will Russell, DB/RB Tyree Waller, WR DaLauren Roberson, LB Bryton Boyle, DL/OL Matt Peoples, QB Javin Kilgo.

2011 review: Lincoln was one of just three teams in the state to go from winless in 2010 to the playoffs in 2011. It was the first playoff berth in school history.

2012 outlook: The magical season of 2011 will be a tough act to follow, but by building around defense and a quarterback out to prove himself, Westfall thinks his squad may be up to the challenge.

Schedule (all games at 7 p.m. unless noted):
8/24: at. Belleville
8/30: at Ann Arbor Huron
9/7: at Ann Arbor Skyline
9/14: vs. Tecumseh
9/21: at Dexter
9/28: vs. Chelsea
10/5: at Adrian
10/12: vs. Ypsilanti
10/19: vs. Milan

YPSILANTI LINCOLN RAILSPLITTERS
Lincoln football coach Chris Westfall is still glowing from the magical ride from winless to the playoffs that the 2011 team provided. For years he preached to his players about what it took to win, but not a single player in any of his five years had any positive experience from which to draw.
After last year's run to the playoffs, that is officially no longer the case and the turnout for this year's team is already a reflection of that success.
"We're at 51 (players) on varsity and the biggest I've ever seen is low 40s," said Westfall, who noted that it's not just numbers that have improved, but attitudes. "There's just more positivity throughout the team. There's no complaining, everyone is just working hard because everyone finally understands that this is what it takes."
Bryton Boyle will anchor the defense, which Westfall said will continue to be Lincoln's calling card despite the graduation of leaders Dejuan Hampton and Tanner Brewer.
Westfall knew senior wide receiver Tyree Waller -- a Central Michigan commit -- would be a staple of the offense, but who would throw him the ball was a mystery. That mystery had a surprise solution in senior quarterback Javin Kilgo.
"Coming out of last season, and I've said this phrase out loud, I said 'we're in trouble if he has to play' and I honestly thought our sophomore would beat him out," Westfall said. That all seemed to change during winter workouts. "We start with QBs in January and from that moment I think he just decided, 'I'm not going to be a backup again.' He's taken a very aggressive improvement and he's been as good as any QB I've had.
"He always had the physical skills, but needed maturity and mental toughness and maybe it was that year as a backup that gave him that final motivation," Westfall said.
DEXTER DREADNAUGHTS AT A GLANCE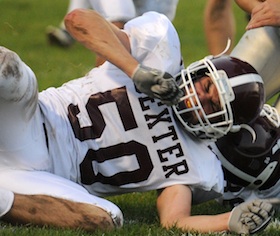 2011 Record:
3-6, 2-4 SEC White
Coach: Brian Baird, 2nd year, 3-6.

Key players: LB Andrew Grafton LB, QB Andy McWilliams, RB Tony Shiguango.

2011 review: The Dreadnaughts struggled to a 3-6 record despite a senior-laden group led by dual-threat quarterback Michael Mioduszewski.

2012 outlook: Dexter is a young team without many proven players. With that in mind, second-year head coach Brian Baird is taking a "one game at a time" approach.

Schedule (all games at 7 p.m. unless noted):
8/24: vs. Fowlerville
8/30: at Ann Arbor Skyline
9/7: vs. Ann Arbor Pioneer
9/14: at Adrian
9/21: vs. Ypsilanti Lincoln
9/28: at Tecumseh
10/5: vs. Ypsilanti
10/12: at Chelsea
10/19: vs. Jackson Northwest

DEXTER DREADNAUGHTS
Second-year head coach Brian Baird took over a senior-laden team last year, which he said was both a blessing and a burden. The team was never short on leadership or experience, but the coach said many of his player were too set in their old ways.
"We changed a lot of things and with a senior-heavy group, that made a lot of players uncomfortable," Baird said. "We had to fight a lot of players who were set in their ways."
Baird said this young squad is buying into his approach.
"It's been a fight, but we're getting there," he said.
Baird said he's preached to his team the importance of a "one game at a time" approach. Setting lofty expectations might be a little much for the young group.
"Our goal is to be 1-0 every week," Baird said. "If we set high goals and don't take care of the little things we could be in trouble."
Baird said the team as a whole lacks size, so precision and proper technique will be crucial.
"There's low expectations for this group so we're just taking that underdog mentality," Baird said.
Dexter's strongest position last year, and maybe even the past two years, has been at quarterback.
Michael Mioduszewski passed for 1,918 yards and 20 touchdowns versus 13 interceptions and rushed for 1,009 yards and 10 touchdowns while garnering a first team All-SEC White selection. Baird said junior signal caller Andy McWilliams, while not as imposing or prolific as the 6-4, 216 pound Mioduszewski, will be a threat on the ground and through the air in the same vain.
YPSILANTI PHOENIX AT A GLANCE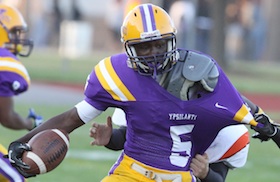 2011 Record:
2-7, 0-6 SEC White.
Coach: Ra-Mon Watkins, 1st year.

Key players: WR/DB Devon Thompson, QB/DB Darrion Reeves, OL/DL Raymond Thomas, OL/DL Zaid Abdullah, OL/DL Abdulah Ahmed, WR/DB Malik Peacock, WR Jacob Simmons, RB Tyree Weatherspoon.

2011 review: Ypsilanti bookended last season with its only wins of the year, but lost seven straight games -- and nearly every starter to injury -- in between.

2012 outlook: Skill positions on offense will be a strength but quarterback is a big question mark. Defensive and offensive line is strong but not deep at all.

Schedule (all games at 7 p.m. unless noted):
8/24: at Milan
8/31: vs. Saline
9/7: vs. Monroe
9/14: at Chelsea
9/21: vs. Tecumseh
9/28: vs. Adrian
10/5: at Dexter
10/12: at Lincoln
10/19: vs. Monroe St. Mary Catholic Central

YPSILANTI PHOENIX
After two years as head coach and a partial season as interim coach, Jason Malloy is no longer leading the Phoenix program. Taking over is first-time head coach Ra-Mon Watkins, who has worked two years as an assistant coach at both Huron and Pioneer high schools.
Attrition -- in the form of Injuries and players quitting -- struck the Phoenix so hard last year that they had less than 20 players on the roster by the end of the year.
That makes this year's turnout of more than 40 kids at the varsity level an encouraging sign. Still, very few of the players have much experience at the high school level.
"We only have three four-year players on the team," said Watkins. "A lot kids don't have football experience."
Watkins said Ypsilanti will be more of a power team than in years past.
"It's not necessarily better, just different," Watkins said. "Malloy worked hard and is a good man and left the program in decent shape, but we're just going to do things a little different."
Watkins hopes to capitalize on a strong offensive line. Most of the players on the offensive line will start on the defensive line as well.
"I would say our linemen will be a position of strength, but there's no depth," Watkins said. "As long as we can keep from getting hurt, it will be a position of strength."

OTHER WASHTENAW COUNTY TEAMS
Washtenaw County has five high school football teams outside of the Southeastern Conference, down from six a year ago with Eastern Washtenaw Multicultural Academy not fielding a squad this season.
Manchester and Father Gabriel Richard each stretched their consecutive playoff streaks to four years last season while Milan's ended at four.
Willow Run couldn't follow up on its run to the playoffs in 2010 and Whitmore Lake, though glad to break a 13-game losing streak, came nowhere close to playoff contention.
Will the playoff streaks continue, and will any of the above teams contend for their respective league titles? After reading the team-by-team previews, vote for the team you think is most likely to win a league title on our interactive poll.
FGR FIGHTING IRISH AT A GLANCE
2011 Record:
8-3, 4-1 Catholic AA
Coach: Brian Lemons, 5th year, 32-11.

Key players: QB Joe Kendzicky, RB Ashton Hundley, WR Blaise Sterns, WR Steve Tracy, DL Drew Deidrich, DE Sean Donnollon, LB Carsten Dembeck, DL Austin Hundley, LB Pat Wolf.

2011 review: With a team filled with first-year varsity players and underclassmen, the Fighting Irish somehow managed to make their fourth consecutive playoff appearance.

2012 outlook: Lemons suspects the team may have overachieved in 2011. With nine returning starters on offense and seven on defense, the question shifts to whether these players can meet lofty expectations.

Schedule (all games at 7 p.m. unless noted):
8/23: at Lake Fenton
8/30: at Whitmore Lake
9/7: at Tawas Area
9/14: at Pontiac Notre Dame Prep, 7:30 p.m.
9/21: at Livonia Clarenceville
9/29: vs. Macomb Lutheran North, 1:30 p.m.
10/6: vs. Dearborn Divine Child, 1:30 p.m.
10/13: vs. Allen Park Cabrini, 1 p.m.
10/20: TBA

FATHER GABRIEL RICHARD FIGHTING IRISH
Father Gabriel Richard coach Brian Lemons suspects his team may have over achieved with its fourth consecutive playoff berth and run to the Catholic League Bowl in 2011.
There was barely a player with varsity experience last year and now there are 16 returning starters, nine on offense and seven on defense.
"The question is whether we overachieved last year?" Lemons said. "As long as we weren't overachieving, we should be alright."
Among the plethora of returning starters is All-Catholic AA Division quarterback Joe Kendzicky, who last year completed 85 of 152 passes for 1,148 yards, 11 touchdowns and eight interceptions. Having an added weapon in Huron transfer Blaise Sterns -- a 6-2, 190 pound receiver -- should help improve those numbers.
Lemons said Sterns clocked a 4.5-second 40-yard dash over the summer and has impressed him immensely thus far.
"Physically, he's extremely gifted with great size and speed that he should just run by people in or league," Lemons said. "If he can squeeze (the ball) and stay healthy, he could be real dangerous."
Defensively, Gabriel Richard didn't live up to it's own lofty standards by allowing 18.7 points per game -- up from 12.7 the year before. With almost enough players now to two-platoon, and with Steve Tracy and Ashton Hundley in the secondary and Austin Hundley anchoring the defensive line, the Irish defense could be a force to be reckoned with.
MANCHESTER FLYING DUTCHMEN AT A GLANCE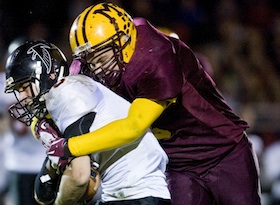 2011 Record:
8-2, 6-1 Cascades
Coach: Wes Gall, 25th year, 182-62-1.

Key players: DB Eric Coval, OL Eric Davis, OL/DB Brian Robert, OL Edward Zielinski, RB Jimmy Kurasz, RB/LB Nick Cozart, LB/TE Austin Wilson, LB/OL Matt Franz, WR/DE Jon Wescott.

2011 review: Manchester made the postseason for the fourth consecutive season, but had a disappointing end to the year with a loss in the final seconds to Leslie in the first round of the playoffs.

2012 outlook: Manchester may run the ball more than ever before in the Wes Gall era.

Schedule (all games at 7 p.m. unless noted):
8/24: at Clinton
8/30: vs. Napoleon
9/7: at Vandercook Lake
9/14: at Addison
9/21: vs. Hanover Horton
9/28: at Grass Lake
10/5: vs. East Jackson
10/12: vs. Michigan Center
10/18: vs. Fowler at Olivet High School, 7:30 p.m.

MANCHESTER FLYING DUTCHMEN
In his 24 years as head coach at Manchester, Wes Gall has always bucked the trend of small-town football by airing the ball out rather than the power brand of football most smaller schools employ.
That might finally change this year as Gall makes adjustment to fit his personnel. Two-year starter Nate Bossory, who threw for more than 2,000 yards each of the last two seasons, transferred to Chelsea. Plus, Bossory's favorite targets from a year ago, Devin Jose and Josh Finley, graduated and a playmaker has yet to emerge from the current crop of receivers vying for the top spots.
In addition to that, Gall likes the backfield thunder and lightning combination of Nick Cozart and Jimmy Kuracz.
"I expect we'll be two-thirds run and one-third pass. My assistant coaches don't think I can do it," said Gall. "But we'll do what's best for the team and right now what's best for the team is run the ball."
Gall said going to a run-first attack has to do with easing in a new quarterback to the varsity level as well. Not everyone is ready to jump into the fire like Bossory was when he took over as a sophomore.
"I want to let our quarterback have a chance to mature at the varsity level," Gall said. "(The JV) went 10, 15 at the most passes a game. To expect him just step in and throw it around 25 or 30 times a game wouldn't be fair to him or the the team."
Cozart will also anchor the defense along with fellow linebacker Matt Franz.
Visit MLive.com for a complete breakdown of the Cascades Conference.
MILAN BIG REDS AT A GLANCE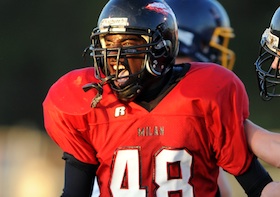 2011 Record:
1-8, 1-7 Huron League
Coach: Jesse Hoskins, 2nd year, 1-8.

Key players: QB Justin Aceves, OL Bruce Elliott, OL Nate Hibbert, DE Blaine LeClair, LB Ty Peterson, RB/WR/S Robert Kanitz, RB Arthur Dukes.

2011 review: The Big Reds missed the playoffs for the first time in five years and had their worst season since 1983.

2012 outlook: It can't get much worse than 1-8. With a year of head coaching under his belt, there's (almost) nowhere to go but up for Hoskins.

Schedule (all games at 7 p.m. unless noted):
8/24: vs. Ypsilanti
8/31: at Monroe Jefferson
9/7: at New Boston Huron
9/14: vs. Grosse Ile
9/21: at Monroe St. Mary Catholic Central
9/28: at Flat Rock
10/5: vs. Riverview
10/12: vs. Carleton Airport
10/19: at Ypsilanti Lincoln

MILAN BIG REDS
The first order of business for Jesse Hoskins following his first year as Milan head coach: Get his players to forget all about it. The Big Reds didn't just snap a four-year playoff run, they had the worst season for the program since 1983.
It wasn't something Hoskins wanted his players dwelling on.
"The day after the season ended we had a workout and a talk and made the decision that the 1-8 was over with," Hoskins said. "The seniors have done a nice job."
Milan will run the 4-4 defense like always and its primary goal will be to stop the run in the run-heavy Huron League. Assisting in those efforts will be senior linebacker Ty Peterson. On offense, leading rusher from a year ago Arthur Dukes (851 yards, 7 TDs) will lead the way.
Hoskins knows the record needs to be improved upon, but still chalks up last year as a positive for all that he learned.
"I was so enthralled in the day-to-day that it never felt that bad," Hoskins said.
Regardless of how it felt, he expects more out of his football team and himself.
"I made more mistakes than anybody last year," Hoskins said. "You always have to analyze what you're doing and adjust and I think I'm learning and growing just like I'm asking my assistants, players, boosters and everyone involved to learn and grow."
WILLOW RUN FLYERS AT A GLANCE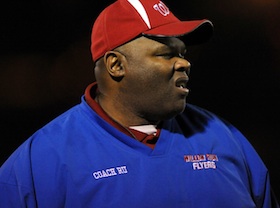 2011 Record:
4-5, 4-2 MMAC.
Coach: Rufus Pipkins, 8th year, 28-35 .

Key players: QB/RB/WR Devere Pipkins, QB Martez Freeman, WR/DB John Brooks, WR William Myles, LB/FB Morris Darby-Boyd, OL Tyler Brooks, OL/DL Kenrick St. Amie, LB Jaylin Auston, LB Dennis Littlejohn.

2011 review: The Flyers handled themselves well in the newly formed Michigan Metro Athletic Conference, but were' 0-3 in non-conference play.

2012 outlook: Numbers are down and participation and spirit is low with the school district's future in jeopardy.

Schedule (all games at 7 p.m. unless noted):
8/23: at Saginaw Buena Vista, 6 p.m.
8/30: at Highland Park
9/7: vs. Detroit Allen Academy
9/14: vs. Ecorse
9/21: at Detroit Community
9/28: vs. Detroit Westside Christian
10/5: vs. River Rouge
10/12: at Detroit Consortium
10/19: at Flat Rock

YPSILANTI WILLOW RUN FLYERS
The offseason has not been kind to the Willow Run program and it has nothing to do with what's happened on the gridiron. The possibility of consolidating with the Ypsilanti school district has been discussed at great length at school board meetings, as has the very real possibility of shutting down the school.
So what does this have to do with football?
"It has affected (the team)," said coach Rufus Pipkins. "You don't see any consistency and there's no telling what the future is (of the school). I can't blame them."
Pipkins said he's seen low numbers in the younger grades and attrition in the higher ones as it seems anyone who can get to a school of choice does.
"When you don't know what the future holds, that's not somewhere kids want to be. It's really hurt of summer regimen," Pipkins said. "I'm proud of the guys that stuck with it because a lot of people weren't sure."
Pipkins said the Flyers are loaded at skill positions, but on the line will be in trouble if anyone is injured. On defense, John Brooks returns for his junior season at defensive back after recording 37 tackles and two interceptions as a sophomore.
The team is without question going to be around and at Willow Run High School this year, but it may be a little late to get kids out for the team with school not starting until after the second game of the season.
"We're just moving forward with what we got," Pipkins said.
WHITMORE LAKE TROJANS AT A GLANCE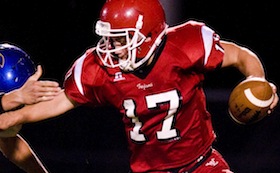 2011 Record:
2-7, 1-6 Tri-County Conference.
Coach: Barry Peirson, 3rd year, 2-16.

Key players: RB/DB Sam Paniccaci, TE Josh Redlinger, QB Dylan St. Charles, FB Mark Jenkins.

2011 review: The Trojans started the year by ending a 13-game losing streak and at the end of the season broke a 16-game conference losing streak.

2012 outlook: There are 33 players out for the team, which wouldn't be a bad turnout if it weren't for the entire program grades 9-12.

Schedule (all games at 7 p.m. unless noted):
8/24: at Stockbridge
8/30: vs. Ann Arbor Father Gabriel Richard
9/7: at Morenci
9/14: vs. Britton-Deerfield
9/21: at Sand Creek
9/28: vs. Clinton
10/5: at Ottawa Lake-Whiteford
10/12: at Adrian Madison
10/19: vs. Petersburg Summerfield

WHITMORE LAKE TROJANS
Young, small and short on numbers has been the theme of the program since Barry Peirson took over at Whitmore Lake three years ago.
And the trend continues.
"They're getting stronger but really we don't have much bulk," Peirson said.
Only 33 players came out for the team across all four grades and within the first week seven starters were already injured.
"Hopefully they'll heal," Peirson said. "We've got some injuries that we're just going to have to play through."
There will be no junior varsity team because of the low numbers, which means any young players looking to learn the game will need to have a steep learning curve.
In Week 2, Whitmore Lake has a rare matchup with a fellow Washtenaw County team in Father Gabriel Richard, which returns 16 starters from a team that won a playoff game last year.
Gabriel Richard coach Brian Lemons is a former coach for Whitmore Lake and teaches at the high school.
"It'll really be a Goliath type deal because physically they outmatch us," Peirson said.
Peirson is encouraged by the progression of quarterback Dylan St. Charles and running back/defensive back Sam Paniccaci, who are both entering their third year as starters. He's also hoping Mark Jenkins can have a breakout year at running back.
Pete Cunningham covers sports for AnnArbor.com. He can be reached at petercunningham@annarbor.com. Follow him on Twitter @petcunningham.