Posted on
Wed, Dec 19, 2012 : 5:45 a.m.
Willow Run AD questioning eligibility of transfer, Michigan basketball recruit Jamal Poplar
By Kyle Austin
Willow Run High School athletic director Matt Seidl is questioning the eligibility status of one of the state's top high school basketball players, after he transferred from Willow Run to River Rouge during the offseason.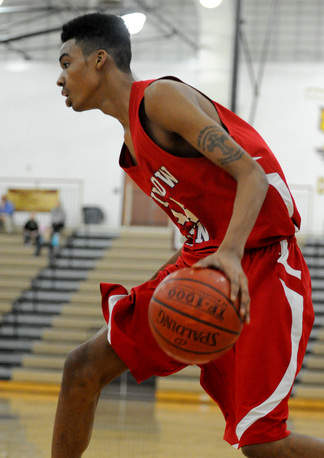 AnnArbor.com file
Junior forward Jamal Poplar, who averaged 11.8 and 6.2 rebounds for Willow Run as a sophomore, participated in his first game of the season Friday when River Rouge beat Willow Run, 81-27, after sitting out his team's opener.
Willow Run athletic director Matt Seidl said Poplar should be subject to the MHSAA's transfer rule, which states that transfer students are ineligible to participate until Jan. 21, 2013.
River Rouge athletic director Joe Emery said the district went through a process with the MHSAA to verify Poplar's eligibility, and has received written confirmation that he is eligible to play. MHSAA associate director Tom Rashid confirmed the letter.
But Seidl is still questioning whether the transfer was within the rules, and sent an email to the MHSAA Monday questioning that.
Seidl said Poplar transferred from Westland John Glenn to Willow Run before last season, after moving from his mother's home to his father's home. MHSAA transfer rules allow a one-time exemption for players moving between parents' homes, making Poplar eligible immediately.
Poplar finished the basketball season and school year at Willow Run, and enrolled at River Rouge this fall. Seidl said Poplar moved back in with his mother.
The MHSAA transfer rule allows for an athlete to transfer if the parent they were living with previously moves to a new district. Seidl said he spoke to Poplar's father a month ago and was told that wasn't the case.
"Unless he's lying to me, I'm taking him at his word," Seidl said.
Poplar, a 6-foot-9 forward, is being recruited by Michigan, according to UMHoops.com. The Free Press ranked him as the 21st-best player in the state heading into this season.
"It smells," Seidl said. "It's typical River Rouge, but it still smells."
Rashid would not specifically address Poplar's case, but said for a student to be immediately eligible he would need to move to a new district with a parent he lived with for at least 30 days during the previous academic year.
Seidl also took offense to what he called poor sportsmanship from River Rouge, when he said the Panthers continued to use a press defense and play its starters with a 40-point lead and a running clock in the second half.
"It was a real slap in our kids' face," Seidl said. "It showed poor sportsmanship, a lack of class and a lack of integrity."
Emery said the lopsided score came from the fact that Willow Run continued to utilize a press defense late in the game, allowing for open layups. He said River Rouge did not start three players it normally starts.
"I don't condone unsportsmanlike behavior, period," Emery said.
Kyle Austin covers sports for AnnArbor.com. He can be reached at kyleaustin@annarbor.com or 734-623-2535. Follow him on Twitter @KAustin_AA.