Posted on
Mon, Jul 1, 2013 : 2:31 p.m.
Winnipeg Jets draft Skyline grad Andrew Copp; 4 other Michigan players selected
By Pete Cunningham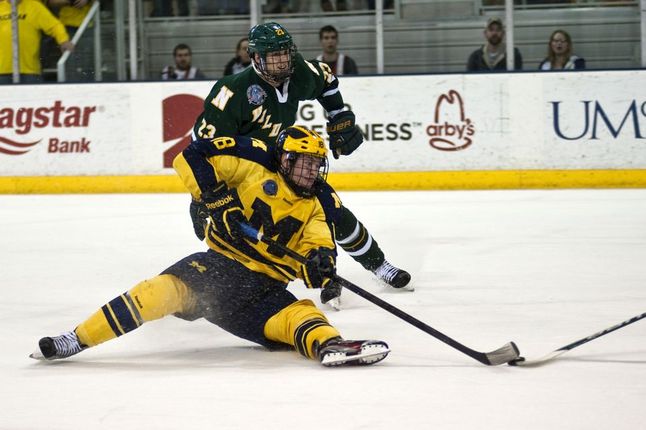 Daniel Brenner | AnnArbor.com file photo
Skyline High School graduate Andrew Copp was eligible to drafted in the NHL last summer but, unsurprisingly, the draft came and went and his name was never called.
Copp was on hand at the Prudential Center in New Jersey on Sunday and heard his name called as the fourth round pick, No. 104 overall, by the Winnipeg Jets.
"It's something you've been waiting for your whole life…you just kind of blackout and it all of a sudden hits you. It's a pretty cool feeling," Copp said while addressing the media at the Prudential Center on Sunday. "It's just one step toward the ultimate goal, but it's a nice feeling to be wanted and especially in the second year (of draft eligibility) just to notice that you're improving."

Copp just completed his freshman campaign for the
Michigan hockey
team. Though he had just one goal and one assist through Michigan's first 18 games this season, he had 19 points in the final 22 games of the season. He was Michigan's
second most productive player after Christmas
, leapfrogged from the fourth to first line, and during the summer was invited to USA Hockey's 2013 National Junior Evaluation Camp. NHL teams usually don't like late-developing prospects, but Copp's case was unique in that this year was his first-ever as a full-time hockey player having split his time between the ice and gridiron in high school. He was a two-time All-State football player for Skyline in 2010 and 2011.
"I became a full-time hockey player, I was playing football before, and that turned into a lot of confidence," Copp said.
Winnipeg has now drafted a Michigan player in each of its first two drafts as an organization. Jacob Trouba was the Jets' first round draft pick last year.
"I've been playing with Jake since I was 10 or 11 years old so it's pretty cool and he's been texting me up in the stands, waiting for me to get picked by Winnipeg and fortunately it happened," Copp said.
Unlike Trouba, who turned pro after playing just one season for Michigan, Copp doesn't plan on leaving Ann Arbor anytime soon.
"I want to finish my career at the University of Michigan and then see what happens in Winnipeg," Copp said. "I need to to get a little quicker and faster and obviously need to get stronger and get better hands. You can never be good enough at one thing in hockey."
Copp was one of five Michigan players to get drafted on Sunday. Incoming freshmen J.T. Compher, (Buffalo Sabres, Round 2, No. 35, Michael Downing (Florida Panthers, Round 4, No. 97), Tyler Motte (Chicago Blackhawks,, Round 4, No. 121 and Nolan De Jong, Minnesota Wild, Round 7, No. 197) rounded out the selections. It is the fourth time since 2000 that U-M had at least five players selected in the NHL Draft.
Pete Cunningham covers sports for AnnArbor.com. He can be reached at petercunningham@annarbor.com. Follow him on Twitter @petcunningham.