Posted on
Thu, Nov 8, 2012 : 5:38 a.m.
With two straight shutouts, Father Gabriel Richard defense leading the way into regional finals
By Kyle Austin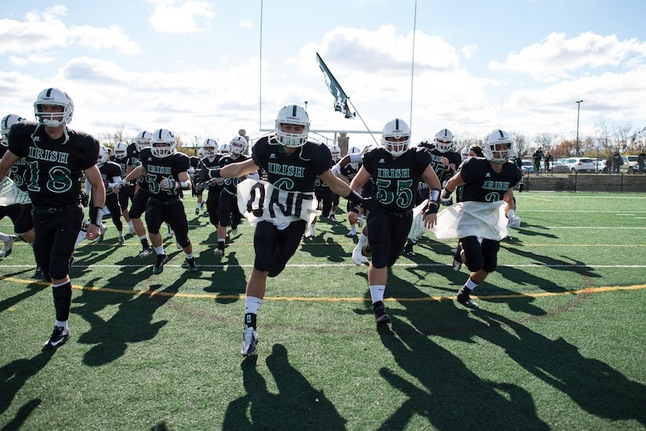 Courtney Sacco | AnnArbor.com
For a measure of how far the Father Gabriel Richard defense has come over the course of this season, look no farther Saturday's boxscore.
In a 24-0 win over Lake Fenton, which gave the Irish their second district title in three years, Gabriel Richard gave up just 54 yards of total offense and no points while forcing four turnovers.
The first time the two teams met in the season opener Aug. 24, Lake Fenton notched 32 offensive points and more than 350 yards of total offense.
"They're definitely hitting on all cylinders now, which is nice," Richard coach Brian Lemons said of his defense.
In two playoff games, including a 49-0 district semifinal win over Dundee, Gabriel Richard has notched two shutouts and given up less than 150 yards of total offense. Over the last seven games, since its only loss of the year to Pontiac Notre Dame Prep, the Irish are giving up less than a touchdown per game.
Richard will look to continue that run Saturday in a 1 p.m. home regional final against River Rouge, which is undefeated and averaging nearly 50 points per game.
On the line for Gabriel Richard is the first regional title in school history. The winner goes on to face either Flint Powers or Portland in the Division 5 state semifinals.
Lemons said he's seen River Rouge play in person once, along with film on the team. The two teams also faced off in the 2010 playoffs, with Gabriel Richard winning, 34-14.
"They're a very big, physical team with great athleticism," Lemons said. "Anybody that matches up against them is probably not going to look very good as far as the size and the speed that they provide."
Yet the Irish proved Saturday that they can handle a big, physical offensive threat. The first time FGR played Lake Fenton, 210-pound running back Nick VanDuser nearly rushed for his weight with 208 yards and two scores.
Saturday, Lemons said his defensive line clogged the middle and met VanDuser at the line of scrimmage.
"He didn't have very much room to wiggle through there," Lemons said.
Senior Austin Hundley anchors the Irish defensive line, with 71 tackles and eight sacks on the year. Linebacker Sean Donnellon has 61 tackles on the year.
And once the Irish got the rest of the pieces to the puzzle in place on defense, the group started clicking.
"After a couple of weeks we moved a few guys to diferent positions where they were more successful," Lemons said. "By the time the season ended we wanted to be as tough as we could be on that side."
And it hasn't hurt that the Irish has put up 73 points offensively in a pair of playoff games.
"We've done a few things offensively, it helps if you can move the ball and keep things off the field," Lemons said.
Kyle Austin covers sports for AnnArbor.com. He can be reached at kyleaustin@annarbor.com or 734-623-2535. Follow him on Twitter @KAustin_AA.