Posted on
Fri, Apr 12, 2013 : 5:45 a.m.
Young core has Skyline lacrosse poised for success this season and beyond
By Kyle Austin
On and off the field, the progression of Skyline lacrosse's progression was evident Tuesday night.
On the field, the Eagles topped Okemos, a team that finished last season ranked seventh in the state, 9-2, in what coach Jack Robenalt called "easily the biggest win Skyline's ever had."
In the locker room afterward, they talked about how they could have won by 15.
THE INSIDE SCOOP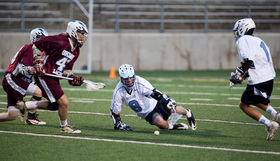 Record:
2-1
Upcoming games: Friday April 12, at Pioneer, 7 p.m.; Saturday April 13, at Dewitt, 4 p.m.; Tuesday April 16, at Greenhills, 5 p.m.

Rankings: Through Wednesday's contests, Skyline was ranked No. 13 statewide in the Lax Power rankings, a computer-generated ranking that takes into account win-loss record and margin of victory. The only area team ranked higher is No. 8 Huron.

Top Players: Robenalt says his offense revolves around four players: Alex Wood, Zach Schwartz, John Crowley and Jack Fisher. Crowley leads the Eagles with 8 goals, while Schwartz and Dan Lee have five apiece.

The Eagles defense is anchored by Eric Guldberg, Jack Floyd and Ben Brinkherhoff, and PJ Merica has started all three games in goal. Jordan Hickman, a second-team All-State selection last year, should return from injury soon to split time in goal.

Ice to field: Wood may be one of Skyline's top attackmen on the field, but on the ice, it's a different story. He suited up for Victory Honda's Midget Minor (U-16) team as a defenseman, putting up six points in 38 regular-season games. And Wood continues to juggle the two sports -- he had to miss Wednesday's lacrosse practice to be at a hockey tryout.

Playing for charity: It will be all Skyline on May 3, when the Eagles boys and girls lacrosse teams will play one another in a game to benefit the Vada Murray Fund for Cancer Research. The junior varsity plays at 5:30 p.m., and the varsity plays at 7 p.m.

Commitments: Skyline has two players committed to college lacrosse programs for next year: Ben Brinkherhoff will play at Wooster in Ohio and Eric Guldberg will play at Hope College. Both will be part of Skyline's second graduating class this year.

Quote: "We've definitely had the talent over the past two years, but being a young school and the transition of coaches, Jack's really helped us step it up last season and definitely this season. We just have great, great kids that all want to be out here and all want to play." -- Senior John Crowley
"Last year they would have come into this game thinking 'We're going to lose,'" Robenalt said. "This year they were thinking 'We should have won by more.' It's nice to see that attitude change."
Such is the state of Skyline lacrosse -- AnnArbor.com's Team of the Week -- a young team in its fourth year as a varsity program. In Robenalt's second year under the helm, he said he's starting to see some of the team's potential translate into big wins.
And for the Eagles, no win would be bigger than one over Pioneer, who they face Friday night, 7 p.m. on the road. The Pioneers went to the state title game last season, and Skyline has never beaten the crosstown rival at the varsity level.
More Team of the Week Coverage: Goalie PJ Merica shows "fiery" personality" | Skyline tops Okemos for "easily the biggest win Skyline's ever had"
"Last year we thought we competed pretty well, but we're just a growing program at this point," senior attack John Crowley said. "So we're looking forward to this year a lot more, we think we've got a pretty good shot of knocking them down."
Adding to the budding rivalry is a personal element. Robenalt went to Pioneer, as did all of his assistant coaches. He also was an assistant coach there until taking the Skyline job. And Pioneer's new coach, Smith Atwood, is a close friend of Robenalt's and a former Skyline assistant.
"It's going to be a fun game, because Smitty and I are really close," Robenalt said. "I know their team really well, he knows our team really well, I used to coach there, he used to coach here. It's going to be a fun city rivalry game."
If Skyline can play Friday like it did Tuesday, Robenalt said he feels good about giving the defending state runners-up a close game.
And when Skyline does take that next step, it will likely be its younger players leading the way. The team starts five sophomores and freshmen, including three of his top four attackmen: sophomore Alex Wood, freshman Zach Schwartz and sophomore Jack Fisher. He also has a returning All-State goaltender in Jordan Hickman, as well as sophomore goaltender PJ Merica.
"The sky's kind of the limit for these guys," Robenalt said. "They have the talent and the drive. These kids play all year, every day. If I call them on a Saturday and say 'Do you want to go shoot?' There are four or five kids that are already shooting. So it's kind of exciting to see them kind of realize what their potential is with games like this."
Wood had a goal and two assists in Tuesday's game, and Robenalt said that if he cleans up his game, "he'll be a very dominant player as he gets older."
Following Tuesday's win, Skyline is 2-1 on the year. It topped Plymouth in its season opener, before falling to Forest Hills Northern/Eastern, the No. 1 team in the state.
Crowley said he likes the mix on this team, between seniors who have been in the program for four years and young players who have the playing time to develop. After a coaching change two years ago, the team is developing in its second year under Robenalt.
"I like how there's definitely still a senior influence, but I can see how when I graduate I know that the team's not going to fall apart," Crowley said. "I see all these sophomores and freshmen that are going to be leading the team the next few years, it gives me more confidence in the program succeeding when I graduate."
Kyle Austin covers sports for AnnArbor.com. He can be reached at kyleaustin@annarbor.com or 734-623-2535. Follow him on Twitter @KAustin_AA.