Posted on
Fri, Mar 8, 2013 : 10:48 p.m.
Ypsilanti completes Ann Arbor sweep, tops Huron for district title
By AnnArbor.com Freelance Journalist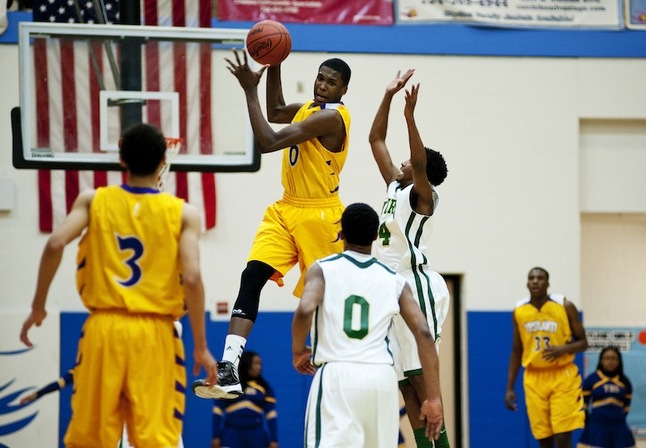 Daniel Brenner | AnnArbor.com
Rich Rezler | for AnnArbor.com
After the way the Huron and Ypsilanti boys basketball teams hounded each other for 31 minutes, it was only fitting that a strong defensive play decided their Class A district final Friday night.
Ypsilanti junior guard Janeau Joubert broke up a Huron handoff attempt near midcourt and darted away with the ball. As his uncontested finger-roll layup fell through the net with 50 seconds remaining, Ypsilanti coach Steve Brooks took two giants steps onto the court and pumped his fist.
Ballgame.
The Phoenix (18-4) added a couple free throws before celebrating their 66-58 win in front of an estimated crowd of 1,400 at Skyline High School.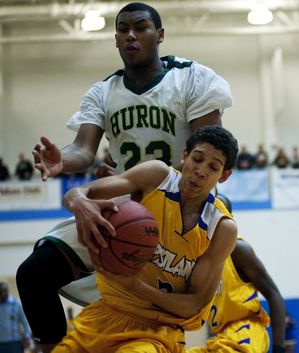 Daniel Brenner | AnnArbor.com
More Coverage: Photo gallery | Boxscore | Class A bracket
"We practice against handoffs in practice … and I saw I had the opportunity to stick my hand in and get my hand on the ball and steal it," Joubert said. "From there I just told myself to take my time and make the layup. (A dunk) never crossed my mind. I just wanted the two points."
Those two points put the brakes on Huron's furious attempt to rally from a 16-point second-half deficit. The River Rats (15-7) got within 61-58 after a Brian Walker 3-pointer with 1:58 to play.
Instead, Ypsilanti completed its Ann Arbor trifecta by beating Pioneer, Skyline and Huron in consecutive games to win its second district title in three years.
"I'm glad we're back over here. These are rivalries rekindled," Brooks said of being back in a district with the Ann Arbor schools after a long hiatus. "This is great for the young guys. They can see the old rivalries that some of the old-timers talk about."
The Phoenix will play Canton (17-6) in a regional semifinal at 5:30 p.m. Monday at Huron High School. South Lyon (16-7) and North Farmington (17-5) play in the other semifinal.
After a back-and-forth first half that featured four ties and eight lead changes, Ypsilanti looked like it might pull away early in the third quarter. The Phoenix scored the first nine points of the second half -- four of them on offensive putbacks by 6-foot-7 junior Jaylen Johnson -- to lead 43-30, and built that advantage to 55-39 with 1:19 left in the third quarter.
Johnson finished with 25 points, 10 of them on offensive rebounds, while the Phoenix capitalized on a considerable size advantage. Lavonte Davis, Ypsilanti's other 6-7 starter, scored five points.
"Davis has really been carrying us for most of the season, but I'm really glad to see Jaylen start playing up to his potential that we all knew he had," Brooks said. "He's been playing like an All-American."
Huron wasn't ready to give up its quest for a fifth straight district title. The River Rats ramped up their defensive effort and fought back behind a pair of Chris Mosely 3-pointers some strong drives to the basket by sophomore Xavier Cochran.
Cochran, who scored a team-high 25 points, completed a traditional three-point play to close the lead to 59-55 with 2:22 left to play.
In the end, defense won the day.
"We had guys defending for their lives. I thought our defensive effort tonight was as good as it's been all year," Huron coach Waleed Samaha said. "We had some open looks that we didn't knock down, but (Ypsilanti) makes it so hard. They just disrupt everything you're trying to do.
"I'm proud of our kids and I have a great deal of respect for their kids and how hard and clean they play."
The loss was Huron's first in district tournament play since 2008. The River Rats had won 12 straight district games by an average of 19 points, including five by 23 or more points. The only teams to be within 10 points were Skyline (61-58 in 2012) and Pioneer (56-52 in 2011).
But Samaha, who led Huron to a state runner-up finish in 2010, isn't willing to call this an end of an era.
"We aren't going anywhere. We'll be right back preparing on Monday," Samaha said. "These guys will be in the weight room, we'll be watching film. We aren't going anywhere. We're disappointed, but we're not broken at all."
Rich Rezler is a freelance reporter.