Posted on
Fri, Dec 10, 2010 : 10:21 a.m.
Jeff Quijano overcame injury, benching during Michigan soccer team's journey to tonight's College Cup
By Pete Cunningham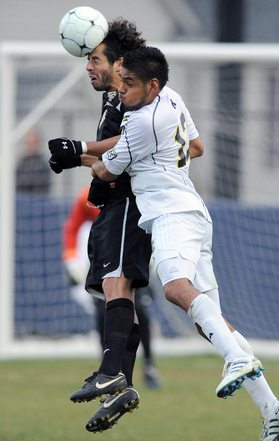 AnnArbor.com file photo
Four years ago, a wave brought Jeff Quilano to Michigan. Tonight, the Michigan men's soccer team has returned him to California for the College Cup.
Quijano grew up in Canoga Park, Calif., 25 miles north of downtown Los Angeles, where December temperatures rarely dip below the mid-60s. Michigan it is not.
The senior defender jokes that he doesn't know why anybody ever leaves California. He does, however, remember the moment he decided to.
On his visit to Ann Arbor during his senior year in high school, Quijano attended a Michigan football game. He grew up watching the waves of the Pacific Ocean, but a wave of more than 100,000 people? That was something new.
"I know it sounds weird, but I saw the wave, all those people…it was like nothing I'd ever seen before," Quijano recalls. "I was hooked."
While a wave may have brought Quijano to Michigan, a streak has brought him home. A winning streak, that is.
The Wolverines, winners of nine straight, touched down in the Golden State on Tuesday and later tonight (11 p.m., ESPN2) will take on Akron in the semifinal round of the NCAA National Tournament at UC Santa Barbara's Harder Stadium. The winner will play for the national championship on Sunday.
For Quijano, being able to end his college career playing in front of family and friends will be "like a dream come true."
Though the season may be ending like a dream for Quijano, how it began was more of a nightmare. He suffered a knee injury during the summer and his play declined as a result. By the time the season came around, freshman Ezekial Harris had won a starting spot that Quijano thought was almost guaranteed to be his.
Quijano was not happy with being relegated to back-up duty.
"Kind of a pride thing. Then I realized hey, you know, the team is bigger than I am," Quijano says. He began striving to make the team better rather than just trying to secure his own playing time.
"It just got me playing for a different reason."
Quijano says he began enjoying the game more. And that led to him playing better.
Coach Steve Burns took notice. After some injury setbacks, Quijano finally got the starting nod in the regular season finale.
"(Harris) is a great player, and I wish nothing but the best for him in the future," says Quijano.
Key word: future. Right now, it's his turn.
Since regaining his starting spot, Quijano has played inspired soccer, twice garnering national recognition for his play.
Following Michigan's 2-1 victory over Central Florida in the second round of the NCAA Tournament, Quijano was named to the College Soccer News National Team of the Week.
After having the best game of his career in a 3-2 overtime victory over Maryland in the quarterfinals, Quijano was named to the TopDrawerSoccer.com national team of the week.
Quijano helped book a trip home by scoring a goal and assisting on another - both season firsts - as the No. 10 seeded Wolverines upset the No.2 seeded Terrapins.
Quijano playing his best on the biggest stage was no surprise to his high school coach, Jake Gwin. He vividly remembers when Quijano - as a 5-foot-6 inch, 110 pound freshman - hit an 18-yard volley from the top of the box to help Canoga Park High School win the Los Angeles City Championship in 2004.
It was a goal very much like the 18-yard volley Quijano scored against Maryland.
"To see him play that well against Maryland, it was almost surreal," says Gwin, who will attend tonight's game, along with several members of Canoga's 2007 city championship squad, which Quijano captained.
For most Michigan players, tonight's game will be a chance at redemption for an embarrassing 7-1 loss to Akron back on Oct. 19 - the last time Michigan lost a game.
It would be too much of a Hollywood ending if the hometown kid were to come up big, wouldn't it? But then again, Hollywood's never been too far away for Quijano.
"I think it's a good story no matter what," says Gwin. "But I certainly wouldn't be surprised if he could pull off some of that magic again."