Posted on
Tue, Dec 7, 2010 : 2:01 p.m.
Michigan soccer team looks for redemption against Akron at College Cup
By Pete Cunningham
"Humbling …"
"Embarrassing …"
"A wake-up call …"
Those are just a few of the words Michigan men's soccer coach Steve Burns and his players use to describe the last time the Wolverines took the field against the University of Akron.

In the almost two months since a 7-1 blowout loss to the Zips, the Wolverines have won nine straight games, outscored their opponents 27-11, and won the school's first Big Ten tournament championship.
On Friday, they have the ultimate shot at redemption when they face Akron in the
semifinal round of the NCAA tournament
in Santa Barbara, Calif. (11 p.m., ESPN2)
"They beat the snot out of us, for sure. It was a humbling experience," Michigan coach Steve Burns said. "Really, when you're faced with humility in life, you have to look at it and make adjustments and either get better, or don't get better."

"I think that the leadership of this team did a great job of saying 'Hey, we do need to look at where we are because we've got some offensive talent, we've got a team that's capable of playing at a really high level with some great leadership, so let's just get about the business of doing that.'"


The Wolverines have done just that, advancing to their first College Cup -- the college soccer equivalent of the Final Four -- with a 3-2 overtime win over No. 2 overall seed Maryland on Saturday.

"We've definitely come a long way since playing (Akron) and, for one, our defense has definitely gotten a lot better," said senior defender Jeff Quijano, who watched from the sidelines on crutches when Michigan suffered its last loss.

"We were definitely exposed that first game when we played them. And, offensively, we just got a trio of Hamoody (Saad), Soony (Saad) and Justin (Meram) that are just clicking. They're on fire, right now.

"Everyone (has) raised their level since that game, and it's a totally new team compared to then and now. And I think it's a team that's ready to play Akron."
Soony Saad, a freshman from Dearborn, is second in the nation in total goals (19) and total points (43). Meram, a senior, has scored 11 goals in Michigan's last nine games. He is fifth in the nation in total points (38) and hasn't been held scoreless since that Akron game on Oct. 19.

"The beginning of the season I wasn't scoring as much, and I think I was trying to force it too much," Meram said. "Now that they're coming, I just go into every game like relaxed."
As the tournament's No. 10 overall seed, Michigan is the only team remaining that wasn't favored to advance to this point. Akron is the No. 3 overall seed, while No. 1 overall seed Louisville will face No. 4 North Carolina in the other semifinal.
Louisville and North Carolina play at 8:30 p.m. Friday, with the winners of the two games meeting at 4 p.m. Sunday for the national championship.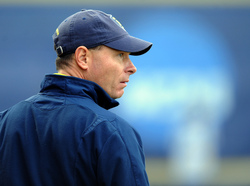 AnnArbor.com file photo
Michigan junior goalie
Chris Blais
said that the pressure of the game rests more heavily on Akron, considering the Zips played in last year's national title game, were favored to advance to the College Cup, and so handily beat the Wolverines earlier this season.
"I think we're going into the game confident, not afraid,"
Blais
said. "Our team isn't afraid of anyone, and we're going to be ready to play Akron Friday night."
The Wolverines have their own mental obstacle to overcome. Now that the Wolverines are California-bound, Burns stressed the importance of refocusing after his team has already exceeded expectations in many ways.
"The focus for our team has been to get to the College Cup, and so I congratulated the guys on getting there," he said. "But I think every one of these guys realizes this may be a once-in-a-career opportunity for them and they want to take advantage of every little moment within the next game."
Pete Cunningham covers sports for AnnArbor.com. He can be reached at petercuningham@annarbor.com or by phone at 734-623-2561. Follow him on Twitter @petcunningham.