Posted on
Tue, Mar 27, 2012 : 2:24 p.m.
Jon Merrill undecided on whether he'll stay with Michigan hockey team
By Pete Cunningham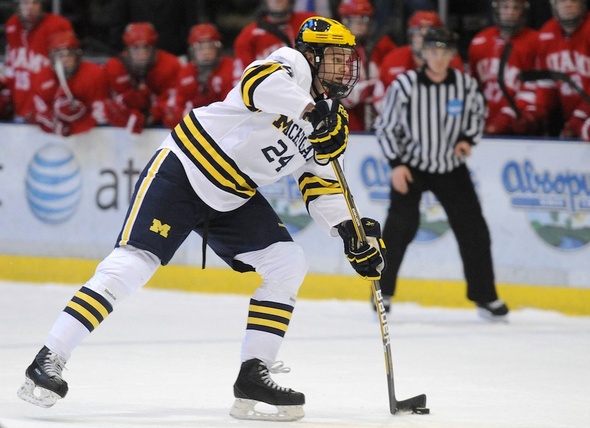 Angela J. Cesere | AnnArbor.com
Still distraught over the Michigan hockey team's season-ending loss to Cornell on Friday, sophomore defenseman Jon Merrill said he hasn't made a decision about his future with the program.
Merrill, a second round draft pick (38th overall) by the New Jersey Devils in the 2010 NHL Entry Draft, said he hasn't given the decision much thought yet, but said he'd make up his mind sooner rather than later.
"For the sake of Michigan and for myself, just to kind of know what's going on, I would like to make a decision sometime soon," Merrill said on Monday. "I'm still thinking about the loss, I don't really want to say too much about what's going on (with the pros) and just sort of focus on what's going on here moving forward."
Michigan coach Red Berenson said he understands the dilemma and pressure that early-round draft picks face as underclassmen. Berenson himself left Michigan after his junior year to play with the Montreal Canadiens.
If players are ready to go from school straight to the NHL, Berenson said he doesn't blame them if they want to leave, referencing players such as Jack Johnson. The Columbus Blue Jackets defensemen left Michigan after his sophomore year.
Berenson said he encourages players to stay in school rather than signing minor league contracts, though.
But Berenson said the problem is that because NHL teams lose rights to drafted players after the summer of their senior year, some try to get players to sign following their junior year, fearing the player might wait it out to become a restricted free agent.
"We get a lot of these teams that try to sign these players (after their junior year), so where do I come from? (I say), 'are you ready to play in the NHL?'" Berenson said. "Do you think there'd be a player that graduated from Michigan that would give up his senior year to play in the American (Hockey) League? There's no way.
"Playing your senior year, look what it did for Steven Kampfer. Look what it did for Matt Hunwick. Look what it did for Carl Hagelin. I mean these guys are good examples of doing the right thing and how they grew in their senior year."
Berenson admitted that high draft choices, like Merrill, face a different type of pressure from teams, but that he expects Merrill to be back next year.
"Jonny Merrill will get some interest, but right now his heart is at Michigan. I don't see him doing anything," Berenson said.
Merrill was suspended for the first half of the season for an undisclosed violation of team rules. He said the suspension will not influence his decision. He had 11 points (two goals, nine assists) in 19 games played and an overall plus-11 rating.
"I don't think (the suspension) makes it an easier or harder decision. I'm going to talk with coach, my family, and think to myself what's best for me," Merrill said.
Of Michigan's nine already drafted underclassmen, junior forward Chris Brown is the only besides Merrill drafted before the third round. Sophomore defenseman Mac Bennett, drafted by Montreal in the third round in 2009, said he hasn't heard from any of his teammates on their decisions.
"I would hope everyone stays. With the group that we have for this next season, I would think we would be able to do some serious damage," Bennett said. "But if people do decide to leave, it's their choice. It's their life.
"Hopefully we can influence them to stay. But if they want to go, then I guess they go."
Michigan freshman Phil Di Giuseppe, is draft eligible this year and many prognosticators have as a potential first-round pick. But he said there's not a professional deal out there that could draw him from college next year.
"I'm looking to stay. I love it here, I really do, and everything blew away my expectations. So I wouldn't leave this place, not next year, for sure," said Di Giuseppe, who had 25 points (11g, 14a). "I've just talked to a couple teams, my adviser's taking care of that, but coach says don't worry about it. Doesn't matter where you go, you'll have the same opportunities. I'm just trying not to worry about it too much."
Contact Pete Cunningham at petercunningham@annarbor.com or by phone at 734-623-2561. Follow him on Twitter @petcunningham.