Posted on
Tue, Nov 27, 2012 : 5:40 a.m.
Michigan athletic director Dave Brandon on '60 Minutes' segment: 'We took a risk'
By Kyle Austin
The prospect of "60 Minutes" coming to Ann Arbor to film a segment about the business of college athletics provoked some nervousness in athletic director Dave Brandon and other University of Michigan officials.
"When '60 Minutes' comes calling, you get a little nervous," Brandon said Monday.
"They wanted to do a feature on college football and college athletics, and we were flattered they came to us. We had a decision to make as to whether we crafted that story and we represented college football or whether we let somebody else do it, and we took a risk."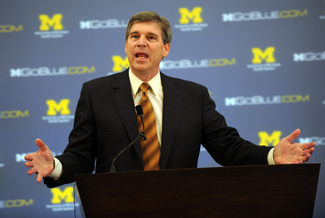 Lon Horwedel | AnnArbor.com
After weeks of filming, the 12-minute segment aired Nov. 18 on CBS. Brandon spoke about seeing it for the first time Monday at a Washtenaw Economic Club luncheon at Washtenaw Community College.
"By the time Sunday night came around, I was playing it cool, but deep down inside I'm thinking 'I wonder if we should have done this,'" Brandon said.
The piece extensively features Brandon talking about the "broken" business model of college athletics, the size of Michigan's athletic budget and the role football plays in drawing donations.
In the end, Brandon said he was satisfied with the piece.
"Truthfully, I thought it was a very balanced story," Brandon said. "They touched on a lot of the topics that were relevant. They were fair in the ways they allowed us to speak."
Yet even though he was satisfied, Brandon acknowledged that the university "took a risk" by opening up to the cameras. The nervousness, Brandon said, came from the fact that he sat for hours of interviews and had cameras following him around for days.
That included having a microphone pinned on him during multiple games.
"Sometimes on the sideline you get caught in the heat of battle, and I might have said 'Darn' a couple of times," Brandon said.
The only "ouchie" moment, in Brandon's view, came at the expense of Towson, another school featured in the piece.
With cameras rolling in the halftime locker room with his team beating heavily favored LSU, Towson coach Rob Ambrose delivered a speech that included profanity and a threat to kill anybody smiling.
"I've been in a lot of locker rooms, I've never heard a coach talk like that to his team," Brandon said. "I thought it was unfortunate.
"Other than that, I thought it was a good piece. I'm glad it's over."
Kyle Austin covers sports for AnnArbor.com. He can be reached at kyleaustin@annarbor.com or 734-623-2535. Follow him on Twitter @KAustin_AA.