Posted on
Thu, Dec 10, 2009 : 3:49 p.m.
Michigan basketball team's schedule has rough patches ahead
By Michael Rothstein
SALT LAKE CITY - Michigan basketball coach John Beilein broke down his team's difficult schedule before the season.
A cross-country trip, an exempt tournament loaded with teams from the Big Six conferences, games against perennial powers Kansas and Connecticut. And add to that a Big Ten schedule that could be described as daunting because of the league's perceived depth in the preseason.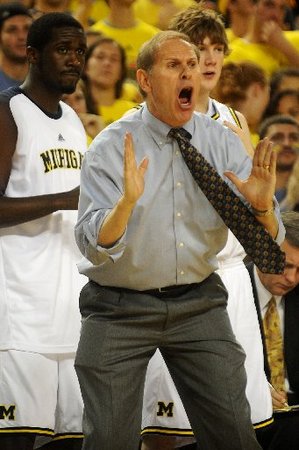 While the Big Ten has looked weaker than expected, Michigan's non-conference schedule has proven difficult to navigate.
The latest loss - a 68-52 beating by a .500-entering-the-game Utah at the Huntsman Center - left Beilein and the Michigan basketball players saddled with a 4-4 record. Next on the schedule is a home game Sunday against 6-3 University of Detroit Mercy (noon, Big Ten Network)
"What you hope when you go into these situations is that you hope the team really improves over the summer, and you have so little time to work with them, so we saw we could be a little bit more improved," Beilein said. "But with this ambitious schedule, we've really taken on a lot."
There's a coaching adage that when it comes to scheduling, you have to be smart. Michigan, instead, loaded up on big-name teams.
It hasn't gone well. Michigan has lost to four of the five "brand" name programs the Wolverines have played - Marquette, Alabama, Boston College and Utah. Michigan's only win came against a Creighton team that looks much worse than the Blue Jays teams of recent years.
So after eight games the Wolverines have no quality victories and some losses that could look bad at the end of the season - Alabama lost to Cornell at home and Utah has lost to the likes of Division I weaklings Seattle and Idaho.
Michigan has four non-conference games left, including one at No. 1 Kansas and one at home against Connecticut. The other two are against Detroit and Coppin State. If Michigan, once the No. 15 team in the nation, splits those games and enters Big Ten action with a .500 record, it will need one of two scenarios to happen.
One: The Wolverines go at least one game over .500 in Big Ten play so even if they lose their first game in the Big Ten Tournament, they'd be eligible for whatever postseason tournament may want them.
Two: They play .500 ball in the Big Ten and then win at least one game in Indianapolis to ensure postseason eligibility.
"We're going to try and get better and we're going to forget about all the losses and we're just going to start working hard," redshirt freshman Ben Cronin. "We're not going to talk about any wins right now or talk about what we're going to do. We're just going to get better, that's all we can do right now.
"We're playing like a young team, and we just have to start working harder."
Michael Rothstein covers University of Michigan basketball for AnnArbor.com. He can be reached at (734) 623-2558, by e-mail at michaelrothstein@annarbor.com or follow along on Twitter @mikerothstein.