Posted on
Thu, Dec 10, 2009 : 12:37 a.m.
Michigan basketball team sputters again, falling to Utah
By Michael Rothstein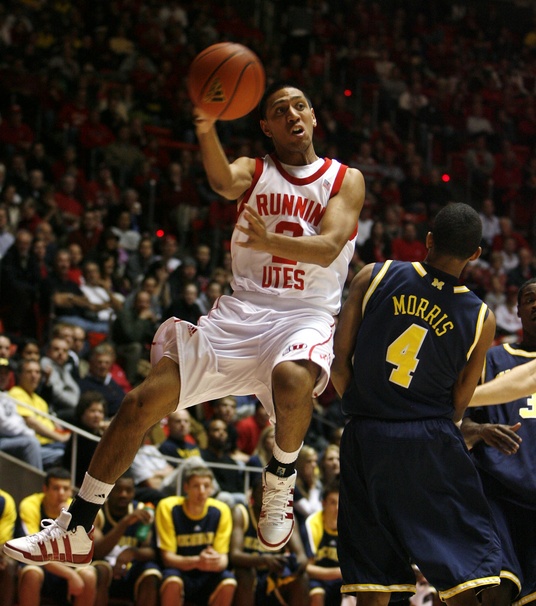 AP photo
SALT LAKE CITY - Cramped inside a locker room barely bigger than the key on the Hunstman Center floor, Michigan senior forward DeShawn Sims looked physically ill.
It could be that he's catching the flu that forced Zack Novak to miss Utah's 68-52 win over the Michigan basketball team on Wednesday night. It could be he's disappointed in the way his senior season is playing out, with losses coming by the bunches lately.
Or, it might be a combination of both.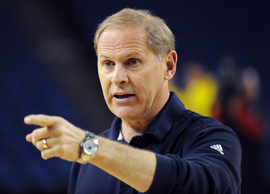 Lon Horwedel | AnnArbor.com
Ranked No. 15 in the country to start the year, Michigan (4-4 overall) has lost four of its past five games, two in double-digits. The vaunted 1-3-1 defense the Wolverines run can't stop anybody.
Utah (5-4) had a couple of slashers in forward Carlon Brown and guard Marshall Henderson, who victimized Michigan's defense. Henderson beat the Wolverines from the outside, too, scoring a team-high 22 points. Michigan's offense wasn't much better. 
The 3-point shooting woes continued. While Michigan crept above 30 percent for the game from beyond the three-point line - 31.8 percent - take out the play of junior guard Manny Harris and the rest of the Wolverines shot 24 percent from behind the arc.
"We have to get better," Michigan coach John Beilein said. "Get a whole lot better."
Michigan was crushed rebounding, 41-25. The Wolverines allowed 12 offensive rebounds, which led to 11 second-chance points. They let Utah, a team shooting 43.2 percent coming into the game, to shoot 50.9 percent. Many of their baskets came on wide-open dunks or easy layups.
Beilein attributed the rebounding woes to a lack of defensive positioning and the physical nature of the game. In part because of Novak's sickness, the third-year Michigan coach started fifth-year senior Zack Gibson to deal with Utah's height up front, led by 7-foot-3 center David Foster.
The strategy, much like everything else Michigan tried Wednesday, failed. Sims and Gibson were routinely beaten defensively. On offense, they couldn't get their shots up over Foster, who had five blocks to go with 10 points and six rebounds.
And even when Michigan came close, cutting the Utah lead to 1 point off a 14-5 run sparked by Harris, who had 7 points in the spurt and a game-high 25 points overall, Foster came up big.
He blocked a layup by Laval Lucas-Perry, then Henderson scored on the other end, starting an 8-2 run for Utah that broke open the game.
"Sometimes we got great looks and he just changes them," Beilein said. "The blocked shot of Laval there was a real game-changer."
Sophomore guard Stu Douglass continued his struggles, shooting 1-for-6 overall and 1 of 3 from the three-point line. Freshman guard Darius Morris missed layups. Lucas-Perry only played 11 minutes.
Beilein started searching for anything to try and find a spark, including playing Gabriel Richard graduate Eso Akunne a career-high 17 minutes, in which he scored three points. 
Mentally, though, Michigan has a lot of work to do.
"It's not good right now," Harris said. "We have to find a way to get everyone's confidence back up and get everybody mentally into it. So it's not good right now, but it'll get there.
"I think that's a big part of it. We just, our focus is not where it should be."
Michael Rothstein covers University of Michigan basketball for AnnArbor.com. He can be reached at (734) 623-2558, by e-mail at michaelrothstein@annarbor.com or follow along on Twitter @mikerothstein.