Posted on
Thu, Oct 21, 2010 : 5:36 p.m.
Michigan freshman defenseman Jon Merrill makes strong first impression with hard work
By Jeff Arnold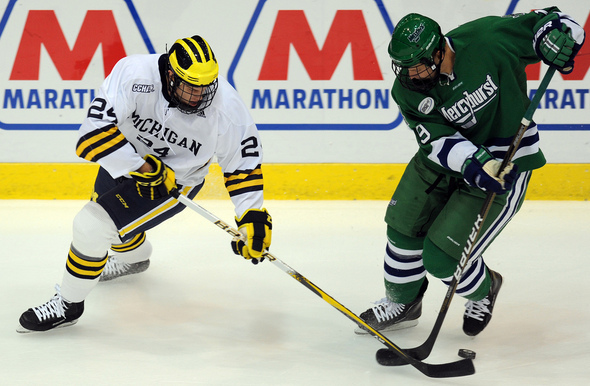 Jon Merrill understood the role hard work would play in earning his stripes with the Michigan hockey team.
On a roster not lacking for depth, Merrill found himself surrounded by plenty of experienced defensemen. As part of a freshman class that wasn't being asked to make an immediate impact, Merrill had time to grow into his position. Instead, his effort paid off quickly.
Just four games into his college hockey career, Merrill has become a mainstay in the Wolverines' lineup. He has proven his worth to Wolverines' coach Red Berenson, but has also earned the trust of teammates much faster than most freshmen do.
"You hope to come in and play well, but I've been able to start pretty well and so that's been exciting," Merrill said this week. "I'm happy that the coaches have enough trust in me to play me."
Merrill has been a known commodity since he was 14, when he verbally committed to play at Michigan. It was the only program he ever really considered because of Ann Arbor's close proximity to his Brighton home.
But his early college choice also allowed Merrill to focus solely on hockey during his two years with the USA Hockey National Development Program. Rather than using his time inside the program to ponder where he would continue to play after he left, Merrill gained vital experience playing against Division I and international competition.
The experience also gave Merrill, who was selected by the New Jersey Devils in the second round of this year's NHL Entry Draft, a higher level of maturity than other players his age. It helped make him a perfect fit for immediate playing time with the Wolverines. "I think it's his poise and his confidence," Berenson said when asked about what made Merrill a candidate for early ice time "He comes in and he plays with a level of confidence and maturity that is an unusual."
As talented as Merrill is, he understands that his true value can only be maximized if it impacts how those around him play. When he arrived, his teammates told him just to show up each day in practice, work hard and do what he was asked.
Merrill did so, quietly earning a reputation as a talented young player willing to do whatever it took to help his team win. In doing so, he has proven to be a solid puck handler and a defenseman that minimizes mistakes, handles 1-on-1 situations and makes good decisions.
He has already registered four points, scoring a goal and handing out three assists as Michigan (2-0-2) has gotten off to its first unbeaten start after four games since the 2005-06 season. The No. 3-ranked Wolverines will get a serious test this weekend when unbeaten Nebraska-Omaha (4-0) visits Yost Ice Arena for a pair of games.
As much as Merrill has enjoyed making an early impact, building trust and a higher comfort level with his teammates has been a big step in the right direction. He has had the luxury of learning from experienced teammates Chad Langlais and Brandon Burlon, making Merrill's transition smoother.
"I'm extremely comfortable," Merrill said."When your teammates have trust in you, it means a lot, and you start playing well together," he said. "I'm playing well (individually), but if your teammates don't trust you, that's tough.
"What gains their trust is just showing up everyday and working hard and keeping your mouth shut and doing what you're told."
So far, the hard work has paid off. Not only is he contributing on the defensive end, but Merrill has shown the ability to find scoring chances when he needs to. Although he's a long way from growing into the comparisons that have likened his playing style to veteran Detroit Red Wings defenseman Nicklas Lidstrom, Merrill is confident he is off to a good start.
But he knows he won't get anywhere without continuing to work hard.
"Whatever they throw out in front of me, hopefully, I will be able to just conquer it and play and hopefully get some wins as a team," Merrill said. "We'll see how far that goes."
Jeff Arnold covers Michigan hockey for AnnArbor.com and can be reached at (734) 623-2554 or by e-mail at jeffarnold@annarbor.com. Follow him on Twitter @jeffreyparnold.