Posted on
Tue, Dec 7, 2010 : 12:13 p.m.
Michigan hockey coach Red Berenson mulls over goalies, tickets still available and more
By Jeff Arnold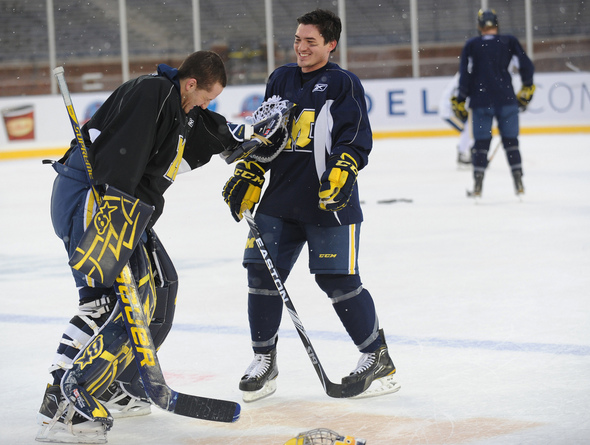 Melanie Maxwell I AnnArbor.com
Michigan hockey coach Red Berenson has employed a two-goalie system all season, splitting weekends between Bryan Hogan and Shawn Hunwick.
But with Saturday's Big Chill At The Big House showdown with rival Michigan State (3 p.m., Fox Sports Detroit) the only game on the No. 12-ranked Wolverines' weekend schedule, Berenson said Monday that it's likely only one goalie would play against the Spartans.
"You can only play one goalie," Berenson said Monday. "If the game's in a situation where you get the chance to put the only one in, you might do this. But we're playing to win the game. This is a conference game - this is a big game, and we're going to put our best team on the ice."
Hunwick and Hogan have played on Friday and Saturday, respectively, all season. Hogan, last year's starter before a groin injury ended his season, has a 7-2 record, giving up an average of 2.11 goals a game. Hunwick, one of the heroes of last season's run to the NCAA tournament, is 2-3-4, surrendering 2.79 goals a game.
Berenson has said throughout the season that Hunwick has been the victim of a string of bad Michigan Friday night performances. The Wolverines (9-5-4, 8-3-1 CCHA) are 2-4-2 on Fridays.
Senior forward Carl Hagelin said the inconsistent pattern has little to do with who is in net.
"I think we play differently on Fridays as we do on Saturdays. I don't think it's a goaltender issue, it's more of a team issue," Hagelin said.
Hunwick, who took a hard-luck overtime loss at Ohio State last weekend, said he and Hogan understand who starts on Saturday will be Berenson's decision. Berenson said he will take several issues into consideration, including win-loss records, who wins or losses have come against and who he believes gives the Wolverines the best chance of winning.
"It will be coach's decision, but either way, it will be great to be involved," Hunwick said.
Tickets still available A couple hundred tickets are available from an allotment that became available Monday, hockey spokesman Matt Trevor said Tuesday.
Tickets are $15 and can be purchased by calling 866-296-6849.
Under the lights The Wolverines' skate at Michigan Stadium on Monday took place at 3 p.m., giving operations officials an idea of what it would be like to have teams on the ice at game time. Monday's cloudy skies and light snow could be a precursor to the weather that will await the two teams on Saturday.
As of Tuesday, the forecast calls for temperatures between 34 and 36 degrees with a slight chance of snow.
The glass lens that surround the 266 lights in the newly installed light fixtures is a unique anti-reflective glass developed by Michigan-based Guardian Industries. The glass maximizes light transmission, which allows lighting designers to achieve maximum performance and energy efficiency.
Familiar face Michigan football coach Rich Rodriguez has traveled down the Michigan Stadium tunnel plenty of times. But he said Saturday's trip with recruits inside the Big House on Saturday was different.
"I went out there and stood on the ice," Rodriguez said Monday. "Boy, what a neat venue that's going to be. (The rink) actually fills up more of the field than I thought."
Rodriguez said he wasn't much of a hockey fan before he arrived in Ann Arbor. Since then, he has started following Berenson's program and plans to attend the Big Chill game.
"It's going to be different for a lot of folks - and for me, too," Rodriguez said. "I think the atmosphere is going be electric. It's going to be fun to watch."
Jeff Arnold covers Michigan hockey for AnnArbor.com and can be reached at (734) 623-2554 or by e-mail at jeffarnold@annarbor.com. Follow him on Twitter @jeffreyparnold.