Posted on
Tue, Jan 25, 2011 : 9 p.m.
Michigan hockey coach Red Berenson surprised to hear rival coach Rick Comley is stepping down
By Jeff Arnold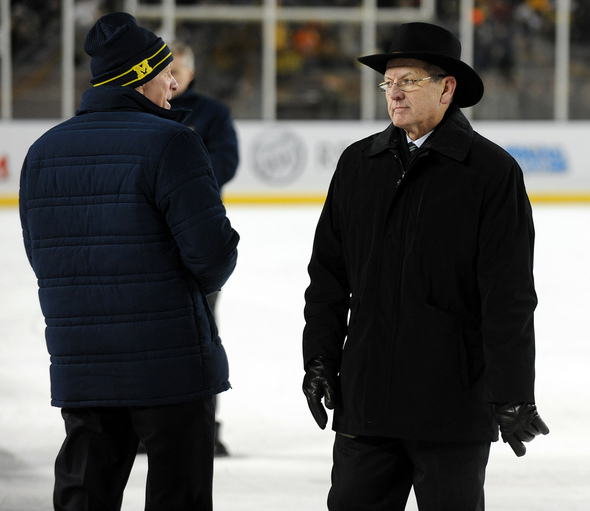 Lon Horwedel | AnnArbor.com
Michigan hockey coach Red Berenson wasn't even associated with college hockey the first time he heard Rick Comley's name
In 1980, while Berenson was in his first season as the St. Louis' Blues' head coach, Comley was leading Northern Michigan to a first-place finish in the CCHA. The Wildcats posted a 34-6-1 record and finished as the national runner-up following a 5-2 loss to North Dakota.
Berenson has been impressed ever since.
For the past nine years, Berenson and Comley have become even more aware of one another, headlining a Michigan-Michigan State rivalry that has remained among the fiercest in college hockey.
On Tuesday, Berenson admitted to being surprised to learn Comley announced he will retire at the end of the season after 38 years as a head coach. With 778 career wins, Comley ranks third all-time among active coaches.
Comley's retirement leaves Berenson, 71, as the longest-tenured coach in the CCHA. Berenson, who took over the Michigan program in 1984, and Comley both have won more than 700 career games. He signed a 3-year contract extension last summer.
The two rivals play their final regular-season game Saturday at Joe Louis Arena in Detroit (8:05 p.m., Fox Sports Detroit) with the No. 6-ranked Wolverines looking to knock off the Spartans for the third time. Michigan officials said a small number of upper bowl tickets remain available.
"We've had our ups and downs with them and vice versa, but no matter how good or bad either team is, it seems the games are still close games," Berenson said Tuesday. "Wherever (the Spartans) are in the standings - in the bottom half of the league - they're a better team than that. And he's a better coach than that.
"I don't know what is prompting all of this. I had no idea this was going in that direction."
In his weekly press conference Tuesday, Comley, 64, acknowledged that the frustration of this season factored into the decision for him to step down. Michigan State is currently mired in 10th place in the CCHA standings with an overall record of 10-12-4 record and a 6-10-2 mark in league play.
Asked Tuesday if the school had asked him to resign, Comley replied, "We had certainly talked." He said later that he was only partly involved in the decision to step aside.
Despite their struggles, the Spartans are 4-2-1 in their last seven games and have posted wins over Michigan and Miami (Ohio). Michigan State travels to Ferris State before its Saturday night showdown with the Wolverines in Detroit.
Comley said part of the reason for making the announcement Tuesday was to allow players time to digest the news. Although things have not gone according to plan this year after losing three key players in Jeff Petry, Corey Tropp and Andrew Rowe prior to their senior year, Comley said he is dedicated to helping his team reach its goals.
"I would love nothing more to go out on a real positive winning note," Comley said. "That's what we'll try to do…I just desperately want to have a good finish."
Berenson said Tuesday's announcement may provide the spark that, at times, has been missing from the rivalry. While Michigan has shut out the Spartans twice this season - a 5-0 outdoor victory in The Big Chill At The Big House and a 4-0 victory this month at Yost Ice Arena - Berenson felt Michigan State was the better team in the two rivals' most recent meeting.
Berenson said a sudden announcement like Tuesday's could make a difference in how Michigan State plays through the home stretch of the year.
"We'll see Saturday night," Berenson said. "But I will guarantee you that team will be flying."
Jeff Arnold covers Michigan hockey for AnnArbor.com and can be reached at (734) 623-2554 or by e-mail at jeffarnold@annarbor.com. Follow him on Twitter @jeffreyparnold.