Posted on
Fri, Jan 6, 2012 : 11:35 p.m.
Michigan hockey beats Lake Superior State 4-2 in Jon Merrill's return from suspension
By Pete Cunningham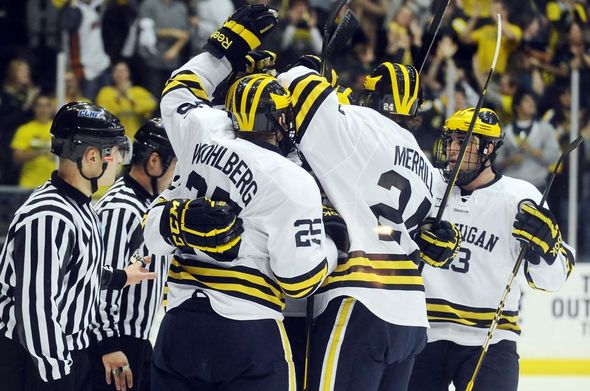 Melanie Maxwell I AnnArbor.com
Updated 11:35 p.m.
Andrew Sinelli skated by Jon Merrill before their first shift together on Friday night, whacking the Michigan hockey team's sophomore defenseman on the shin pads and nodding.
Once the puck dropped, the rowdy student section at Yost Ice Arena broke into chants of "Jon-neee Mer-rill! Jon-neee Mer-rill!"
Both gestures were little ways of saying welcome back, we missed you.
Playing in his first game of the season after serving a 22-game suspension for an undisclosed violation of team rules, Merrill said it's good to be back the best way he knows: going plus-3 with two assists in Michigan's 4-2 win over Lake Superior State.
Merrill capped the game by flipping the puck to Chris Brown for an empty net goal.
"(Merrill) gives us a top four defenseman, let's face it. He was on the all-rookie team last year as a freshman and he was a big part of our team doing as well as we did," Michigan coach Red Berenson said. "So to get him back on the team is obviously a big plus."
MICHIGAN 4, LSSU 2
Berenson said the decision to lift the suspension wasn't made until noon on Friday. Rust clearly wasn't an issue for Merrill, who competed for Team USA in the World Junior Championships over the past two weeks and has been practicing at Michigan since November.
"(Merrill) gives us a little spark, he kind of gives us that missing puzzle piece we haven't had," said Brown.
There was nothing particularly spectacular about Merrill's return. His first assist was a glorified dump into the boards on David Wohlberg's first period goal that put Michigan ahead 2-0. His two shots didn't create scoring chances and he blocked just one shot.
What the 6-foot-3, 203-pound Merrill did do was provide a consistent big body for a Michigan defense that has desperately needed it in the early parts of the season, helping the Wolverines (12-8-3, 6-6-3-1 CCHA) to successfully kill two third period penalties in front of backup goalie Adam Janecyk, who replaced starter Shawn Hunwick to start the third period.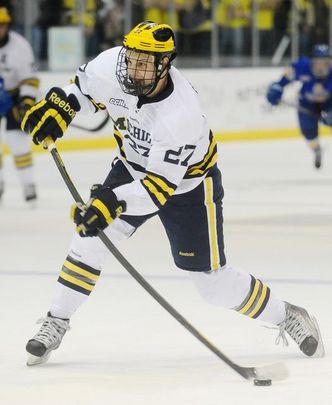 Melanie Maxwell I AnnArbor.com
Hunwick made 20 saves, allowing a second period goal to
Nick McParland
to make the score 2-1 at the 8:27 mark.
Brown stretched Michigan's lead back to two before the end of the second, but it was a far from a comfortable lead when Janecyk was given the surprise nod after Hunwick complained of sickness following the second period.
"All I got from the trainer is (Hunwick's) not feeling well, he's sick or whatever he was, so I didn't question it," Berenson. "(The trainer) just said he shouldn't play."
Janecyk gave up one goal on eight shots faced. Berenson said he was pleased with the performance.
"I think Janecyk gave us a good period and he had no idea he was going to play in this game," Berenson said. "That's his job is to be ready, and he was ready, and I thought the team responded well for him."
Brown said the team realized Janecyk was in a difficult position after sitting on the bench for two periods.
"You play a little more 'D', make (Janecyk) feel comfortable, then just keep going out and play our game," he said.
Ben Power pulled Lake Superior State (12-9-2, 7-7-1-1) within a goal, going top shelf to Janecyk's glove-side to make the score 3-2 with 8:30 left to play, but Michigan was able to successfully kill a penalty and turn away every other chance after that.
"That game could have slipped away," Berenson said. "Janecyk came in and did what he should do. Made the saves he should and maybe he made one or two that might've surprised him."
Pete Cunningham covers sports for AnnArbor.com. he can be reached at petercunningham@annarbor.com or by phone at 734-623-2561. Follow him on Twitter @petcunningham.