Posted on
Sat, Jan 7, 2012 : 12:57 a.m.
Shawn Hunwick a game-time decision for Saturday, David Wohlberg's over his senioritis and more Michigan hockey notes
By Pete Cunningham
File updated at 2 p.m.
Whether Shawn Hunwick will start in net for the Michigan hockey team in its series finale with Lake Superior State on Saturday night is up in the air. Saturday afternoon, team officials said Hunwick will be a game-time decision.
Before Michigan's 4-2 win over Lake Superior State on Friday, nobody's place in the lineup was more secure than Hunwick, who has started every game this season.
The fifth-year senior was replaced by Adam Janecyk before the third period after complaining of sickness in the locker room. No further details about Hunwick's symptoms have been disclosed.
"All I can tell you is he wasn't feeling well between periods, so we put Janecyk in. I'll give you a better idea (Saturday)," said Michigan coach Red Berenson. "All I got from the trainer is (Hunwick's) not feeling well, he's sick or whatever he was, so I didn't question it. (The trainer) just said he shouldn't play."
Hunwick entered Friday's game as Michigan's all-time leader in save percentage (.921), ranks second in goals-against average (2.21) and has played 95 percent of the minutes in net this year. He has a .917 save percentage this season and a 2.41 goals-against average.
Including Friday, Janecyk has seen action in four games with a .870 save percentage and has given up five goals in just over 67 minutes of ice time.
Michigan's only other goalie on the roster -- walk-on Luke Dwyer -- has yet to play.
"You look at it the same way as when Hunny came in a few years ago and guys played better around him," said senior forward David Wohlberg. "We know Janny can do it, so it's not a matter of if he can, it's a matter of how good we can play for him."
Senior Chris Brown said Hunwick seemed fine to him in the locker room and anticipated he'll be fine on Saturday night.
"Hunny handles adversity better than anyone and if not, Janny's going to step in and do what he did today," Brown said.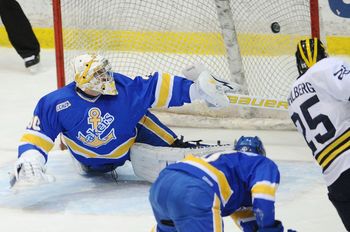 Melanie Maxwell I AnnArbor.com
Wohlberg production rising
Wohlberg scored his sixth goal in eight games against LSSU on Friday, bringing his total to a team-high nine on the season.
Considering Wohlberg was the Wolverines' leading returning scorer from last year's national runner-up team, that shouldn't be a surprise. Considering he only had three goals in the team's first 15 games, though, it might be.
But not to coach Berenson.
"I'm not surprised," Berenson said of Wohlberg's recent production.
Wohlberg endured an eight-game stretch from Oct. 28 to Nov. 25 where he didn't score a goal and contributed just one point.
"He's our leading returning goal scorer, but it didn't look that way the first half of the year. It wasn't' happening for him," said Berenson said. "He could lead our team in goals.
"As a senior, maybe he should."

Hustle play
Brown scored two goals Friday night -- including a late open net score -- despite an admittedly shaky performance whenever the puck was right at his stick. He dubbed himself "Peter Panic" after the game, having a little fun at his own expense. Wohlberg, his linemate, jumped on board.
"I don't think they would have pulled the goalie if (Brown) could have handled the puck tonight," Wohlberg said with a laugh. "Maybe it's a little bit of bad ice, a little bit of bad hands ... but he (still) came up big."
Brown often made up for his faulty hands by hustling to the puck after his mishaps. Despite the ribbing, Brown passed the credit to Wohlberg for his productive night.
"Give credit to (Wohlberg), he kept giving me the puck," Brown said. "I don't know why, but he did."
Pete Cunningham covers sports for AnnArbor.com. He can be reached at petercunningham@annarbor.com. Follow him on Twitter @petcunningham.