Posted on
Fri, Nov 16, 2012 : 9:59 p.m.
Michigan hockey gives up three third-period goals, falls to Notre Dame, 4-1, for third straight loss
By Kyle Austin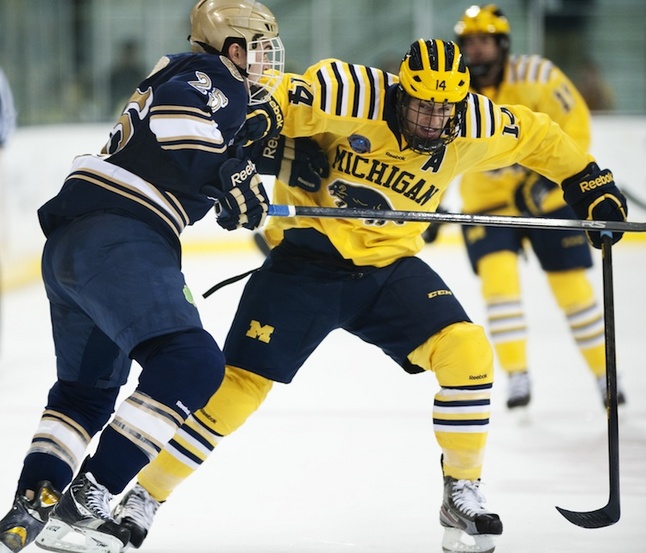 Daniel Brenner | AnnArbor.com
Updated at 11 p.m.
With the seconds ticking down, the shouts of celebration from the Notre Dame bench got louder and louder. And in a stunned Yost Ice Arena, there wasn't anybody who couldn't hear them.
The Irish finished off a road sweep of Michigan with a 4-1 win Friday night, handing the Wolverines their third straight loss.
Related Content: Boxscore | Photo Gallery
Michigan is now 2-5-1-1 in CCHA play and in eighth place in the league, pending Western Michigan's Saturday night result at Alaska.
"It was a close, hard-fought game," Michigan coach Red Berenson said. "You had to battle for every inch. We did and they did and they finally broke us."
With nine minutes left in a tied third period, 1-1, Notre Dame's Bryan Rust intercepted a pass behind the Michigan net and fed it to Jeff Costello, who buried the go-ahead goal.
Two minutes later, Notre Dame's Mario Lucia took another pass from behind the net and gave the Irish an insurance goal. Notre Dame (8-3-0, 5-1-0-0) added an empty-netter to seal the game.
"There was no excuse for them to get another goal and for us not to get back in the game," forward Kevin Lynch said. "We should have came back out and gotten the next goal."
Rust, a Pioneer grad and brother of former Michigan captain Matt Rust, was the hero in Friday night's 3-1 Notre Dame win, and set up the go-ahead goal Saturday.
After a defensive battle for the first 56 minutes, that goal opened the floodgates. Defenseman Lee Moffie tried a backhand pass along the end boards, but sent it straight to Rust to set up the goal.
"It was a poor play and they read it and out front it's in the net," Berenson said. "Not a good goal for us."
The game marked the second straight night Michigan entered the third period tied, only to give up multiple goals and lose.
Steve Racine started in net for the Wolverines, recording 15 saves.
Robbie Russo put Notre Dame on the board 11 minutes into the first period with a shot that went through traffic and over Racine's right shoulder. Russo is also a Pioneer grad, both products of the USA Hockey Development Program.
Michigan managed just four shots in the first period while giving up 11.
Freshman defenseman Jacob Trouba tied the game when he launched a one-timer slapshot off a loose puck in the faceoff circle with six minutes left in the second period.
Michigan (4-6-1) recorded 25 shots over the final 40 minutes, but couldn't get more than one shot past Notre Dame goaltender Steven Summerhays, who finished with 28 saves.
In a season that had already started slow, being outscored 7-2 on the weekend gave Berenson even more to worry about as the Wolverines pass the quarter pole of the CCHA slate.
Heading into the weekend, Michigan had given up 22 goals in CCHA play, tied for the most in the league, but had also scored a league-high 21 goals.
In its pair of weekend losses, the Wolverines managed only two goals, both from defensemen -- Friday's game from Brennan Serville, his first of the season.
"A week ago we were the number one offensive team in the country and worried about defense," Berenson said. "Now we're worried about both."
But what Michigan won't get overly worried about quite yet is the big picture.
"We're not going to panic," Berenson said. "This is our team. We're always looking at ways to get better."
The Wolverines will face Bowling Green Wednesday at home.
Kyle Austin covers sports for AnnArbor.com. He can be reached at kyleaustin@annarbor.com or 734-623-2535. Follow him on Twitter @KAustin_AA.