Posted on
Wed, Nov 21, 2012 : 11:59 a.m.
Michigan hockey looks for traction with Saturday trip to Madison Square Garden looming
By Kyle Austin
The Michigan hockey team is looking for traction, coach Red Berenson said, in the midst of a three-game losing streak and a stretch of one regulation win in seven games.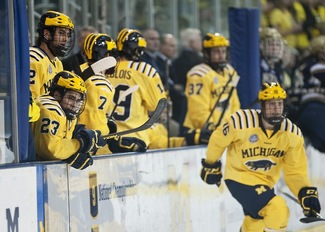 Daniel Brenner | AnnArbor.com
But if it wants to gain any momentum in its next two games, it will have to do it in a disjointed Thanksgiving week.
The Wolverines take on Bowling Green, 7:35 p.m. Wednesday night in Ann Arbor. After practices on Thanksgiving Day and Friday, the team will move on to New York for a Saturday matchup with Cornell at Madison Square Garden at 8 p.m.
So before the team can look forward to a showcase game against a Cornell team that bounced the Wolverines from the NCAA Tournament last year, it has to worry about dispatching Bowling Green, one of only two teams behind it in the CCHA standings.
"We're definitely not getting any traction," Berenson said. "You're trying to get a good game or a good weekend under your belt. And this week we have one game, and I think you'll see both teams go all out. "
After splitting the first three series of the CCHA schedule, the Wolverines were swept by Notre Dame last weekend, 3-1 and 4-1.
Michigan's forwards managed only one goal in two games against Notre Dame. Freshmen forward Justin Selman and Jacob Trouba scored the Wolverines' only two goals.
After an early season in which the number of goals against was the team's primary concern, last weekend added the team's forwards production to the list of Berenson's concerns.
"I'm glad our D can score," Berenson said. "I know our forwards can, but we need to get some balanced scoring right now. We're not getting much offense from anyone."
Speaking Tuesday, Berenson kept the focus on Wednesday's game against Bowling Green, and not on Saturday's showcase game.
"That's our job, to get our team focused on how hard we have to play," Berenson said. "We can't look at the opponent, we've got to look at Michigan. Michigan's the team that has to show up, the real Michigan team."
Saturday's game will mark the Wolverines' first game in Madison Square Garden, and the team's first regular-season meeting with Cornell since 1997.
For the several Michigan players from near the New York area, including senior defenseman Lee Moffie, a Wallingford, Conn. native, the game will mark a homecoming, and a chance to play in front of friends and family members..
"I haven't played out East yet, my freshman and sophomore years I was a healthy scratch at (Boston University) and (University of New Hampshire)," Moffie said. "It's something I'm looking forward to, a lot of family members haven't gotten to see me play, so I'm looking forward to that."
Kyle Austin covers sports for AnnArbor.com. He can be reached at kyleaustin@annarbor.com or 734-623-2535. Follow him on Twitter @KAustin_AA.