Posted on
Sat, Apr 9, 2011 : 10:45 a.m.
Michigan hockey team aims for 1st national title since '98 tonight against Minnesota-Duluth
By AnnArbor.com Freelance Journalist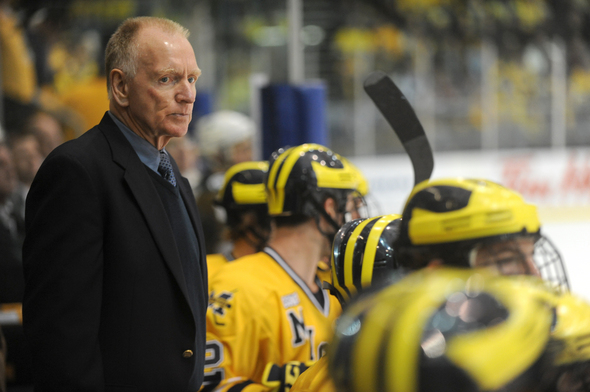 Angela Cesere | AnnArbor.com
BY STEPHEN NESBITT
For AnnArbor.com
ST. PAUL, Minn. — It's been 49 years since Michigan hockey coach Red Berenson played his last season in college hockey's western conference. That was 1962 and Berenson captained the Wolverines.
But since the start of the Michigan hockey team's improbable NCAA title run this year, Berenson has paced the bench against four consecutive WCHA opponents - five teams from the conference even made the final field of 16.
Tonight (7 p.m., ESPN) at Xcel Energy Center, the Wolverines will have one last challenge left on the WCHA's murderers' row, in the form of a formidable Minnesota-Duluth team in the NCAA Final.
"I think that's a little bit of luck — it's just the way the chips have fallen," senior forward Louie Caporusso said. "We have a pretty good record against WCHA teams and we like playing them. … Whoever we were going to play, we were going to play and we were going to be ready for whoever we were going to play."
For many of the players, the experience could be a once-in-a-lifetime challenge.
"It's a dream come true," sophomore forward Chris Brown said just moments after defeating top-seeded North Dakota on Thursday. "At the beginning of the year, I never thought that we'd make it here, but we battled through and we played really well today, and hopefully we come out (Saturday) and do the same."
Freshman defenseman Jon Merrill agreed.
"It just feels unbelievable," he said. "I'm still a little dizzy from the game, but I just don't have words to describe how exciting it will be."
This time, the 23-man Michigan roster has an opportunity Berenson never had as a player — the chance to play for a national championship. The Wolverines captured six titles before Berenson arrived and another two years after he left.
History books side heavily with Michigan headed into tonight's clash. The Wolverines have nine national titles to their credit; the Bulldogs have none. But as Berenson said all week, parity in college hockey is why games are played on the ice, not just on paper.
The coaching legend has taken Michigan to 21 straight NCAA tournaments and won both his title-game appearances — the program's 1996 and 1998 championships. But Berenson remembers just as clearly the postseason runs that ended with the Wolverines going home empty-handed.
"I have lived with disappointments, and then we have also had a few lucky wins, like (Thursday), so I have seen it all," Berenson said. "So what's (this time) like? It's great. There is hope for senior citizens."
Anyone, even senior citizens apparently, can appreciate the way Michigan has arrived in the Frozen Four finale.
The Wolverines rode the hot goaltending of senior Shawn Hunwick. Since allowing two early goals against Nebraska-Omaha in the opening game of the NCAA West Regional, Hunwick and the Michigan defense has allowed only a single goal in nine periods.
But in the second-ever matchup with Minnesota-Duluth, the Wolverines must contend with a power-play unit that capitalized three times in its 4-3 Frozen Four semifinal win over Notre Dame.
The only other time Michigan faced the Bulldogs was when the Wolverines took a 3-2 decision in the 2001 Maverick Stampede in Omaha, Neb.
They're prepared to grind out another close game on Saturday.
"Right now (the team is) easy to coach," Berenson said. "They're all on the same page. They're in sync. … I don't know if they're surprised to be here, but they earned it in St. Louis and then, again, they found a way to earn it (Thursday)."
Seven months ago, 59 Division I hockey teams began the season with the single goal of capturing a national championship. Today, that dream is over for all but two programs: Michigan and Minnesota-Duluth.
The lights are on. The stage is set. Just wait for the drop of the puck.
Extras

Although these teams haven't battled since 2001, a couple of the players are familiar with each other. Both Merrill and Brown competed for Team USA in the 2011 World Junior Championships in December and January. One of Merrill's defensive partners was Justin Faulk, a freshman for Minnesota-Duluth.
According to Merrill, the experience with Team USA in Buffalo, N.Y. prepared them for a Frozen Four run.
"I think it just helps playing on the big stage and in big games, hostile environments," Merrill said. "(It) just kind of prepares you so you're not shell-shocked when you see the fans and the crazy atmosphere."